White-Label Digital Corporate Banking Solution
Build a competitive digital-only bank to cater to your business customers on top of the SDK.finance corporate banking system. Accelerate time-to-market, save time and manhours by using a market-ready core software deployed on premise or in the cloud.
Contact us
Corporate banking software that operates in any country
Cloud-native
Deployed and operated on the cloud, maintained by SDK.finance, ready to be used by your team
Compliant with all regulations
The database is hosted on the company's own server. Regardless of location, forget about cloud compliance issues.
400+ API endpoints
Implement a broad set of services for customers fast cost-efficiently thanks to the API-first architecture.
White-label commercial banking software solution
Reduce time-to-market
SDK.finance corporate banking software platform makes up a shortcut in the product development cycle, enabling you to kick off your business banking product in less time and with less spendings. Get your digital-only bank up and running in half the time and focus on adding the necessary features to a reliable transactional core rather than build it from scratch.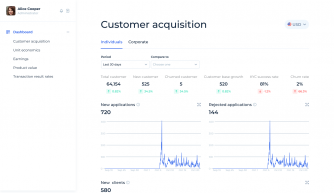 Start with cloud, move to on-prem later
SDK.finance is a commercial banking software provider offering cloud-based platform for a start with the chance to obtainits source code license later on. Get total freedom to customize, upgrade and extend it as necessary without vendor-related bottlenecks, at your own pace.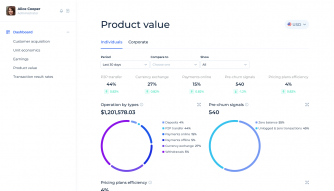 Harness the power of data science
The comprehensive visualized dashboard provides an instant real-time overview of your business performance. Analyze your customers' behaviour, get actionable insights on the monetization opportunities and contracts effectiveness, and grow your neobanking product revenue.
Subscribe for a cloud version of banking BI by SDK.finance or get your data warehouse source code.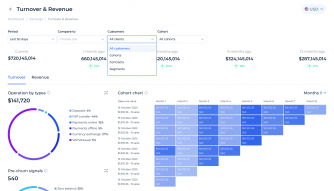 Let's discuss how we can help with your commercial banking product launch
Contact us
White-label commercial banking software solution for growth
Convenient back-office
API-first architecture
Built-in CRM
Embedded analytics
Ensure top-notch corporate banking experience
SDK.finance commercial banking systems offers the foundation needed to help your bank satisfy your clients' banking needs thanks to its customer-centric approach.
Contact us to learn how we can help with your digital banking product launch
SDK.finance Corporate Banking System FAQs
What is the SDK.finance commercial banking system price?
We offer a set of pricing plans that differ depending on the feature set included. Check out our pricing page for details.
Can I get your corporate banking product demo?
Absolutely – you can access our dedicated digital commercial. banking product page with detailed videos here. In case you would like more details, contact us and we'll be get back to you shortly.
What integrations are supported by the SDK.finance commercial banking software?
SDK.finance API-first architecture allows integrating any 3rd-party tools for each stage of the customer journey. Our digital banking API set makes it easy to connect your banking engine to the ready-made components rather than having to develop them from scratch.
Is SDK.finance digital corporate banking system cloud-based or on premise?
Our commercial banking software is available in both variants:
1. Its cloud version is available on the major cloud provider marketplaces like AWS or Azure, with subscription-based payment model. You get the app deployed on the cloud, while the database is hosted on your own server for the sake of regulatory compliance.
2. Also, you can choose an on-premise version that comes with the source code license, available for a one-time flat fee. Learn more about the details of the source code purchase and knowledge transfer.