In 2023, competition between digital payment platforms and traditional banks became fiercer than ever. The growing demand for convenience, efficiency, and cutting-edge technology has established online banking solutions as leaders in the ever-evolving FinTech world.
In this article, we explore the advantages of digital payment solutions over traditional banks and introduce the best online banking platforms on which you can build your own PayTech product.
What is an online banking platform?
An online banking platform is a pre-built payment software designed to provide the foundation and tools needed to develop and operate modern banking solutions, including neobanks and other financial systems. 
Online banking platforms provide a comprehensive set of features and capabilities that enable organizations to efficiently set up, manage and scale their digital banking services. In our article on a digital banking platform development you can find more details about must-have features of this platform.  Check our article on digital banking to explore its types and benefits for financial companies.
Dedicated FinTech development team
Bring your financial product vision to life with SDK.finance team
Learn more
Online banks vs. traditional banks
The main difference between online banks and traditional banks lies in the way they operate and offer their services: 
Online banks operate exclusively in the digital realm and have no physical branches. 

Traditional banks are supported by a network of physical branches for in-person transactions and offer a wider range of services, including checking and savings accounts, loans, and investment options, etc

The majority of consumers (61%) surveyed

indicated

that they are likely to switch to a digital-only bank.
The choice between the two depends on individual preferences in terms of accessibility and level of personal interaction.
The difference between online banks and traditional banks
| | | |
| --- | --- | --- |
| Aspect | Online Banks | Traditional Banks |
| Physical presence | Limited or none | Branches and ATMs |
| Accessibility | 24/7 access online/mobile | Limited hours of operation |
| Account Fees | Lower or no fees | May have monthly fees |
| Technology & features | Digital applications | Traditional banking tools |
| Security | Strong online security | Physical security focus |
| Customer service | Mostly online/phone | In-person and phone |
| Convenience | Users can perform transactions 24/7 | Financial operations limited by the bank's operating hours |
| Transaction processing speed | Faster | May be slower |
| Overhead costs | Lower | Higher |
Online banking and traditional banking services each have their own strengths and weaknesses. Online banking offers the convenience of 24/7 access, allowing customers to efficiently manage their finances from any spot with an Internet connection. Transactions are processed quickly, allowing users to easily check their account balances, transfer funds, and make electronic payments.
In contrast, traditional banks offer the advantage of handling more complicated banking transactions face-to-face with bank representatives. However, it's important to note that traditional banks may not offer the same robust security measures as online banks.
The advantages of online banking platforms
Digital banking software offers a variety of benefits for both financial institutions and their customers. In the following section, we highlight the key benefits of the digital banking platforms for payment companies:
Accelerated development
Pre-developed online banking platforms significantly speed up the development process for payment companies. They provide a foundation of pre-built software and functionality, eliminating the need to develop complex financial systems from scratch.
Cost efficiency
Using pre-developed platforms can result in significant cost savings. These platforms often have a set of built-in features, reducing the need for extensive custom development and the associated costs.
Shorter time-to-market
By streamlining the development process, payment service providers can bring their products and services to market much faster. This agility is critical in the competitive financial technology landscape.
Build a neobank on top of SDK.finance platform
Speed up the software development with SDK.finance ready-made Platform
About the product
Scalability
Many pre-developed banking platforms are designed to grow seamlessly as your business grows. They provide the flexibility to adapt to changing user needs and transaction volumes without requiring major overhauls.
Enhanced security
Reputable online banking platforms have robust security features, including encryption, compliance with industry standards, and fraud detection mechanisms that provide a safe environment for financial transactions.
Customization
While these platforms are pre-built, they are often highly customizable to meet your specific business needs, brand identity, and unique requirements.
Read this article to explore the world of open source banking software.
Reduced setup and training requirements
By using pre-developed platforms, companies can minimize the need for extensive setup and staff training in software development, saving time and resources.
Best online banking platforms 
Let's dive into some of the best online banking platforms available in the market and explore their unique features.
SDK.finance banking Platform
The SDK.finance banking Platform is a pre-developed FinTech solution on which banking products can be built. With a range of features and capabilities, SDK.finance provides a robust Platform that enables businesses to build, manage and scale their financial services faster without having to start from scratch.
The main features of SDK.finance banking Platform:
Enhanced scalability 

State-of-the-art fees and limits management

Multicurrency system

Visa/MasterCard issuing

Effortless Integrations via 400+ APIs
SDK.finance's banking Platform is a powerful solution, equipped with the tools and infrastructure necessary for organizations to create and expand online banking services effectively.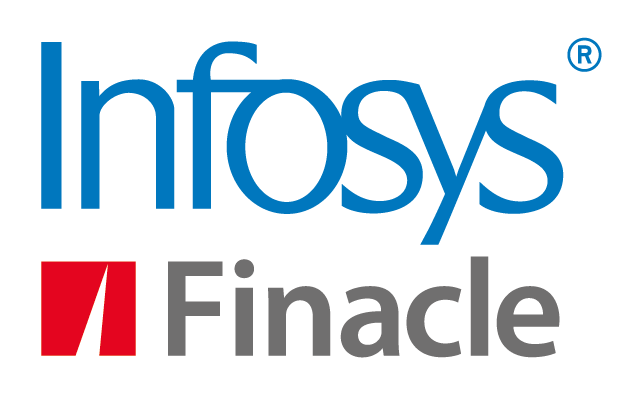 Finacle Digital Engagement Suite
Finacle Digital Engagement Suite, developed by Infosys (EdgeVerve), is a comprehensive digital banking platform that enables banks to deliver seamless customer experiences across multiple channels.
Finacle Digital Engagement Suite features include:
Unified engagement hub

Robust features and ecosystem

Advanced architecture

End-to-end transformation of digital experiences
Finacle Suite is a strategic tool for banks to adapt to changing customer needs and preferences, stay competitive and ensure customer satisfaction. With its open and flexible architecture, it helps banks not only meet but exceed customer expectations while maintaining operational efficiency.
nCino Bank Operating System
nCino Bank Operating System is a cloud-based platform designed to improve banking operations and increase efficiency. 
Key features of nCino Bank Operating System
Improved navigation of the loan origination process

Data presentation in a single view to streamline data entry

Conditional rendering of fields, screens and tabs based on a financial institution's visibility and access requirements

Seamless integration with the Salesforce Lightning Experience
With a secure cloud-based solution, the nCino Cloud Banking Platform covers a wide range of business areas. This platform streamlines interactions between customers and employees, driving efficiency, transparency, profitability and regulatory compliance across all areas of the business.
Develop a money transfer app
Build a money transfer system on top of API-driven fintech platform by SDK.finance
More details
NETinfo Digital Banking Platform
NETinfo Digital Banking Platform offers a comprehensive suite of digital banking solutions that meet the needs of both retail and corporate customers.
Key features of this platform include:
Open platform design for effortless integration with any core banking system and third-party system

Release of new digital services: self-service

Analytics enable banks to identify cross-sell and up-sell opportunities

Open banking features
NETinfo's Digital Banking Platform provides a comprehensive suite of solutions, serving both retail and corporate banking needs, and offers a range of features that enhance efficiency, security, and revenue generation for financial institutions.
Backbase 
Backbase is a dynamic and innovative digital banking platform that enables community banks, credit unions, commercial banks and wealth management firms to deliver a fast, easy-to-use and feature-rich online banking experience across all customer touchpoints.
Key highlights of the Backbase platform include:
Pre-built integrations

Core agnostic

Turn-key apps

Microservice-based architecture

Customization with web & mobile SDKs and 200+ APIs
Our unified platform covers a range of banking functions, from customer enrollment and service delivery to loyalty programs and lending. It is designed to be open and frictionless, with ready-to-use applications that improve every facet of the customer journey.
Check our article on how to choose a fintech development company to explore pros and cons of using a software vendor.
Temenos 
Temenos is one of the leading online banking platforms in the world. The platform is designed to help retail, commercial and private banks manage transactions, risks, corporate loans and much more.
Key capabilities of Temenos platform include:
Modular architecture 

Extensive range of features and functionalities

24/7/365 non-stop operation

Highly automated – straight through processing

Controlled autonomy – choose level of independence

Regular and simple software upgrade strategy
Temenos' solution provides the ability to meet the diverse needs of banks in a variety of financial markets and regions.
Fiserv
Fiserv, Inc. is a multinational corporation with its headquarters based in Brookfield, Wisconsin. It specializes in delivering financial technology solutions to clients across diverse sectors, with a strong focus on the financial services industry. 
Established in 1976, Fiserv is known for its cost-effective organizational structure and a track record of acquiring core processing companies. Here's an overview of what sets Fiserv apart:
Cost-driven structure

Integrated service solutions

Predictive scoring models

Self-service network
Fiserv is a trusted partner for financial institutions seeking to navigate the complexities of the modern banking landscape, enabling them to remain competitive, secure and customer-focused.
Future trends in online banking platforms evolution
Digital banking platforms go beyond basic banking functions to offer a range of features such as mobile banking, personalized experiences, and third-party application integration. By leveraging technology and data, digital banking platforms are changing the way we interact with financial institutions.
The future of online banking platforms will likely be shaped by several new trends and technologies. Below, we present the future trends for the digital banking software industry:
Mobile-first banking
Mobile banking apps will continue to evolve, offering a seamless and intuitive user experience, including features like mobile check deposits, voice-activated commands, and augmented reality-based banking services. 
Data as a personalization tool 
In this digital age, personalization isn't just about basic data like the customer's name. Rather, it's about knowing your customers' likes and dislikes and developing a unique package of banking products and services for each customer that meets their needs and wants.
Environmental and social responsibility
Online banks may focus on sustainability and social responsibility, offering environmentally friendly banking options and supporting ethical investing. For example, they may offer green loans or financing options that support environmentally friendly projects, such as renewable energy installations, energy-efficient home improvements, or electric vehicle purchases.
Global expansion
Online banks may expand their reach globally, offering multi-currency accounts and international banking services to cater to the needs of a more interconnected world.
Ecosystem partnerships
Collaboration with fintech companies and other businesses will lead to the creation of financial ecosystems, where customers can access a wide range of services seamlessly from within their online banking apps.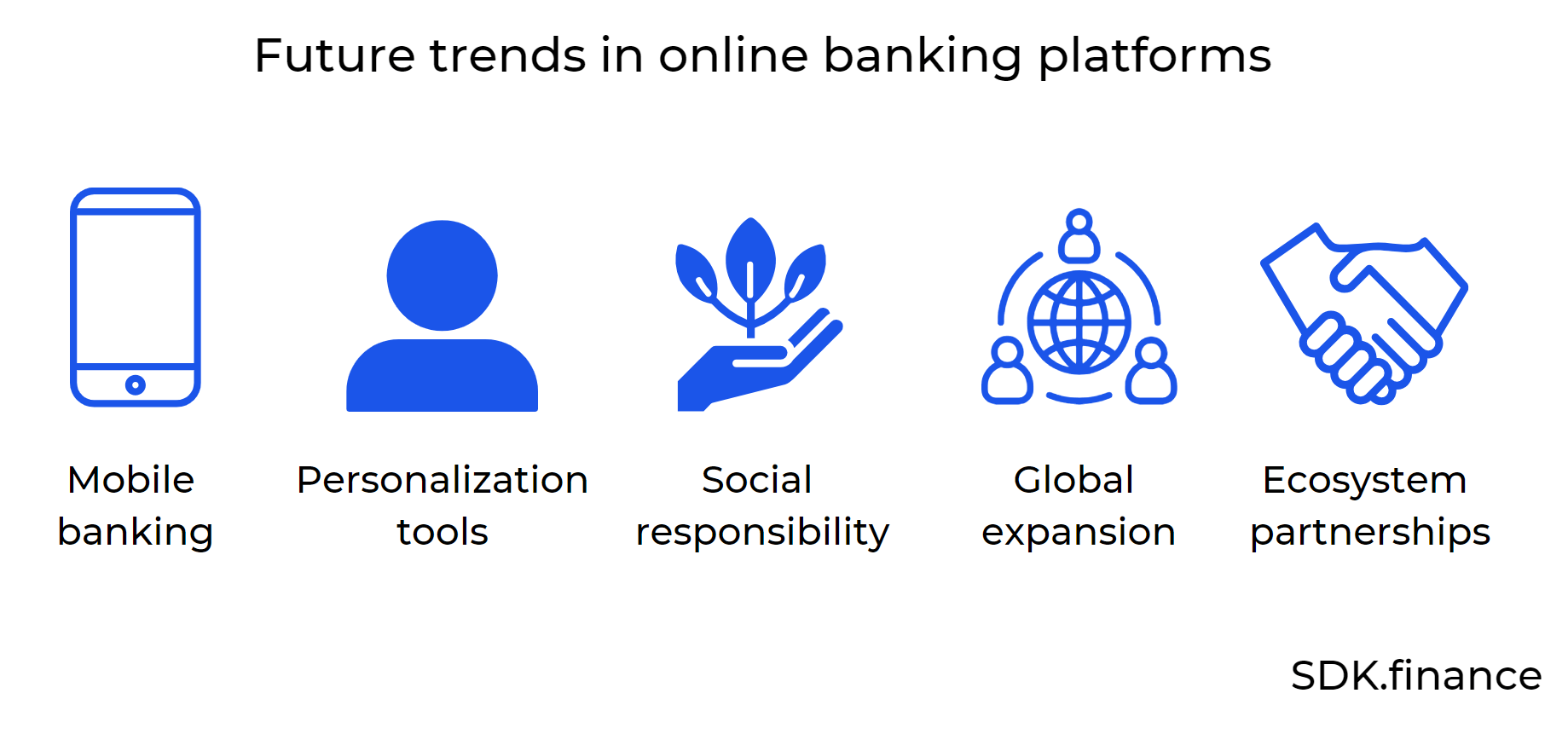 How to speed up an online banking platform development?
Developing an online banking platform from scratch can be a challenging task requiring significant financial investment and time. 
SDK.finance Platform was created to make this journey much more efficient and cost-effective. Our pre-developed back-end solution serves as a foundation that allows you to accelerate the development process and focus on customer experience and adding new functionality. 
You can use SDK.finance`s ready-made Platform to build the payment product on your own, but if you don't have software developers you can hire our dedicated development team. Our technical professionals have more than 10 years of experience in FinTech and can bring your payment product vision to life more efficiently and faster. 
FAQ
What are online banking platforms?
Online banking platforms are digital systems provided by financial institutions that allow customers to manage their financial accounts and conduct banking transactions over the Internet.
These platforms typically offer services such as checking account balances, transferring funds, paying bills electronically, and more, all accessible through a bank's website or mobile app.
How do I create an online banking platform?
Creating an online banking platform is a complex and highly regulated process that typically requires significant resources. This includes developing secure software, integrating with banking systems, ensuring data privacy, and obtaining the necessary licenses and approvals.
To speed up the development process you can use a pre-developed software, without having to start from scratch. SDK.finance offers a ready-made banking Platform for building PayTech products on top.
How do banking platforms work?
Banking platforms, whether online or mobile, provide secure access to a user's financial accounts and services. Users log in with their credentials and can then perform various banking activities, such as checking account balances, transferring funds, paying bills and managing investments. Behind the scenes, banking platforms connect to the bank's core systems to execute these transactions securely and accurately.
What is the difference between online banking and digital banking?
The main difference between online banking and digital banking is that digital banking is a broader term that encompasses a wide range of digital advances in the banking industry. It includes online banking, but also innovations such as mobile banking, digital wallets, chatbots, open banking and more. Online banking, on the other hand, refers specifically to the use of a bank's web-based services over the Internet. Online banking is thus a subsection of digital banking that focuses on web-based transactions.