The financial technology sector has been rising in popularity as more people adopt tech solutions in various aspects of their businesses. Technologies like e-wallets and "neobanking" have also changed how people approach financial topics.
For companies that want to scale, financial software development services are indispensable, it is a no-brainer. But the question remains open – whether the fintech software developers team should be in-house or whether your company should consider finding a fintech development company.
If your team lacks the expertise to develop a fintech product, don't sweat it. This article discusses the benefits of fintech development company.
But first, let's go through some fintech app development statistics.
Reliable fintech software platform
Launch your payment or banking product 3-5x faster
More details
Fintech development market overview
According to Statista, total revenue of fintech market is expected to show an annual growth rate (CAGR 2022-2027) of 11.98%, resulting in a projected market volume of US$2.50bn by 2027.
Total revenue in the Finance market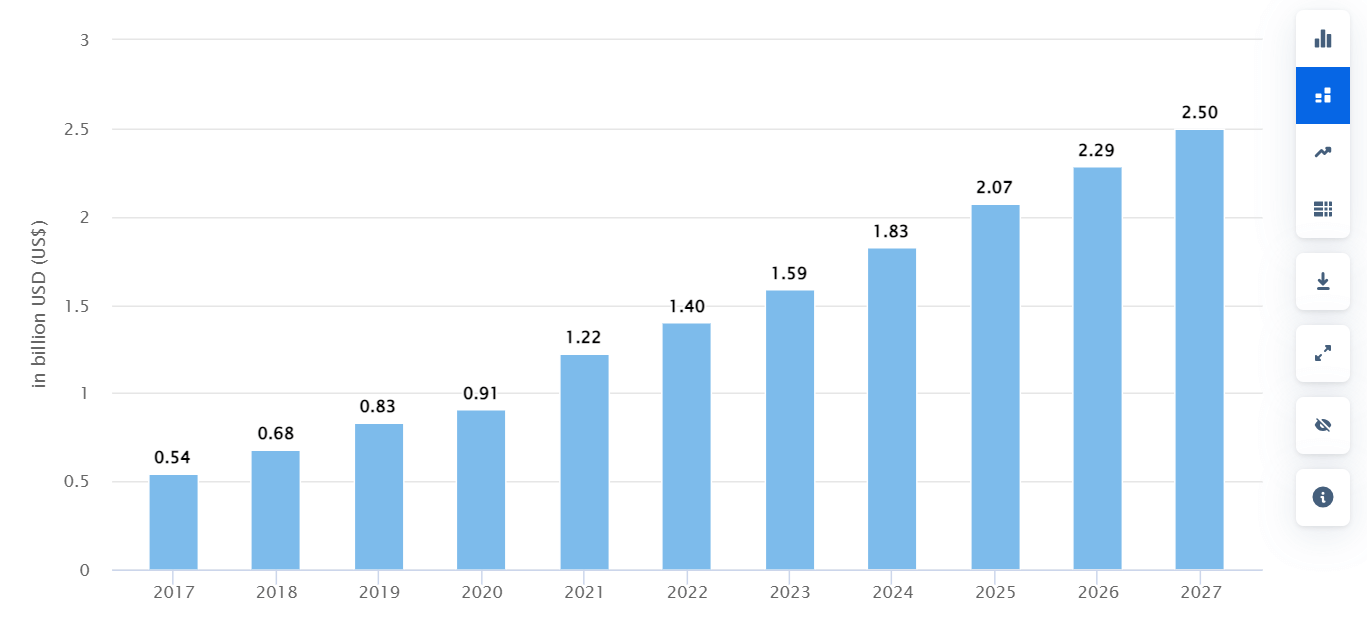 Source: Statista
It's interesting to see how fintech start-ups are making a name for themselves in various segments of the financial sector. From payment solutions and lending platforms to robo-advisors and blockchain-based services, these start-ups are using cutting-edge technologies such as artificial intelligence, blockchain and data analytics to provide faster, more accessible and customer-centric financial services.
Number of fintech startups worldwide from 2018 to 2023, by region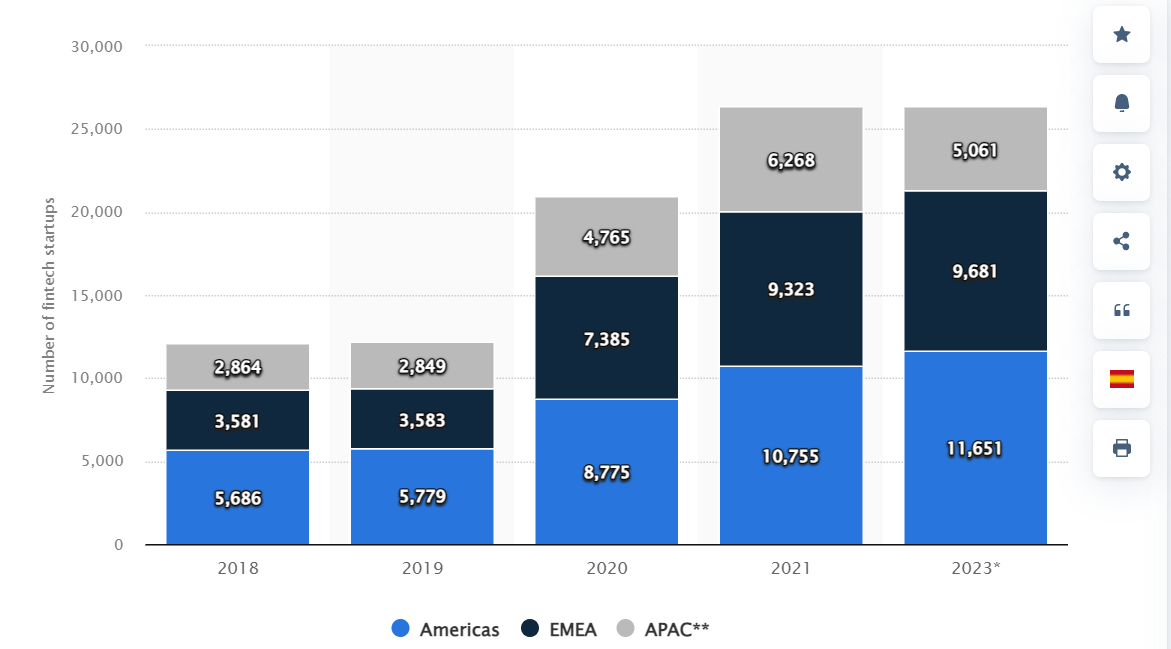 Source: Statista
Also, countries in the Americas have over 10 000 fintech startups as of Q3 2021, 48 of which are unicorns. Besides, based on current consumer trends, mobile banking (and transactions) will increase by over 28% in 2022. 
In the Kingdom of Saudi Arabia, innovation in fintech is supported by the Saudi Arabian Monetary Agency (SAMA), ensuring favorable conditions for startups and entrepreneurs to be competitive on the world arena. This is proven by the adoption by the Saudi government of the UK's financial service model that will be a factor helping to form the new fintech Saudi. 
For more info on the topic, check out our post Top European fintech software development companies.
A SaaS digital wallet solution
Quick and affordable solution to build an ewallet app.
More details
Fintech development company vs in-house fintech development team
Judging by the stats mentioned above, companies can only stay ahead of the curve by investing in fintech product development. However, the options for your company's software development initiatives are limited to the following choices:
an in-house team of fintech systems development engineers, design and tech specialists;

fintech software development agency to a provider that specializes in building customized digital solutions.
Let's explore each of the options for a better perspective.
In-house fintech development pros and cons
Ideally, you delegate your fintech product development to a dedicated team of in-house developers.
The benefits you receive are numerous: 
Greater control over the project

Better communication

Higher quality standards

Increased security 
But here are a the disadvantages of this strategy:
In-house software development is expensive and stressful.

You might not have the time and resources to train inexperienced fintech developers.

Understanding documentation, industry standards, product libraries, and compliance guidelines is a massive, time-consuming challenge.

In most cases, it is enterprise-level companies for which this is a viable option. 
So, that leaves the option of fintech software development company. But before endorsing this strategy, let's explore what advantages it may potentially bring to the companies that go for this variant. 

FinTech development company: key advantages and challenges
Advantages of financial software development agency
Fintech product development company can help you save on development costs as you only need to pay for the services you require and offer the flexibility to scale up or down your fintech development company as needed. This can be helpful if your business experiences sudden growth or unexpected changes in demand. Consider more benefits it brings along.
Access to skilled resources with FinTech development company
Developing fintech software is a complicated process that requires years of hands-on experience with payment services to perfect.
Unlike other forms of web and software development, you need specialists with industry-specific expertise for your fintech development.
Fintech product development company allows companies to tap into the expertise and experience of specialized development teams. These teams often have a deep understanding of fintech trends, technologies, and regulatory requirements, which can accelerate the development process and improve the overall quality of the product.
Let's assume you want to build a white-label banking app. Only specialized fintech development company can create this product to meet contemporary industry standards.
Even the most skilled software developers will struggle to cope with the rigors of fintech product development because it focuses more on backend development. Your experts need to understand several layers of product security, API endpoint integration, and other industry guidelines.
If your company does not have a team of fintech developers, consider fintech product development company the project to industry experts. With their expertise, they will complete your project, factoring in the intricacies of effective fintech software developemnt. 
Saving costs
Fintech software development agency can help you save on costs as you would not need to invest in hiring and training in-house resources, the expenses on which can boil down to a significant sum. 
This allows companies to access a larger pool of talent globally, often at a lower cost compared to hiring and maintaining an in-house team. This is particularly beneficial for startups and small businesses with limited budgets.
Read this article to explore benefits and pitfalls of FinTech development outsourcing.
Saving time
As it stands, thousands of fintech startups flood the financial market every year. With that in mind, the killer idea you have for a fintech app development might already be in the works. 
And what separates your company from potential competitors? Time to market. 
If your product misses the launch window, a competitor might capitalize on this opportunity and harm your bottom line. 
With a fintech development company team focused on fintech development, companies can benefit from shorter development cycles and faster time-to-market
So, instead of wasting time ironing out interdepartmental conflicts and scaling through bureaucratic red tapes, your project to a fully-fledged fintech software development company.
These fintech app development experts will use agile development philosophy to fulfill your timeframe expectations and keep your product launch timetable on track. 
Challenges of fintech software development agency
When you use fintech development services, you are essentially giving up control of the project to someone else. This can be a problem if the company you hire does not have a good track record or if they do not communicate well with you.
Lack of transparency
It can be difficult to get a clear picture of what is happening with your project, cooperating with a fintech product development company. This can lead to frustration and delays if you are not kept in the loop about what is going on.
When working with an fintech software development agency, there may be communication gaps due to factors like language barriers, time zone differences, or cultural differences. This can result in misunderstandings, delays, and a lack of visibility into the development progress.
Misaligned incentives
The fintech product development company you hire to develop your software may have different goals than you do. For example, they may be more focused on getting the project done quickly rather than ensuring that it meets your needs. This can create tension and conflict between you and the company you hire. It is crucial to align the incentives of the  fintech software developmentprovider with your business goals to ensure a successful partnership.
Cultural differences
Fintech development company can create cultural differences that can impact the project. For example, there may be language barriers or different ways of doing things that can make communication and collaboration difficult.
Different cultures may have varying working norms, such as attitudes towards punctuality, hierarchy, decision-making processes, and work-life balance. It can also impact the cooperation with fintech development company.
Potential risks of fintech development company
There are also a number of risks associated with fintech software development, which is why the decision to delegate software development to a third party company is not made quickly or hastily.
Overspending risk
Customers often fear that they might easily exceed the allocated budget for the solution they're using and yet receive an incomplete or unworkable solutions.
Security risks
When sensitive financial data is involved, security is of paramount importance. There is a risk that data could be leaked or hacked if it is not properly protected. Contracts and non-disclosure agreements should be established with the fintech development provider to protect intellectual property rights and prevent unauthorized use or disclosure of sensitive information.
Compliance risks
There are strict regulations that govern the financial sector. If a fintech company its software development to a third party, there is a risk that the resulting software may not comply with these regulations.
Reputational risks
A fintech company's reputation could be damaged if its software development project fails or results in subpar products.
How to eliminate risks when using a fintech development company?
The best practice to protect your company from a disaster is to ask for a detailed proposal and ensure that the outsourcing company has the experience and capacity to meet your project's needs, before committing any funds.
Since the most important aspect of fintech product development is freedom of development, be it fintech or any other sphere, it is crucial to strike a balance between control and the freedom to develop without too many restrictions for a third-party dev team. It is also essential to understand what each party's responsibilities are, and ensure that their work does not conflict with one another.
Here are a few more rules that will help organize an effective collaboration with the company you hire your fintech software to.
Obtain a detailed project scope and timeline to ensure both parties are aware of the expectations and goals of the project

Verify that the development team has the resources and capabilities needed to meet the project's deadlines

Verify that the development team is capable of meeting your quality standards

Make sure you have a contract that specifies the terms and conditions of the project, including the payment schedule

Have a backup plan in case of any problems during the project
Check this article to get more info about fintech software development challenges and solutions.
Pre-developed fintech platform for neobanks
A shortcut to building your own Revolut
Learn more
Features of a reliable fintech development company
Finally, when you are well aware of the ins and outs of employing a third party expertise to get your fintech project up and running, here are a few features to pay attention to when choosing your  partner company.

Portfolio showcasing fintech experience
Although expertise is essential, it is not enough when hiring a fintech product development company. Always check out the company's previous projects on their portfolio. This process helps you see what they have delivered to clients in the past.
For example, if you want to create a digital bank like Revolut, focus on companies with a proven portfolio of digital banking and neobanking projects. 
By choosing companies that specialize in a given aspect of fintech, your company stands a higher chance of getting a product that suits your project objectives.
High level of security
According to a CyberEdge report, 86% of institutions suffered at least one cyberattack over the past 18 months. At least 69% of the affected companies experienced disruptions in the regular workflow due to ransomware attacks.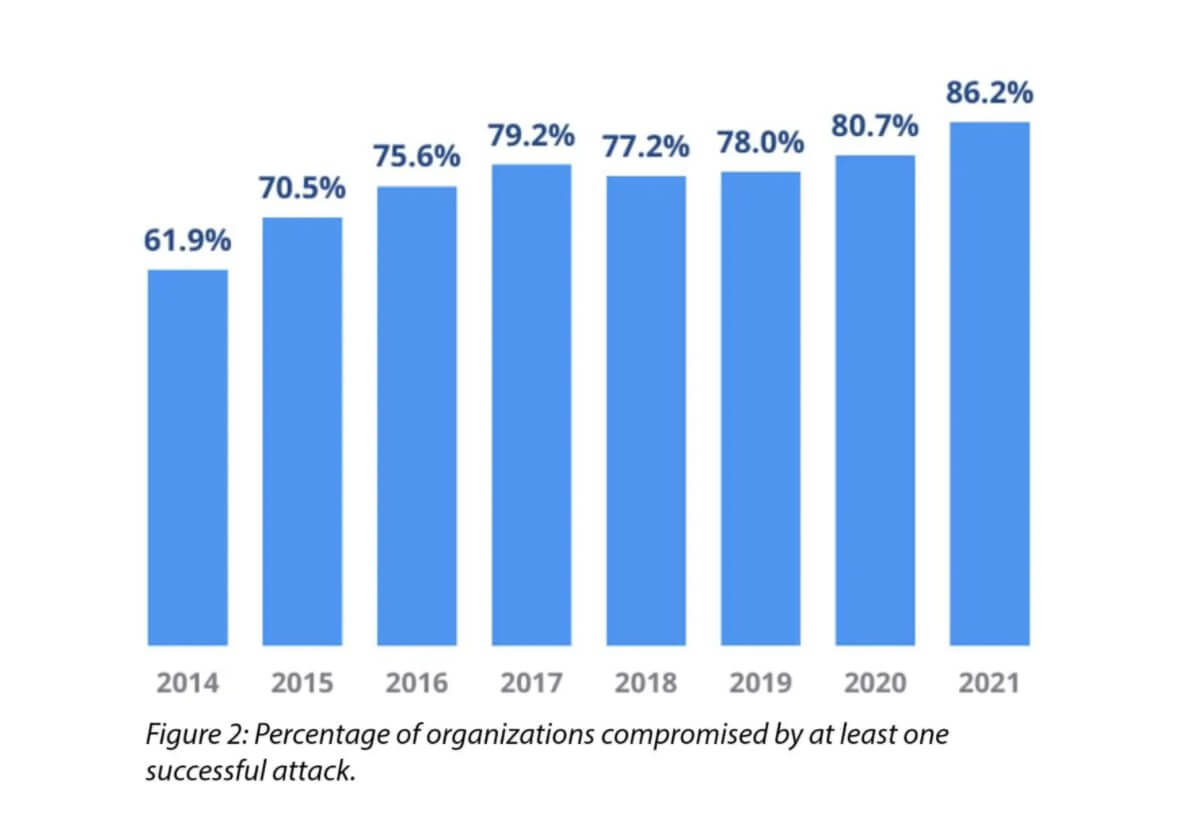 Source: CyberEdge
Security is one of the core pillars of fintech software development. An insecure fintech platform is a goldmine for hackers and scammers. And since the potential human cost is high, your company needs a fintech software development agency with air-tight security. 
A reliable company preempts these security flaws and mitigates risks in the product's core architecture. 
Besides, they can implement PCI DSS (Payment Card Industry Data Security Standard) and OWASP (Open Web Application Security Project) to meet the financial industry standards.
Data science technologies usage 
Someone once said that "data is the new oil," and this statement remains relevant today. In this age of big data, you need to invest in data science for software development in fintech. 
When working on your fintech product, integrate data mining capabilities to gather valuable insights from users. Don't forget to provide opt-in possibilities to enable users to control the data you collect. From the collected information, you can create predictive models to anticipate market trends and consumer behavior. 
And this is where machine learning enters the equation. Every modern fintech software development  solution needs machine learning algorithms to automate trading, provide financial advisory services, and analyze massive datasets. 
Risk management
One disadvantage of using in-house financial software development is that the DevOps methodology in place is often "too green" to withstand the rigors of a complicated project.
But when you hire the project to experienced experts, you mitigate the potential risk factors involved in fintech app development. Some of the common risks in fintech software development include:
Malware attacks

Cyber breaches

Server failure

Broken authentication

Buffer overflow

Broken access control
Quality assurance is one of the first steps in developing a reliable fintech product. By creating a fool-proof testing life cycle, the fintech development company can detect and crush bugs before the launch stage.
Also, fintech software development agencies provide you with continuous product support while your team gradually gains full control of the product. This continuous custody ensures that the users enjoy the best experience when using your fintech software. 
Robust knowledge transfer plan 
Before hiring a fintech software company, ensure that they have a plan to transfer the knowledge base to your software developer fintech team. 
Let's suppose that you build your neobank project with a fintech product development agency. You still need to maintain and run the software in-house after launch. Else, your company will experience bottlenecks when working with the software.
So, the software development agency should craft a continuity initiative to transfer the codebase, database, admin rights, system documentation, and operational procedure to your team.
Pre-developed software – an alternative to fintech development agency
Fintech software development is a process that involves painstaking attention to detail within a specific timeframe. Although you can give your fintech project to an external team, there's an alternative way of getting through all the way to the launch – using a pre-built softtware platform from a trusted vendor or cooperate with a dedicatet product development team. 
With SDK.finance you can choose the most suitable development mode according to your product strategy. We offer a scalable FinTech Platform for self-service development or a dedicated product development team for building your product on top of SDK.finance software.
Our payment Platform available in two formats – a SaaS version for a quick and affordable start, and a source code version, available for purchase anytime, which gives you total independence from the vendor.
As a side note – in case you don't have an in-house team or yours is focused on other essential tasks, our dedicated team will be able to bring your product ideas to life.
With 15+ years of experience in FinTech products development SDK.finance team is a proven partner for building the digital banking and payment products of the future. Get in touch to discuss your payment product requirements and find out how our platform can help launch it. 
Pre-developed fintech platform for neobanks
A shortcut to building your own Revolut
Learn more
References:
Fintech – statistics & facts 

Cyberthreat Defense Report 2021

Alarming Cybersecurity Stats: What You Need To Know For 2021  

How a fintech software development company can take you to the next step

10 Common software security weaknesses 
FAQ
What are the benefits of fintech software development outsourcing?
The key advantages of development outsourcing are:
1. Access to a wider pool of talent and expertise
2. Lower costs
3. Increased flexibility
4. Faster turnaround times
5. Reduced risks
What are the risks of outsoursing a fintech project to a software development company?
The key disadvantages of development outsourcing are:
1. Partial loss of control over the project
2. Less straightforward communication
3. Sharing sensitive data and access to third party company.
What is better - fintech software development outsourcing or in-house development?
Depending on your needs, both solutions can be beneficial.
However, in case your company lacks the experts able to build a fintech product from the ground up, it will be a winning strategy to outsource this task to a team with a solid background in the niche. This will not only let you launch your product faster, but also will enable your team to focus on what they are proficient at.
What types of fintech software can you develop?
SDK.finance offers a core fintech platform for building payment products on top, which can save our customers at least 1 year of development.
While we don't offer custom software development services, our customers can outsource the customizations and integrations to their trusted fintech software development company or work with our partners to save time and money and spare themselves from the need to start from the ground up.
How to choose a fintech development company?
Consider factors such as the company's experience in fintech development, expertise in relevant technologies, a track record of successful projects, compliance with security standards, and the ability to understand and meet your specific business requirements.
What technologies should a fintech product development company be proficient in?
When searching for a suitable company, it's essential to consider their proficiency in technologies relevant to your needs. This includes blockchain, data analytics, cybersecurity, cloud computing, and mobile development.
Additionally, the company should keep up-to-date with the latest trends and innovations in fintech to provide you with the best possible solutions.