The American bank Chase has found that 4 out of 5 customers prefer to manage their money with a smartphone rather than visiting a bank. As the world becomes more digitized, new opportunities are emerging to increase revenue in the financial sector.
However, building a successful FinTech app requires careful planning, strategic thinking and experience in payment product development. In this article, we review the key features of payment apps and provide a comprehensive guide on how to develop a successful FinTech app.
FinTech industry growth 
The FinTech industry has experienced significant growth globally, and the statistics below illustrate its remarkable expansion:
According to the

Deloitte

report, global FinTech industry revenue has nearly doubled since 2017.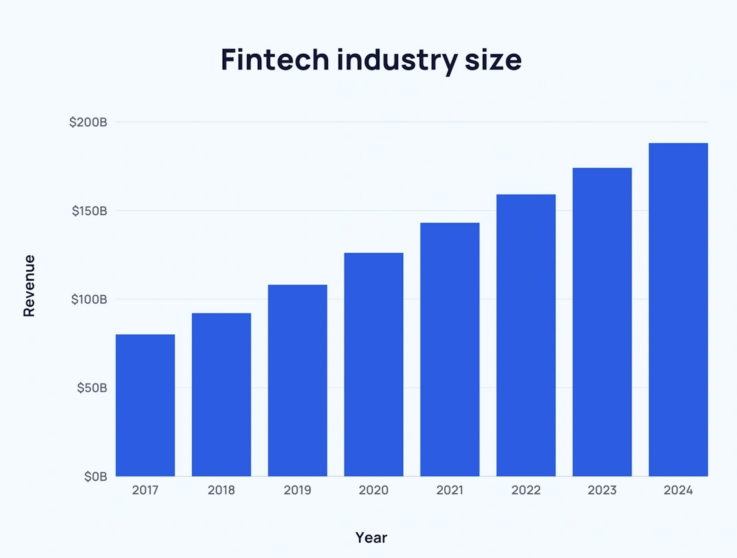 Source: Deloitte
In 2017, the global revenue of the FinTech industry was approximately $90.5 billion. This figure has increased by over 100% since then.
The

largest market

is digital commerce, with a projected total transaction value of $6.03 billion in 2023.

According to

Statista

, global digital payments transaction value is expected to reach over $8 trillion by 2024, highlighting the increasing reliance on digital payment solutions.
Transaction value worldwide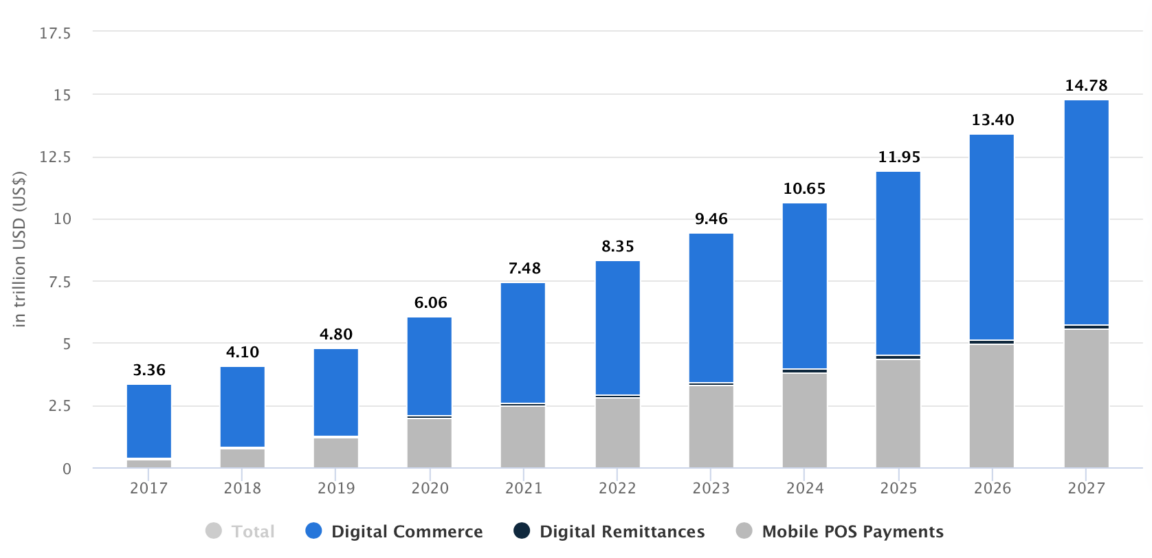 Source: Statista
These statistics illustrate the robust growth and immense potential of the FinTech industry, driven by technological advancements, changing consumer preferences, and a shift towards digital financial services.
Factors that are driving the digital payments market
The digital payments market is experiencing remarkable growth due to several compelling factors.
First, the convenience and speed of digital payments have made them the preferred payment method, especially among the tech-savvy younger generation. The ability to make quick and hassle-free transactions has changed consumer behavior and expectations.
Second, the increasing digitization of businesses has fueled demand for efficient and cost-effective digital payment solutions. Businesses of all sizes are realizing the benefits of streamlined transactions, reduced administrative overhead, and improved cash flow that digital payments offer.
P2P Payment app development services
Lead the digital payments business with SDK.finance FinTech software
More info
Third, the exponential growth of e-commerce and online marketplaces has created an urgent need for secure and seamless payment systems. Both consumers and businesses need reliable solutions that enable frictionless cross-border transactions and support the global nature of modern commerce.
As these factors continue to shape the digital payments landscape, we can expect the industry to experience sustained growth and innovations that will revolutionize the way we transact and interact in the modern financial system.
Read this article to explore how to create a digital-only banking app, using a ready backend solution.

Main types of FinTech products
The FinTech industry offers a wide range of opportunities for innovative financial products. From digital wallet solutions to neobanking platforms, there is ample opportunity to address different needs and meet the needs of your target audience.
So let us explore the main categories of FinTech applications you can develop.
Digital wallet
A digital wallet is a virtual wallet where users can securely store, manage, and trade their digital assets such as payment cards, bank account information, loyalty cards, and digital currencies. It serves as a digital replica of a physical wallet and provides a convenient and streamlined way to make payments, transfer money, and access various financial services from a mobile device or computer.
There are several popular and widely used digital wallet apps available in the market. Here are some of the best digital wallet apps:
Google Pay follows Material Design principles, offering a visually appealing and consistent interface across devices.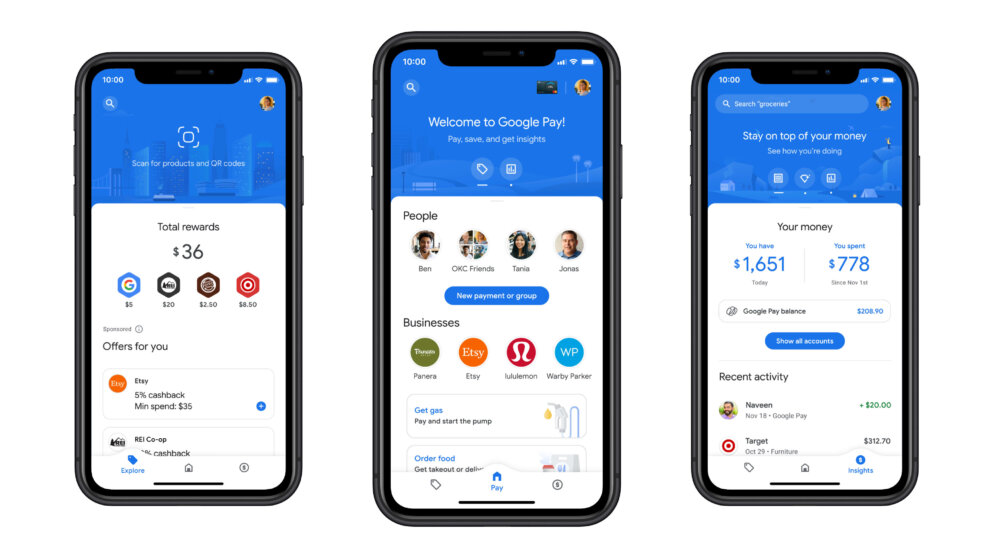 Source: CNBC
Venmo incorporates a social element into its UX/UI design. It features a colorful and playful interface, along with a social feed where users can interact, like, and comment on payment activities of their friends.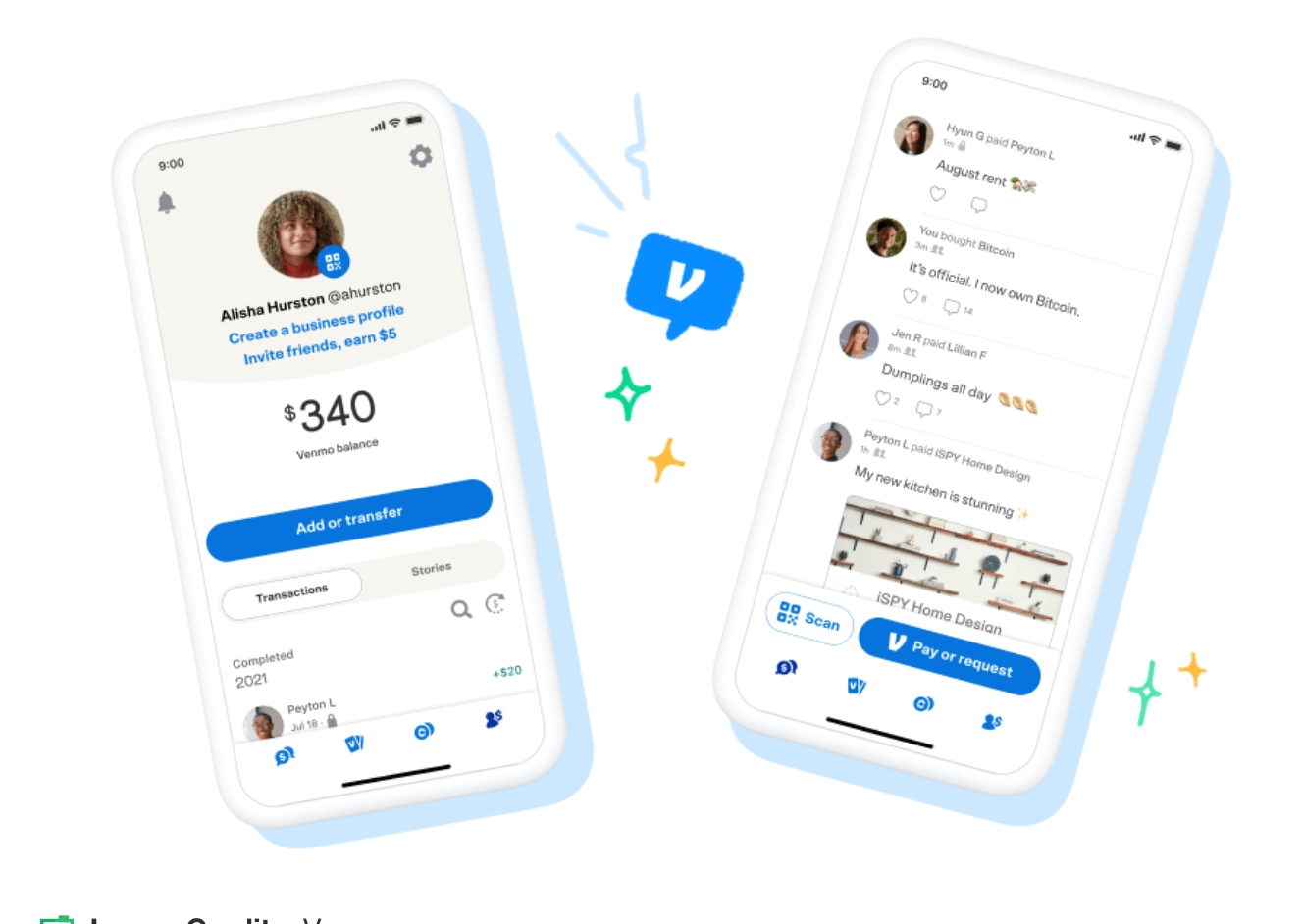 Source: Venmo
Explore the SDK.finance software to develop your own digital wallet solution, click here. 
Neobank 
A neobank refers to a type of financial institution that operates exclusively online and without physical branches. Neobanks, also referred to as digital banks or challenger banks, offer a range of financial services, including banking, payments, and money management, entirely through digital platforms such as mobile apps and websites.
Unlike traditional banks, neobanks emphasize a user-friendly and streamlined experience through the use of technology and innovative solutions. They often offer features such as easy account setup, intuitive mobile banking interfaces, real-time transaction notifications, budgeting tools, and personalized financial information.
Visit this page to explore SDK.finance FinTech software to build your own neobank and reach the market faster. 
FinTech development services
Get a complete backend software for financial products
More details
Money transfer software
Money transfer software is a technology solution designed to facilitate the secure and efficient transfer of funds between individuals or businesses. It enables users to send and receive money electronically, eliminating the need for traditional methods such as cash or paper checks.
Follow the link to get more details about a pre-developed software solution to build a future-proof P2P payment or remittance app.
Payment acceptance 
Payment acceptance software refers to the ability of a business or organization to accept various forms of payment from customers for goods or services delivered. This includes having the necessary infrastructure, technology, and processes in place to securely process and authorize payments.
Click on the link for a full range of online and offline payment processing development services.
Currency exchange
A currency exchange solution is a software or platform that facilitates the exchange of one currency for another at the current exchange rate. It allows individuals or businesses to exchange their local currency for a foreign currency.
Currency exchange software must include access to current exchange rates for various currency pairs, tracking and recording of currency exchange transactions for reference and audit purposes, and support for a wide range of currencies to meet diverse customer needs.
Follow this link to get a powerful foundation to start your foreign exchange business. 
API-driven neobank software
Flexible platform to build a digital retail bank on top
More info
How to develop a successful FinTech app?
Developing a successful FinTech app requires careful planning, technical expertise, and a deep understanding of the target audience and market trends. We take a look at the pre-development and development phases to clarify the most important things you need to know to build a successful payments app.
Pre-development phase 
The pre-development phase is critical to laying the foundation for developing a successful FinTech app. Here are the key steps to follow in the process:
Define the core payment app features
Clearly define the goals of your app and determine the most important features that meet the identified market needs. Prioritize the features based on their importance and feasibility, taking into account both user needs and business goals.
Consider the following key functions to implement in future-ready FinTech apps:
Bill payment

Multi-currency account

Currency exchange

Cross-border transactions

Seamless integration with financial institutions

Spendings visualization
Here you can find detailed information about key features of payment apps. 
Focus on the user experience
By focusing on UX, you can streamline processes, eliminate unnecessary steps, and provide features that simplify financial tasks. Intuitive interfaces, intelligent automation and personalized recommendations can increase efficiency and help users achieve their financial goals faster.
The Revolut's mobile app, for example, offers a clean and minimalist interface with intuitive navigation.

The redesign of the account screen aims to provide users with a refreshed interface for seamless navigation through their transaction records and investment accounts. The screen has been divided into different sections that group items based on money, accounts, and transaction-related actions.
This restructuring ensures a user-friendly layout and improves the overall user experience when interacting with their financial information.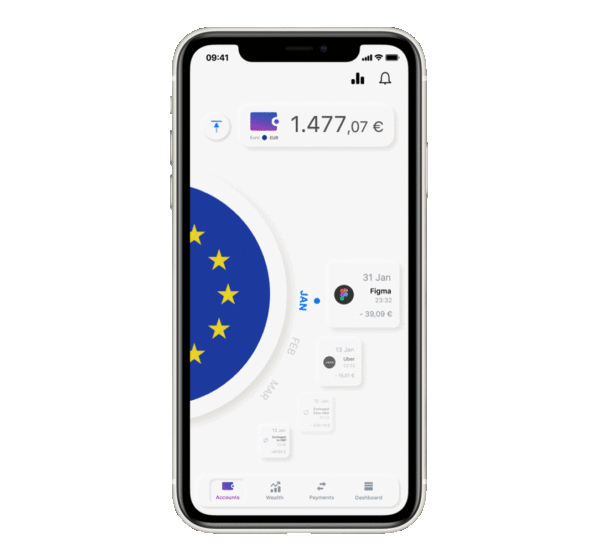 Source: UXdesign.cc
It presents financial information in a clear and concise manner, making it easy for users to understand their spending habits, create an effective budget, and make informed financial decisions.
Choose the right technology stack 
Consider factors such as scalability, security, integration capabilities, and development resources. For example, the most popular programming languages for back-end development of payment products include Java, known for its robustness; Python, with its simplicity and versatility that allows developers to build and scale applications quickly; and Ruby, known for its elegant syntax and developer-friendly conventions.
Read our article on the best payment tech stack to get more information about databases and frameworks for FinTech development. 
Regulatory compliance
To develop a successful FinTech app it is critical to ensure compliance with legal requirements. Each country and even different states or regions within a country may have their own legal requirements that must be followed.
Privacy regulations
FinTech apps must comply with various data protection laws, such as the General Data Protection Regulation (GDPR). The GDPR is a data protection regulation that applies to the European Union (EU) and the European Economic Area.
The ePrivacy Regulation also applies in the European Union and the European Economic Area, as well as in other countries where the app is used.
Financial regulations
Today, there are numerous FinTech compliance practices that must be followed. These include complying with the Payment Card Industry Data Security Standard (PCI DSS) for secure handling of payment card data, anti-money laundering (AML) compliance, following know-your-customer (KYC) requirements, acquiring digital signature certificates, and more. 
Specific compliance obligations vary from country to country and must be carefully considered to ensure regulatory compliance and minimize the risks associated with non-compliance. You can find more information about financial regulations in this article. 
Ewallet app development services
Accelerate time to market with SDK.finance pre-developed software
More info
Development phase 
​FinTech software development is undoubtedly a complex and resource-intensive task that involves several complicated steps. From design to development, API integration, testing, and deployment, each stage requires attention to detail and technical expertise. In addition, keeping up with evolving regulatory requirements and industry standards adds to the complexity.
To streamline the process and accelerate the adoption of payment products, you can consider a pre-developed payment software. It serves as a ready-made foundation with essential features and functions already built in, significantly reducing development time and costs. This way, companies can focus on customizing the solution to their specific needs instead of starting from scratch. By using pre-developed software, companies can benefit from a proven framework, extensive testing and ongoing support from experienced software vendors. This not only speeds time to market, but also ensures a robust and reliable solution that meets industry regulations.
Use a pre-build software to develop a successful FinTech app
You can start building payment software from scratch after going through all the previous steps yourself, or work with a FinTech software provider to speed up the development process.
Working with a vendor can accelerate the release of your payment product, saving you time and lowering overall development costs so you can focus on business operations and application functionality. A trusted software partner can also provide scalability as your business grows, ensuring your FinTech platform can meet increasing user demands.
With SDK.finance, a leading FinTech software provider, you can accelerate the development of various financial solutions. Whether you are looking to build a digital wallet, a neobank, a business ledger and money transfer software, SDK.finance offers a comprehensive solution that saves you time and resources.
Wrapping up
Developing a successful FinTech app requires careful planning, technical expertise and a deep understanding of the target audience and market trends. Working with a software company can bring expertise, scalability, and cost efficiency to the development process, allowing them to focus on operational aspects and application functionality.
With SDK.finance's pre-developed payment software, you can develop a successful FinTech app faster using its transactional engine with the ready backend. Accelerate your time-to-launch and conquer new markets with our payment solution.
FAQ
What are the key features of a successful FinTech app?
Some key features of a successful FinTech app include: secure and seamless digital payments, money transfer and remittance capabilities, multi-currency support and currency exchange, integration with financial institutions and personalized financial management tools.
How to develop a successful FinTech app?
Software development is a complex process that involves several complicated steps. From design to development, API integration, testing, and deployment, each stage requires attention to detail and technical expertise. In addition, keeping up with evolving regulatory requirements and industry standards adds to the complexity.
SDK.finance provides a pre-developed software to build a standalone payment app on top or add electronic asset accounting functionality to your existing product.
What are the main types of FinTech products that can be developed?
The main types of FinTech products that can be developed include: digital wallets, neobanks, money transfer software, payment acceptance software and currency exchange platforms for foreign exchange transactions.
What is the pre-development phase of developing a FinTech app?
The pre-development phase involves laying the foundation for the app development process. It includes steps such as product discovery, defining core features, focusing on user experience, choosing the right technology stack, and ensuring regulatory compliance.
How important is user experience in a FinTech app?
User experience is crucial in a FinTech app as it directly impacts user adoption and engagement. A seamless and intuitive interface, easy navigation, personalized recommendations, and efficient processes enhance user satisfaction and increase the likelihood of app success.