Digital wallets provide a convenient way to store payment information and make transactions without the need to carry physical cards or cash. With a digital wallet, users can securely store their credit or debit card information and use their device to make purchases online or in-store. Some digital wallets also offer additional features such as loyalty programs, rewards, and discounts.
In 2020, there were over 2.1 billion mobile wallet users worldwide. According to Statista, this number is expected to rise to 4.8 billion by 2024. But what makes electronic ways of payments extremely popular? In this article we highlight the key factors driving the digital wallets industry, and provide a list of the top e-wallets solutions. 
How e-wallets are driving the payment industry?
E-wallets, also known as digital wallets, are increasingly driving the payment industry due to their convenience, security, and accessibility. The global digital wallet market size is expected to reach USD 7.1 trillion by 2027, growing at a CAGR of 28.2% from 2020 to 2027, according to Grand View Research.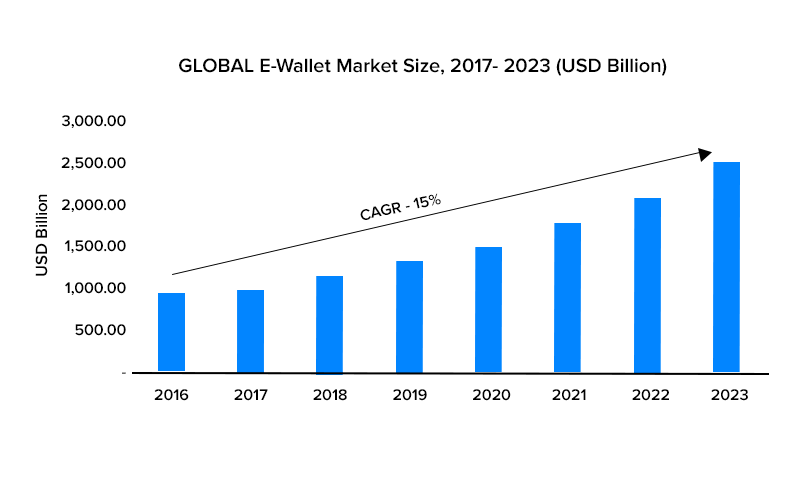 Source: Appinventiv
The growth of digital wallets is also driven by factors such as the increasing use of mobile devices for shopping and the growing preference for contactless payments. Many retailers and merchants also now accept digital wallet payments, making it easier for consumers to use them. 
In addition to mainstream digital wallets offered by companies such as Apple, Google, and Samsung, there are also many other digital wallets that cater to specific markets and needs. 
For example, there are digital wallets designed specifically for micropayments, international money transfers, and cryptocurrency transactions. Overall, the growth of digital wallets is expected to continue as more people adopt mobile and digital payment technologies.

What makes digital wallets extremely popular?
This software allows users to store their payment information, including credit or debit card details, in a digital form. This makes it easier for users to make payments online or in-store, without the need to carry physical cards or cash. Digital wallets are also highly secure payment methods, because they use encryption and other security measures to protect user data and prevent fraudulent transactions. This gives users peace of mind when making payments, as their information is kept safe.
Read this article to get more information about must-have features of the e-wallets.
E-wallets provide a wide accessibility, because they can be accessed from anywhere with an internet connection. This makes them a popular payment option for people who do not have access to traditional banking services. These software programs can be easily integrated with mobile devices, allowing users to make payments on-the-go. This is particularly useful for people who rely on their mobile devices for daily activities, such as shopping and communication. Moreover, many e-wallet providers offer incentives, such as cashback or rewards points, to encourage users to make payments using their services. Read this article to get more information about benefits of digital wallets for payment businesses. This helps to increase adoption of e-wallets and drive the payment industry forward. 
API-driven neobank software
Build your payment app on top faster and cheaper
More info
List of top e-wallet solutions
Digital wallets may differ in their features, costs, and technologies, but their main function is to enable payments. Each of them has its advantages and limitations, you need to choose the right solution according to the business and customers' needs.
We have picked the best e-wallet companies that offer payment services.
PayPal electronic payment
PayPal is a widely-used e-wallet that allows users to send and receive money online. It also offers a range of other services, such as the ability to pay for goods and services online, make donations, and manage subscriptions. PayPal ewallet provides secure transactions thanks to advanced encryption and also supports payments in over 200 countries and over 100 currencies, making it a great option for international transactions.
PayPal e-wallet is widely accepted by millions of online merchants and retailers, making it a convenient and popular payment method for online purchases. The company also offers seller protection for eligible transactions, providing an added layer of security for those selling products or services online. PayPal's features and benefits make it a versatile and widely-used digital wallet and payment system for individuals and businesses. Check this article to get information how to build an app like PayPal.
ApplePay payment system
Apple Pay is the only contactless payment system available on Apple phones. Users can securely store their credit and debit cards, driver's licenses or state identification cards, transportation cards, event tickets, keys and more in Apple Wallet. It also connects to the Apple Watch to provide a convenient payment service.
Apple Pay accounts offer payment options to a wide range of customers via an NFC-based banking device or online shopping apps. In the first case, an iPhone or smartwatch is used as a bank card that contains the NFC number, and in the second case, a website or application uses an API. ApplePay is known for its high security standards, and even if the customer's phone is lost, the service's data is inaccessible to intruders.
Google Pay app
Google Pay or Android Pay are apps for the Android operating system. The digital wallet can store credit cards and debits. Information about users is stored encrypted in its database. Installing a card on the computer is possible with a few clicks. Google Pay accounts are accessible everywhere and allow contactless payments. Therefore, residents in almost any country can use the feature very effectively. Each payee receives an additional fee from Google, but it's usually paid by a merchant. These companies also have their debit cards issued by Google Wallet.
It's easy to send cash to friends or family through GoogleWallet. Users can deposit money directly from your bank without the need for intermediaries. They also can split bills, collect rent, and pay fees for services.
Digital wallet solution
Affordable software to base a fintech product on
Learn more
Samsung Pay platform
Samsung digital wallet is a digital payment platform developed by Samsung. It is available for the Samsung Galaxy-exclusive One UI Android operating system. Customers can use Samsung Wallet to store gift cards, membership cards, rewards cards and vaccination records in addition to payment information.  It uses NFC technology and magnetic secure transmission (MST) to allow users to make payments at both contactless and traditional payment terminals.
Samsung Wallet is used only for mobile devices and is not set up for payments on websites like other wallets. It is also only connected to Samsung devices, which limits it somewhat. Nevertheless, Samsung Wallet offers instant activation and a fast and secure online payment service.
Check this article to get more information about developing a digital wallet.
Venmo digital wallet
Venmo is a mobile payment app that allows users to send and receive money from friends and family. It also offers a social feed that allows users to see their friends' payment activity. Customers also can split the bill or share purchases within an application. The key features of a mobile payment Venmo app include real-time payments, bank accounts, and credit card integrations, online purchases, transaction tracking, cryptocurrency exchange, and payment requests. Check this article to get information about the advantage of offering payment cards for e-wallet products.
Affordable SaaS fintech platform
Build your payment or digital wallet app cheaper and faster
Learn more
Amazon Pay service
Amazon Pay is an e-wallet service offered by Amazon that allows customers to make payments on external websites using the payment and shipping information stored in their Amazon account.
Amazon Pay allows partner companies to place the link to the customer's website where they can purchase services. For stores, these services can pay 29% of all transactions plus $0.3. For international transactions, the commission rate is 3.99%. Payment is made through your Amazon account and is easy to do. This service offers secure data protection.
Users in EU countries can pay SEPA for this service. Similar conditions apply to SWIFT payments, which can be made at any time. Amazon also offers credit cards for regular consumers. The customer does not require monthly fees for use. The main advantages offered by Amazon's digital wallet are low transaction fees, a high level of security, and a simple registration process that takes only a few minutes. However, processing user requests takes too much time for the customer support team. 
Zelle digital wallet
Zelle is a digital payment network that allows users to send and receive money directly from their bank account. It is often integrated into banking apps and allows for instant transfers. Their e-wallet provides secure transactions, using encryption to ensure that user data and financial information is kept safe. 
The main benefits of the Zelle system is availability with many banks, the payment company allows users to send and receive money directly from their bank account, which can be convenient for splitting bills or sending money to family and friends. Overall, Zelle's key functionalities and benefits make it a convenient and reliable way to send and receive money directly from a bank account, without the need for a physical wallet or cash.
Mobile wallet solution
Build your payment app on top faster and cheaper
More info
These companies offer e-wallet solutions for individuals and businesses to securely store and manage their money and make transactions online. They have gained widespread popularity due to their convenience and security features, making them some of the leading e-wallet companies in the world.
SDK.finance payment software
SDK.finance is a fintech company that provides payment solutions for businesses in the financial industry. Our fintech software allows you to new revenue streams, you can monetize each customer segment via flexible commissions and operations fees and limits.
The SDK.finance e-wallet solution can help you with: 
Account management – Users can create and manage multiple accounts with different currencies, view account balances and transaction histories, and set up automatic recurring payments.

Payments and transfers – Users can send and receive money to other users, make payments to merchants, and transfer funds to bank accounts or other payment systems.

Mobile payments – The e-wallet can be integrated with mobile payment systems, enabling users to make payments using their mobile devices.

Security – The e-wallet platform includes multiple security measures such as two-factor authentication, device fingerprinting, and anti-fraud algorithms to ensure the safety of user funds.

Customization – The platform can be customized to match the branding of the business using it, including the design of the user interface. Your team can customize the ready-made ewallet software so that it meets all regulatory, security and compliance standards.
Our platform is available as a cloud SaaS version or on-premise with the source code giving you independence from the vendor. Both variants provide the same functionality. For example, e-wallet software provides an integration with service providers, payment gateways and banking networks to enable popular payments. You can also control fees and operational limits.
Consequently, e-wallets are driving the payment industry by providing a convenient, secure, and accessible payment option for users. As more people adopt e-wallets, the payment industry is likely to continue to evolve, with new technologies and innovations emerging to meet changing user needs.
FAQ
What is a digital wallet?
A digital wallet, also known as an e-wallet, is a software-based system that securely stores payment information and allows individuals to make electronic transactions. It can be accessed via a smartphone app or website, and can be used to make purchases in physical stores, online retailers, and other businesses that accept digital payments.
A digital wallet can store a range of payment methods, including credit cards, debit cards, bank accounts, and even digital currencies such as Bitcoin.
Why are digital wallets extremely popular?
The growth of digital wallets is also driven by factors such as the increasing use of mobile devices for shopping and the growing preference for contactless payments. Many retailers and merchants also now accept digital wallet payments, making it easier for consumers to use them.
What are the top ewallet solutions?
There are many e-wallet solutions available, and the popularity of specific providers can vary depending on the region or country. Here are some of the top e-wallet solutions:
PayPal electronic payment
Zelle digital wallet
Amazon Pay service
Samsung Pay platform
Venmo digital wallet