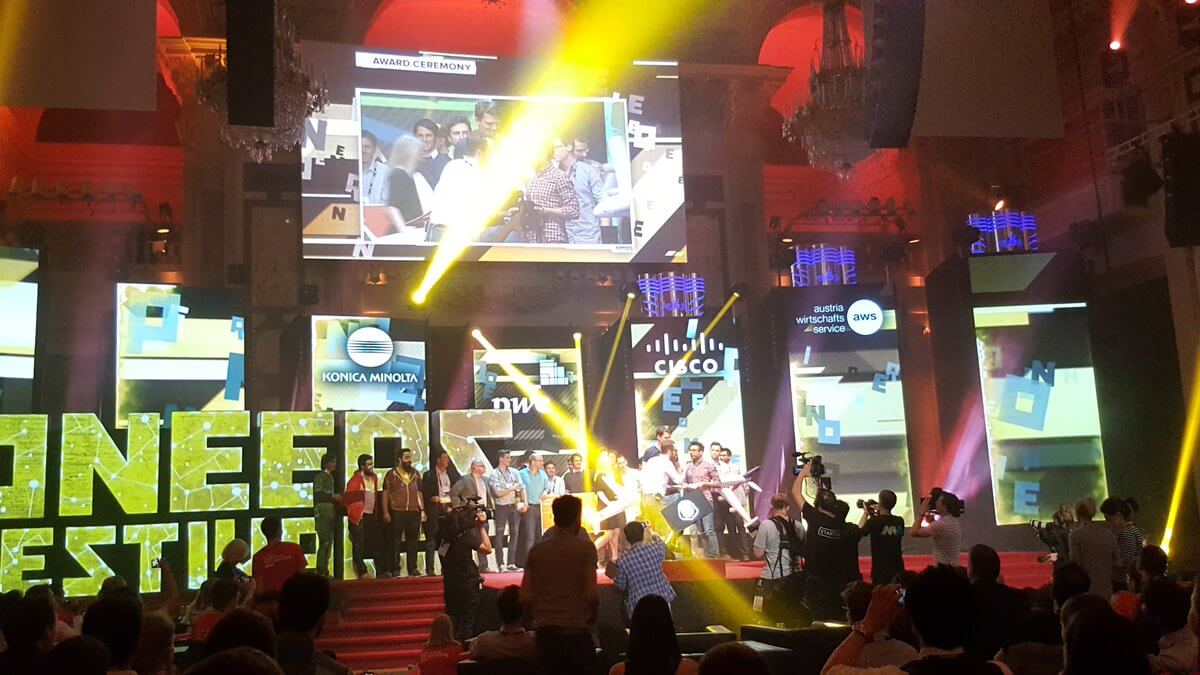 We are delighted to report on the successful participation of SDK.finance at major Europe's event for future technologies and entrepreneurship  – Pioneers Festival 2016 held on May, 24-25. Each year the brightest minds and most innovative ideas are brought together in a dynamic set-up to battle for the title of the tech Pioneer of the year.
This year the festival gathered 1300 entrepreneurs, over 300 investors, 400 tech experts, and 150 international media representatives in the beautiful city of Vienna.
SDK.finance at Pioneers Festival 2016
CTO of SDK.finance Pavlo Sidelov was showcasing our multi product ready-to-go FinTech platform.
In order to get the chance to compete for the title of the Pioneer of the year,  early-stage startups from all over the should have won a place in the top 500 startups selection. The companies were aligned within the following 7 categories:
Companies akin to SDK.finance – trying to revolutionize the financial industry – were competing for victory in the Financial services category.
The second round of competition was showcasing our product on the stage of Hofburg Imperial Palace. The top 10 names of the Financial Services ecosystem included such companies as NEON Trading, Curve, Cookies, Bitwala, Ledger, Loot, Supersmart, KASKO, CrediWire, DevCharge, and Fractal Labs. Prior to pitching our product on May 23, we received exclusive mentoring by Pioneers Ventures on May 22.
SDK.finance CTO Pavlo Sidelov was presenting our multiproduct FinTech platform to Pioneer's jury.
We were talking about how SDK.finance's digital core banking FinTech platform and flexible back-end products enable thousands of financial institutions, startups and their IT departments to build different financial products in a seamless, fast and cheap way.
Learn more about SDK.finance opportunities for financial institutions and banks here.
A star lineup of speakers such as Wikipedia Founder Jimmy Wales, Tim Draper of DFJ, and Manoj Bhargava, CEO of Living Essentials added the flavour to the event.  Financial services ecosystem was presented with such speakers as Kristo Käärmann, CEO and co-founder of TransferWise, a peer-to-peer international money transfer business, Roger Ver, bitcoin investor, and Peter Smith, CEO Blockchain.
We also had a chance to exhibit our FinTech core banking system all day in a separate exhibition area and contact with international top-notch investors & accelerators, exchange ideas with like-minded founders and consume an unchallenged level of inspiration. In short breaks of communication with the people interested in our platform CTO Pavlo Sidelov highlights 5 minutes on coding. 
Our greetings to the winner of the Pioneers 2016 festival, payment card company Pleo, which received €500k seed investments from Speedinvest and Red Bull. On their place could be SDK.finance;) However we will try again next year. It remains only to explain better the essence of our sophisticated technological product. Therefore FinTech is interesting and it pleases.
Our overall impressions from Pioneers Festival 2016 in Vienna are excellent, thanks to the organizers of the event. We are very grateful for the opportunity to be a part of a landmark event and present SDK.finance to such a qualitatively selected audience. 
About us 
SDK.finance has a proven track record of providing financial services companies with the core banking functionality that they need, using its secure, robust, and configurable API platform as a one-stop-shop solution. 
Explore our highly scalable banking software:
Marketing Automation Platform for Banks
Contact us to learn more about our banking solutions. We are open to talk about how SDK.finance can be useful for your business.