Islamic banking has seen significant growth this century. Sharia-compliant financial assets are forecast to total $3.8 trillion by 2022, up from just $200 billion in 2003. Unlike the conventional banking system, Islamic banking relies on the principles of the Sharia or Islamic rulings, which emphasize moral and ethical value in all dealings.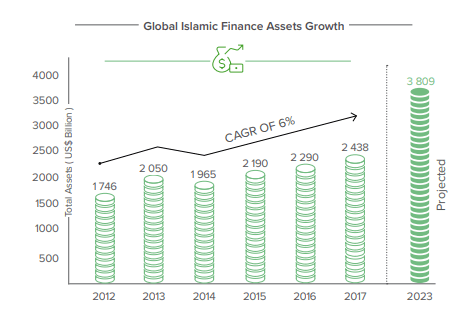 Sharia prohibits the payment or acceptance of interest charges, called riba, for lending and accepting money or any other trading activities. Money in Islam has no value in itself and can only define the value of something else. Therefore, it cannot be used to earn a direct return in the form of interest. Instead, the modern Islamic banking system relies on the profit or loss sharing (PLS) for earning revenue from investments and lending.  
The PLS method promotes participation in the transaction backed by real assets. Such participatory modes used in Islamic banking are called musharakah and mudarabah. Other trade-based and leasing techniques on a fixed-return basis include murabaha, istisna'a, and salam. 
With over 1,400 institutions in 80+ countries, Islamic banking is expected to keep growing. The median age for Muslims globally is 24 years old, and as such, the Muslim world has a high mobile phone penetration. Millions of digitally native young, underbanked, and unbanked Muslim customers form an enormous potential market for digital Islamic banking solutions. 
However, high transaction costs of traditional banking software make it unsustainable for Islamic banks to offer services to low-income groups, which make up a sizable proportion of customers in developing countries in the Middle East, Asia, and Africa. 
Islamic Banking Software Vendors

Global core banking software providers like SDK.finance can help Islamic banks reach a larger market with modern solutions that keep costs down while ensuring adherence to the Sharia principles. The digital retail banking software is available in all popular formats: web, iOS & Android applications that help to reach the new generation of mobile customers efficiently.
SDK.finance provides technology and supports banks of all kinds at every stage of the digital transformation from market research to product launch and scaling. On the other hand, banking customers can benefit from a modern and secure experience guaranteed by two-factor authentication, biometric checks, security notifications, and Strong Customer Authorization for payments.
The Platform consists of 5 main components: a back-end wrapped in 400+ API endpoints, 3 front-end frameworks, and a web for system management with capabilities in iOS and Android for our clients.
Advantages of software that is built on API-first architecture:
The speed of releasing new features and functionality is much faster
The cost of ownership is more economical
Fewer bugs and more stable products exist
Better flexibility, scalability, and features are just some of the advantages of the SDK.finance core banking software ready for Islamic finance.
Find out more about the SDK.finance Islamic banking software
and how it can help your business unlock new opportunities.
Learn more