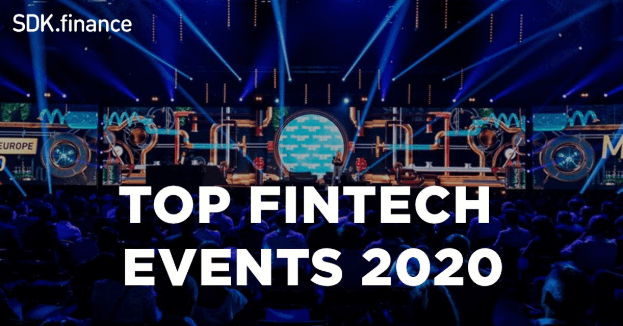 As we venture into the new decade, we wanted to help you plan with a list of the top-rated FinTech events around the world. 
From digital banking and blockchain to machine learning and artificial intelligence, the events in this list will help you discover the most exciting ideas and innovations that will shape the FinTech sector in the coming years. 
Visiting events is a great way to not only learn about the latest developments and trends but to meet like-minded professionals. Whether it is learning exclusive insights from industry leaders or showcasing your company to generate new leads – there is a lot to gain from participating.
It is worth noting there are many events scheduled for this year, so we relied on our experience working in the FinTech sector to highlight the most notable ones, based on covered topics and participating speakers. 
You may also like Top 10 Core Banking Software list our list of top Fintech Core Banking Software.
17-18 June | Amsterdam, Netherlands
Join the smartest visionaries and innovators at the biggest FinTech event in Europe. The latest thinking on payments, AI, data analytics, and distributed ledger technology directly from 350+ successful startups, entrepreneurs, and innovators.
At this annual event, payments, FinTech, and financial services communities come together to share the most disruptive ideas and topics, both regional and global. Gain insights into the key players of tomorrow with immersive deep-dive sessions, debates, and meet-ups. Money20/20 is one of the top FinTech events to attend in 2020.
Featured speakers: Founders and executives from e-Estonia, Tinkoff, Lidya, Neufund, EBANX, NatWest, Partners at Work, Banking Circle, Julius Bär Group, BankiFi, The Finanser Ltd. 
20-24 April | London, United Kingdom
This five-day FinTech event is going to be a tour de force of financial innovation and collaboration, attended by FinTech founders, institutions, technologists, entrepreneurs, investors, regulators, policymakers, politicians, academics, and media from all over the world. 
A series of events, debates, workshops, roundtables, and networking opportunities to explore the changing landscape of financial services and the future of up and coming technologies. Join over 2500 senior delegates from 70+ countries for a complete overview of the FinTech industry. 
Featured speakers: 200+ top-tier industry executives. 
17-18 April | New York, United States
Explore the best ways to optimize digital onboarding, banking CX, and identity management processes at this 2-day summit. Customize your experience with a series of round tables, panel discussions, case studies, keynotes presentations, smart solution exhibitions, and collaborative platforms.
Industry pioneers will deliver practical solutions to current challenges in a series of keynotes, while the Horizon Start-up Elevate program will showcase innovative startups. Gain subject matter expertise, collaborate on new ideas, and discover innovative business models to grow and scale your business.
Featured speakers: Executives from BNY Mellon, Bank Of America, Banco Bradesco, PNC, ING, Goldman Sachs, HSBC Bank USA. 
15-17 March | San Diego, United States
Join this exclusive invite-only event for cybersecurity leaders and learn the latest, most successful finance, and insurance strategies. Get answers to your biggest challenges with a one-of-a-kind peer to peer mentorship program, where you'll connect with industry leaders. 
Speakers will go through best practices on how to prepare for possible breaches, combat threats & vulnerabilities, and future proof your security infrastructure. Network, benchmark, and debate ideas with a carefully selected group of distinguished peers.
Featured speakers: Executives from BNY Mellon, Citi, United Nations, Deutsche Bank. VPs and Heads of Information and Cybersecurity from top Credit Unions, US banks, Insurances, and Financial Services.
9-10 March | Miami, United States
This FinTech event is a terrific way to uncover practical solutions to your challenges during interactive sessions on management, personalization, digital optimization, AI/ML, fintech partnerships, and much more. Learn actionable insights directly from industry leaders, disruptors, and fintech founders. 
Control your experience with a choice of birds of feather roundtables, workshops, and group sessions. Generating ideas and gaining new perspectives is more natural in smaller, interactive groups. Gain access to future-forward content and unparalleled networking opportunities at this boutique event. 
Featured speakers: Chief executives from Ally, First Commonwealth FCU, First Tennessee Bank, RBC. SVPs and EVPs from RBC, Umpqua Bank, U.S. Bank, PNC Bank, Fifth Third Bank.  
10-11 March | Madrid, Spain
From the way PSD2 legislation will impact the payments landscape to perfecting customer experiences, MoneyLIVE speakers will offer their answers to some of the biggest challenges in banking and payments. Hear it all directly from the brightest minds in the business at one of the top FinTech events 2020. 
Open banking strategies, creating agile and innovative cultures, the threat of BigTech, and fighting fraud are just some of the topics that will be covered in interactive workshops and ThinkTanks. Choose the content that is relevant to you while networking with senior decision-makers. 
Featured speakers: Chief executives from Deutsche Bank, Banco BNI Europa, Starling Bank, Banco Sabadell, BBVA, Bankia, Danske Bank, ING Bank. 
25-28 November | Vilnius, Lithuania
Fintech Inn 2020 is the largest and most significant international Fintech conference in the Baltic region. It is organised jointly by Lithuania's Agency for Science, Innovation and Technology, the Lithuanian Ministry of Finance and Ministry of Economy and Innovation, the Bank of Lithuania, as well as Invest Lithuania. Fintech Inn is a forum, where established companies, startups, investors, associations, policymakers and technology leaders from over 60 countries gather together to exchange knowledge and discuss the challenges facing the industry today. Located in Vilnius – one of the most desirable European locations for Fintech, with a dedicated sandbox for developing innovative solutions in the sector. Fintech Inn is the space to find the connections, know-how and inspiration key to tackling the issues of tomorrow.
15-17 June | Naples, Florida, United States
Join senior executives, business decision-makers, and financial services industry leaders to discuss the future of banking. Learn about the most pressing challenges and uncover unique opportunities with in-depth panel discussions, roundtables, and keynote dinners. 
Find out how to collect, refine, and make data work for you using next-generation data management tools and techniques. The speakers will also cover the digital banking breakthrough, IT compliance, and fraud protection. 
Featured speakers: Executives from Citizens Bank of Edmond, Columbia Bank, Partners Federal Credit Union, CITI.
12-13 February | Singapore 
Stay ahead of the finance evolution curve with unique insights from the leading CFOs in Asia. Prepare for future changes and the next wave of disruption from the representatives of best-performing corporations and innovative start-ups. 
Starting with an overview of Finance 5.0 and what the future of finance looks like, the speakers will deliver practical insights on harnessing technology for automation and improved efficiency. Learn new tools and techniques on how to future-proof your finance strategy directly from finance leaders across multiple industries. 
Featured speakers: CFOs from LIXIL Asia, Bank Islam Malaysia, Farm Fresh, Peugeot, Electrolux, Alcon, Aetna, Yeo's, Intel, Asurion, Pall Corporation, Draeger, Indorama, Schneider Electric, AirAsia BIG, Propertyguru, Luxasia, Brenntag. 
Dat: 24 April | Sarajevo, Bosnia & Herzegovina
At this fifth annual FinTech event, private sector executives and representatives of regulatory agencies will explore the future of financial services as well as key challenges and opportunities in the Balkans.
The speakers will explore the current and new approaches for attracting capital inflows, integrating with EU and international markets, and designing sustainable financial ecosystems. A great event to explore new ideas, experiences, and the latest developments in the region. 
Featured speakers: Executives from Raiffeisen INVEST, BRSA, Infinity Capital Advisors, Zagreb Stock Exchange, Association ARBITRI, Central Bank of the Republic of Turkey. 
23-24 April | Prague, Czech Republic
This must-attend event for bankers from all over the world offers excellent networking opportunities with 500+ participants, a unique EXPO for the latest FinTech solutions, and a great educational program based on leading banks case studies. 
The panel of 50+ world's most recognized industry speakers will uncover the latest trends in banking, the most effective strategies for improving CX, ways to optimize and automate internal banking processes, and solutions for reinforcing the position of banks in the financial services sector.
Featured speakers: Executives from Commerzbank AG, Banco Sabadell, N26, Intesa Sanpaolo, Bank Frick, Czech National Bank, Barclays, Royal Bank of Scotland. 
Choosing the right event for you
With so many FinTech events around the world, it can be challenging to pick just one. However, each event is a unique opportunity to gain new skills, learn the latest trends, and connect with like-minded professionals. 
Our team at SDK.finance has proudly showcased our company at many top FinTech events and learned valuable insights that helped us make our products even better. 
Do you have an event you are looking forward to, or did we miss your favorite? Let us know on Twitter. 
About us 
SDK.finance has a proven track record of providing financial services companies with the core banking functionality that they need, using its secure, robust, and configurable API platform as a one-stop-shop solution. 
Explore our highly scalable banking software:
Marketing Automation Platform for Banks
Contact us to learn more about our banking solutions. We are open to talk about how SDK.finance can be useful for your business.