Keep up with the latest FinTech news and developments with this comprehensive list of the most informative FinTech media websites covering the industry. 
The FinTech landscape is rapidly evolving. New ideas, startups, and companies are disrupting all financial sectors – from banking and insurance to cybersecurity and risk management. You can find out more about the most current FinTech trends, the most informative payments books, and the best FinTech events to attend in 2020 in our articles.
Top FinTech websites in this list are our go-to for the most recent news about the FinTech industry. The list begins with the most followed and reputable publications that cover a wide range of topics and ends with up-and-coming websites that offer unique and uncommon insights.


London, UK
Launched in 1996, FN is an authority on Europe's wholesale financial markets. The website and a weekly paper cover the most recent developments in investment banking, private equity, asset management, and the way technology impacts the financial sectors. Since day one, FN has focused on reporting news about the decision-makers at the heart of these sectors.    
Subscribe or follow on: Facebook: 1.4K, Twitter: 51.8K, and LinkedIn: 4.6K

London, UK
Finextra has become the leading source of information about important technology news in wholesale and retail banking, capital markets, and insurance. The website offers a wide range of research papers, feature articles, interviews, whitepapers, and case studies. Finextra is a popular platform for the worldwide financial community. 
Subscribe or follow on: Twitter: 51.1K and LinkedIn: 12.6K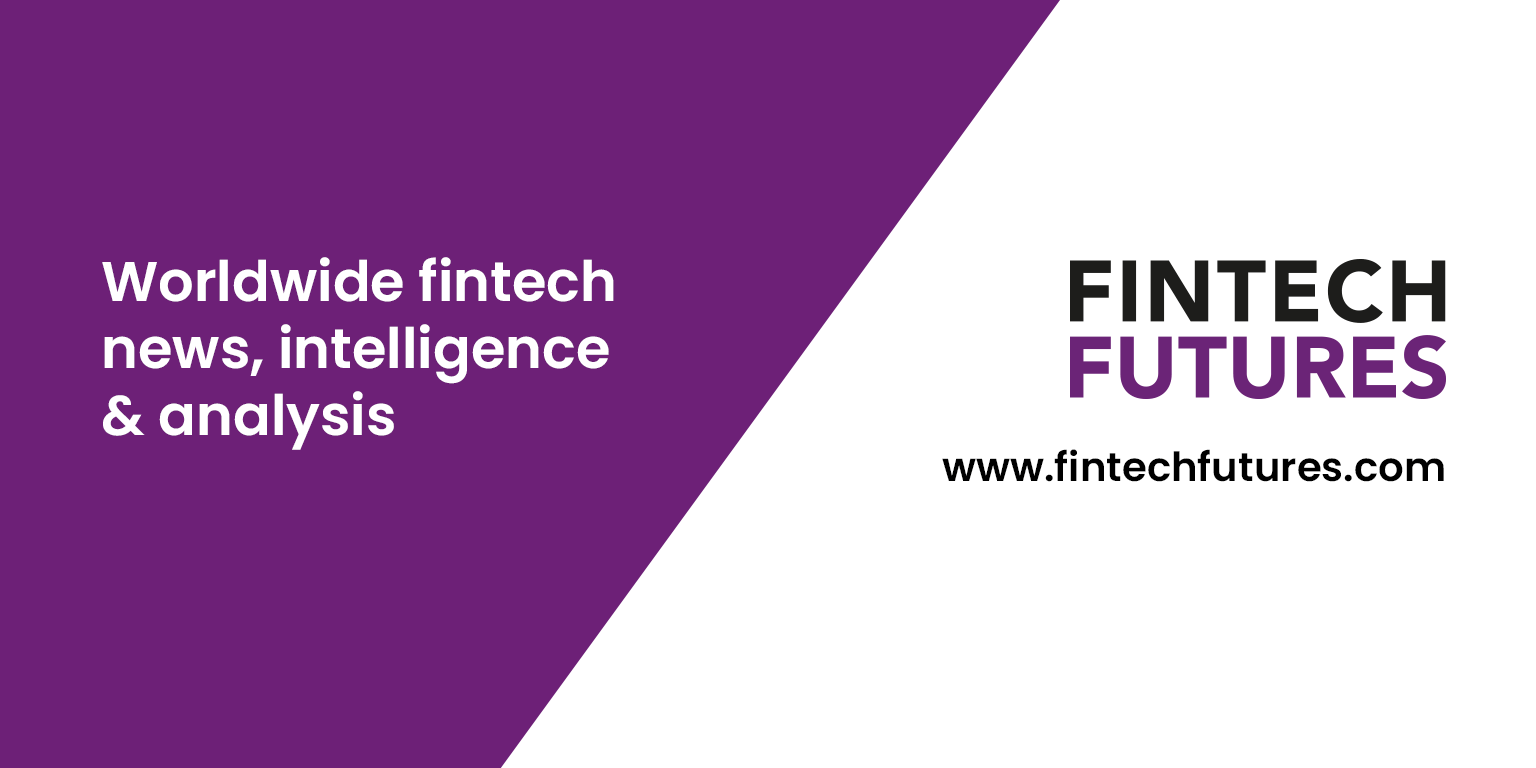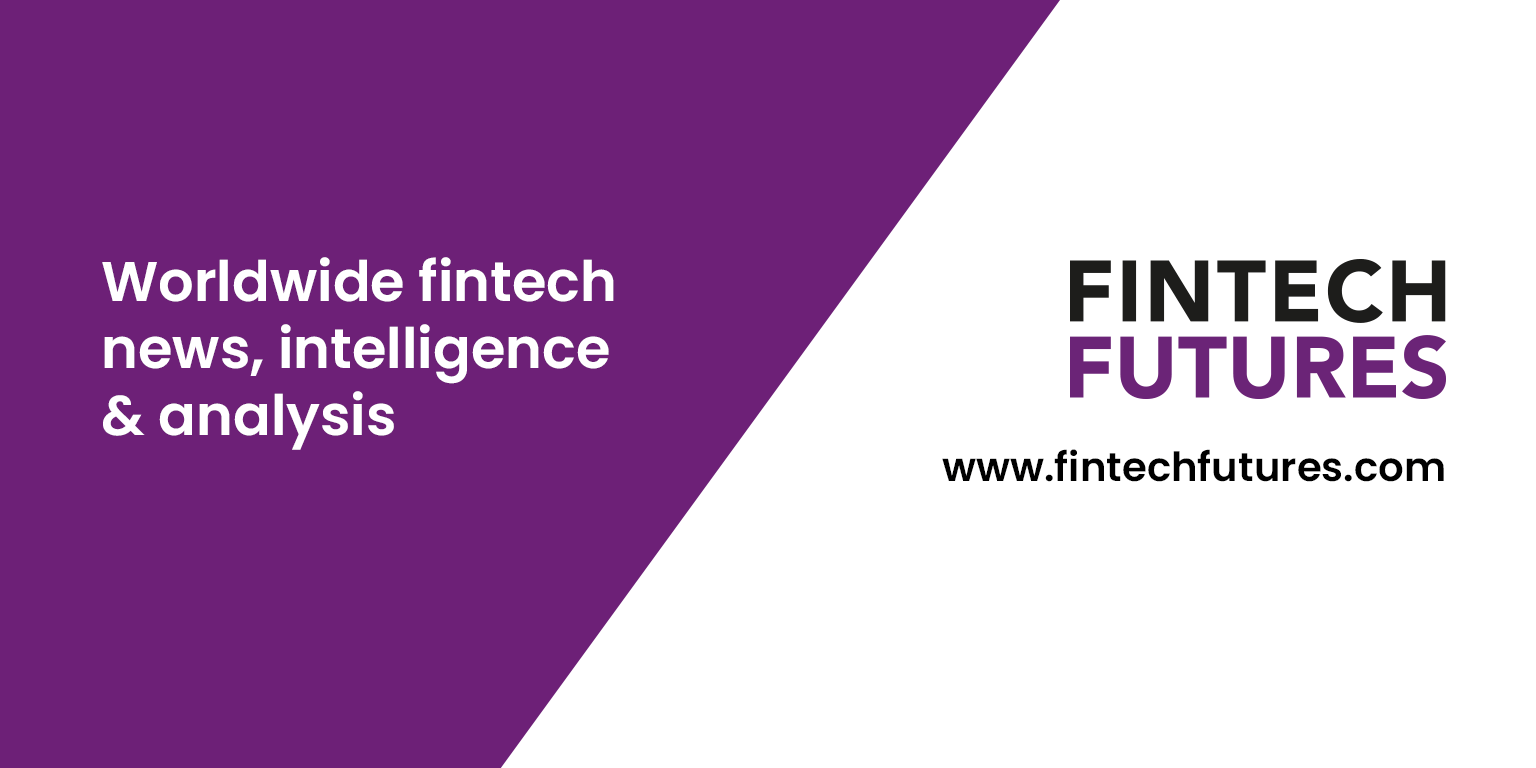 London, UK
FinTech Futures is a digital publication that provides daily news, in-depth analysis, and expert commentary for the global FinTech community. FF is a prominent research resource for technology buyers, sellers, developers, integrators, and other specialists across the sector. From BankingTech to RegTech, the website offers convenient access to a comprehensive range of FinTech areas.
Subscribe or follow on: Facebook: <1K, Twitter: 42.7K, and LinkedIn: 24.2K, 


Louisville, USA
MobilePaymentsToday provides comprehensive coverage of the application of mobile payments technology in industries such as banking, retail, restaurant, remittance, apps, online gaming, and mobile POS. The website's news, supplier listings, blogs, webinars, and product reviews help FinTech professionals and organizations to find the best mobile payment solutions for their needs.
Subscribe or follow on Twitter: 32.7K, and LinkedIn: 1.7K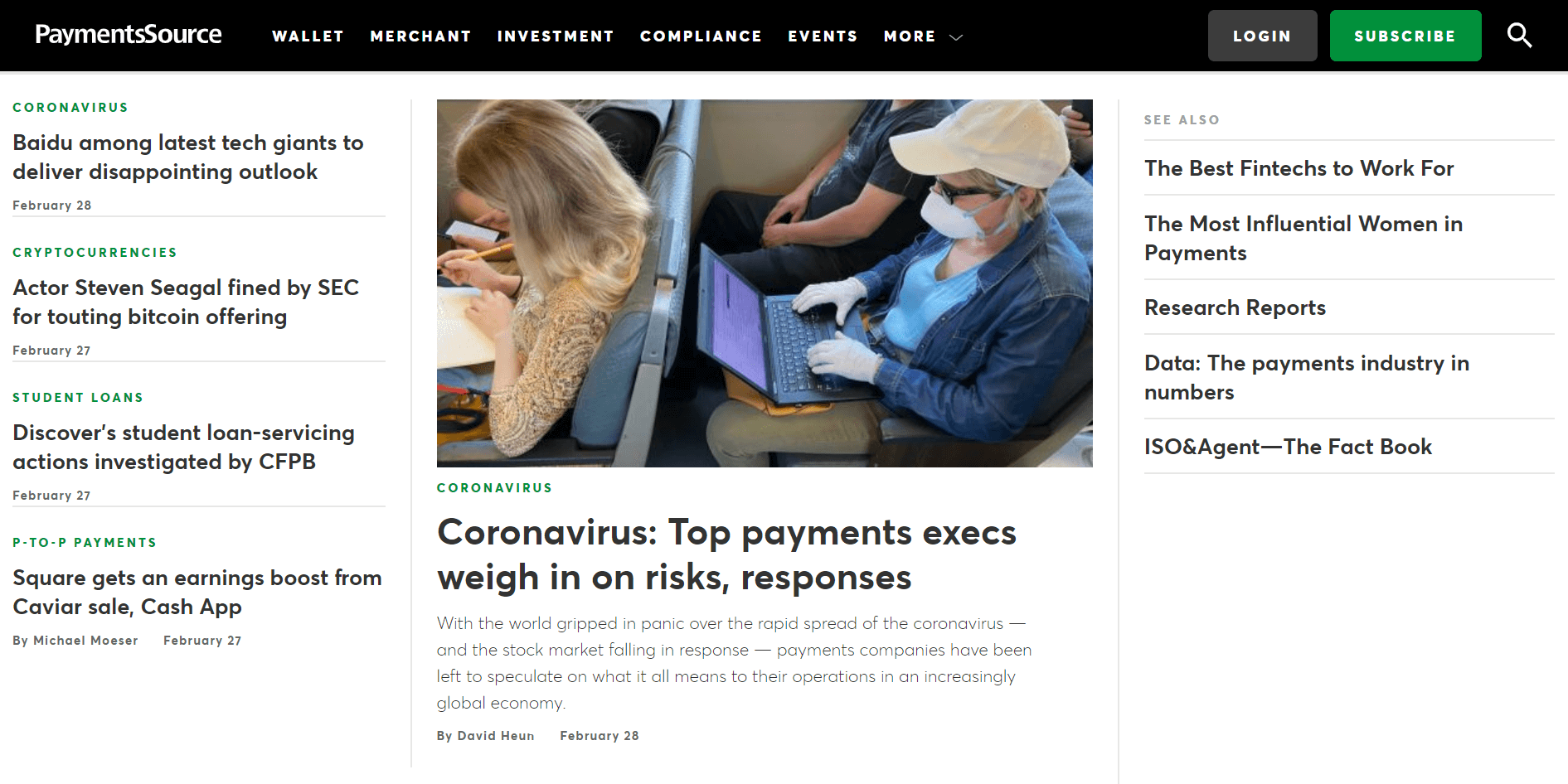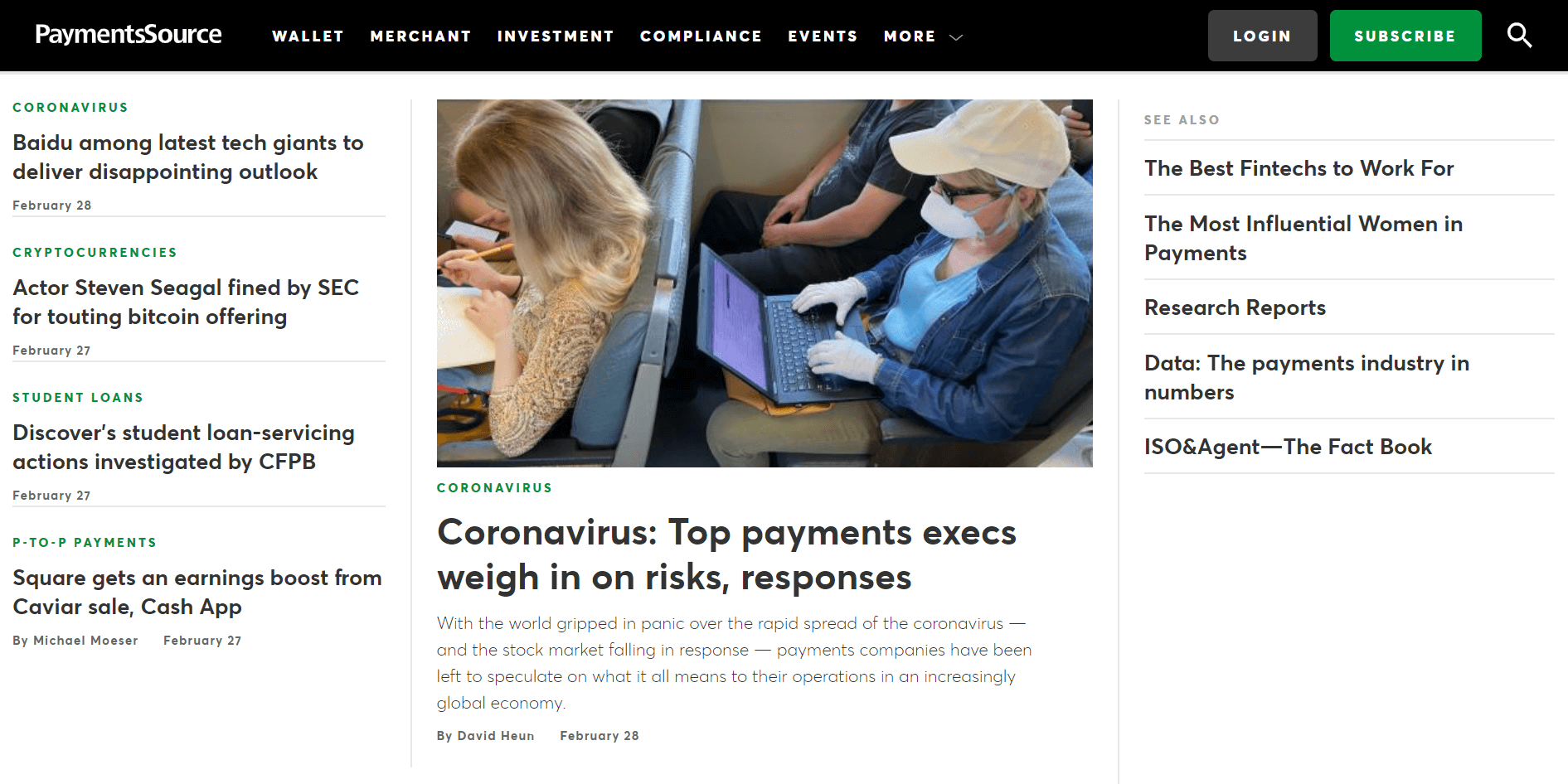 New York, USA
PaymentsSource's full-time editorial team publishes timely news about payments technology and their impact on financial services, retail, tech, startup, and investment/VC. Exclusive industry insights, exceptional research resources, and accurate company rankings make PaymentsSouce and excellent publication for FinTech professionals.
Subscribe or follow on: Facebook: 6.1K, Twitter: 27.2K, and LinkedIn: 5.2K  


Amsterdam, Netherlands
The Paypers is an independent provider of news and payments intelligence for merchants, financial institutions, payment services providers, technology vendors, processors, start-ups, and payment professionals. Covering a wide variety of payment-related subjects as well as fraud-prevention initiatives, the Paypers offers a wide range of valuable materials and resources. 
Subscribe or follow on: Facebook: 1.1K, Twitter: 25.3K, and LinkedIn: 2.2K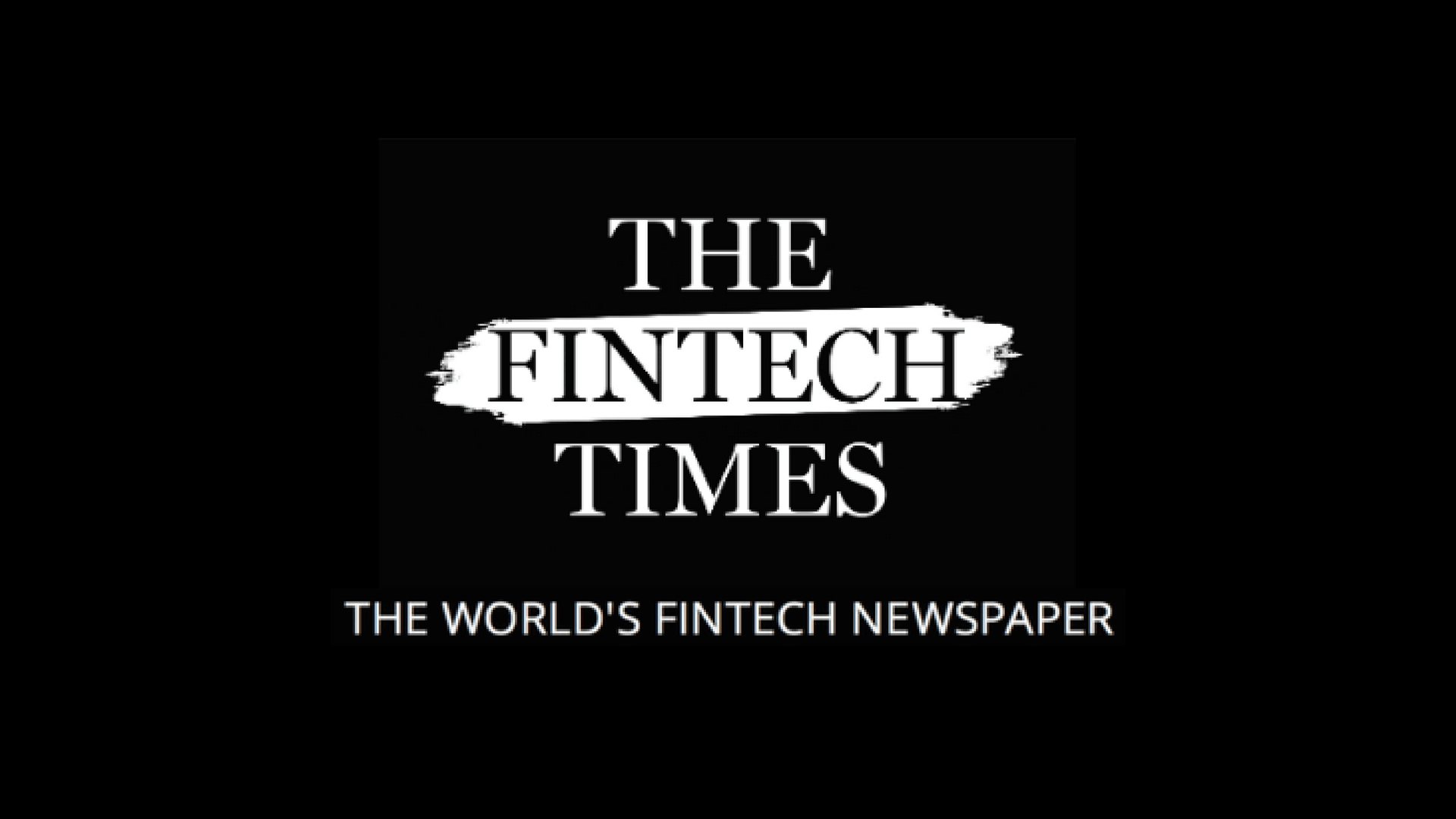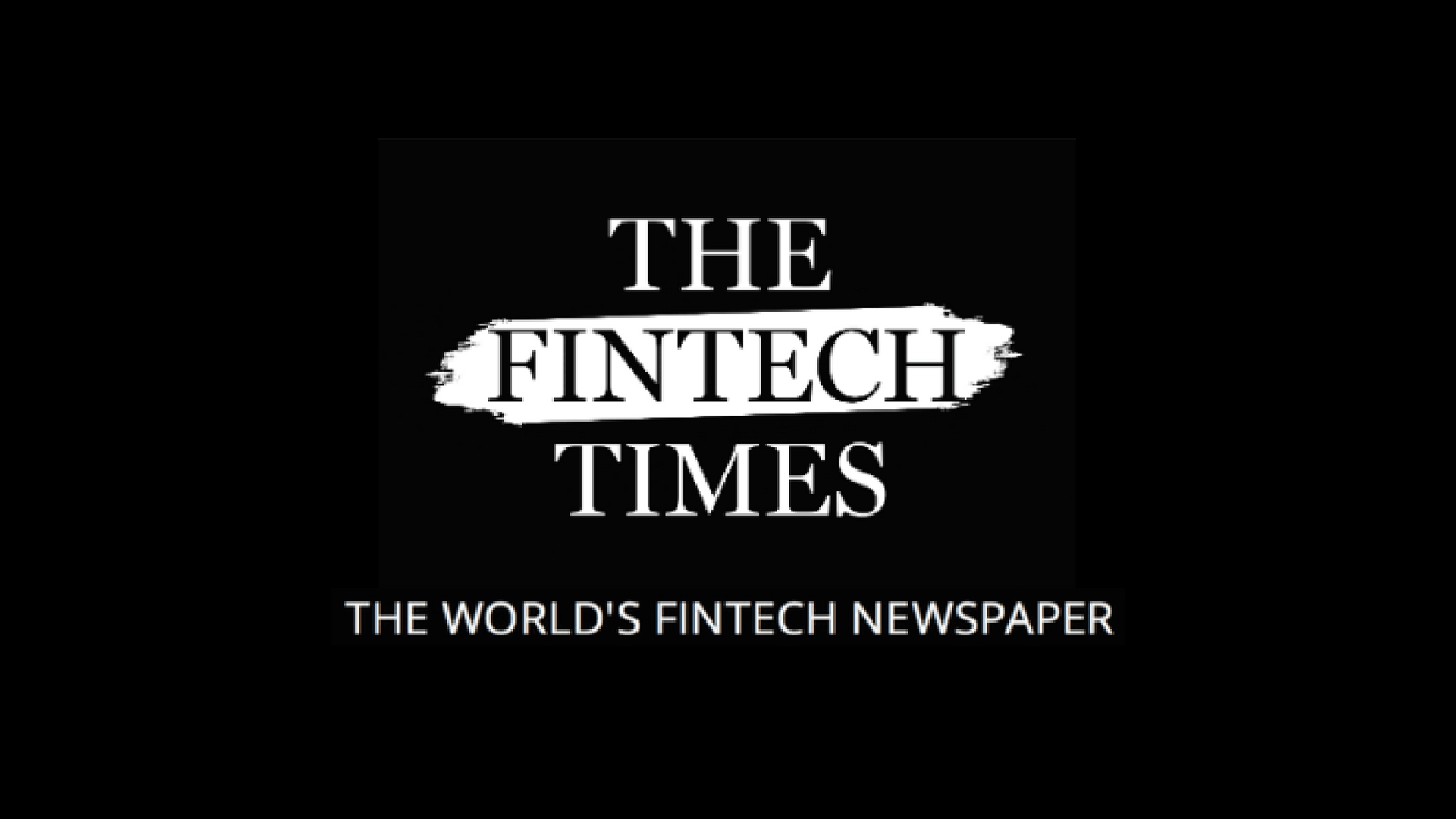 London, UK
The Fintech Times has established a significant following as the first and only FinTech newspaper in under four years. The multimedia news outlet chronicles the latest developments in financial technologies and publishes expert interviews, opinion pieces, reviews, and features. The FinTech Times frequently collaborates with industry-leading businesses to offer unique insights and opportunities to startups. 
Subscribe or follow on: Facebook: 2.5K, Twitter: 6.9K, and LinkedIn: 17.9K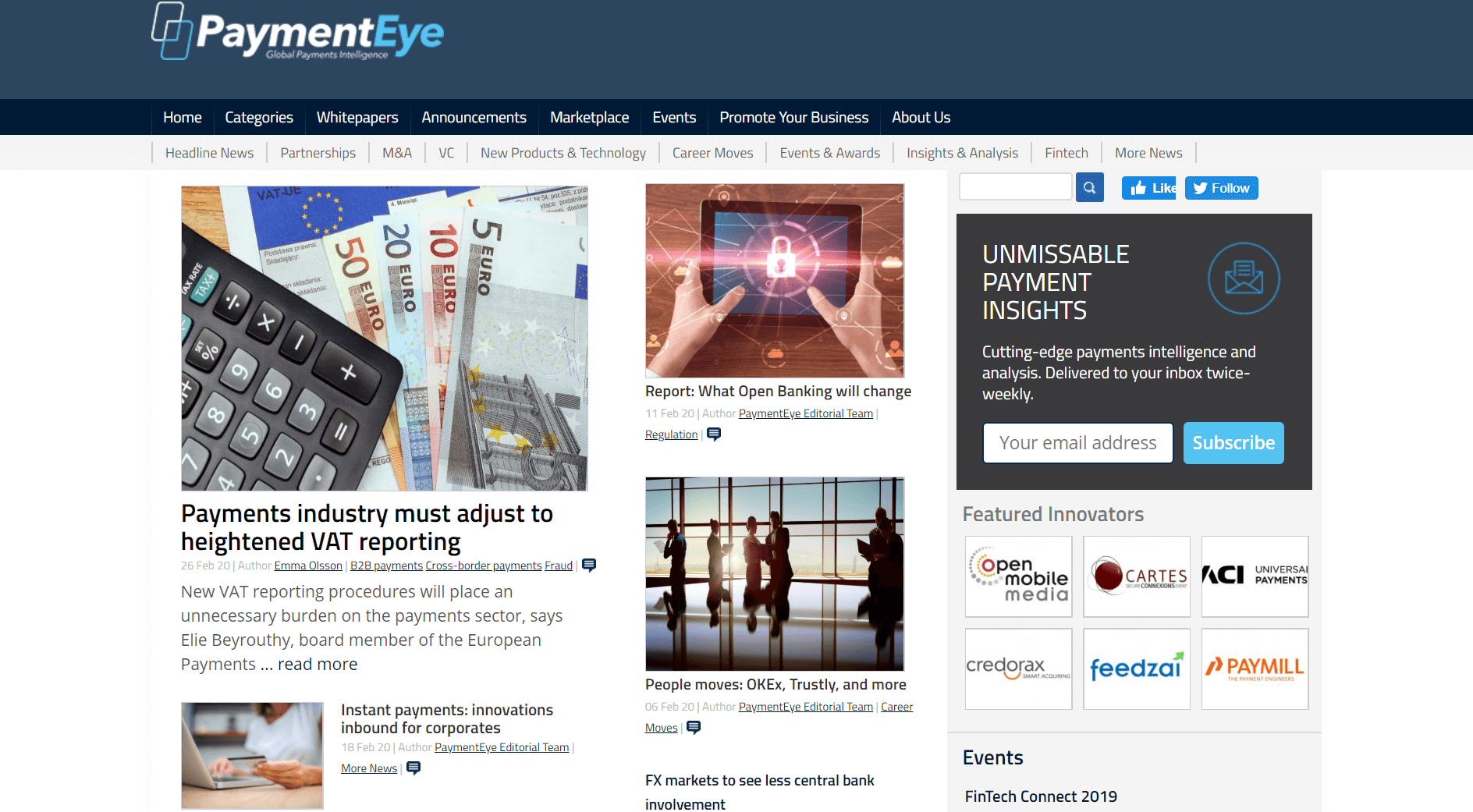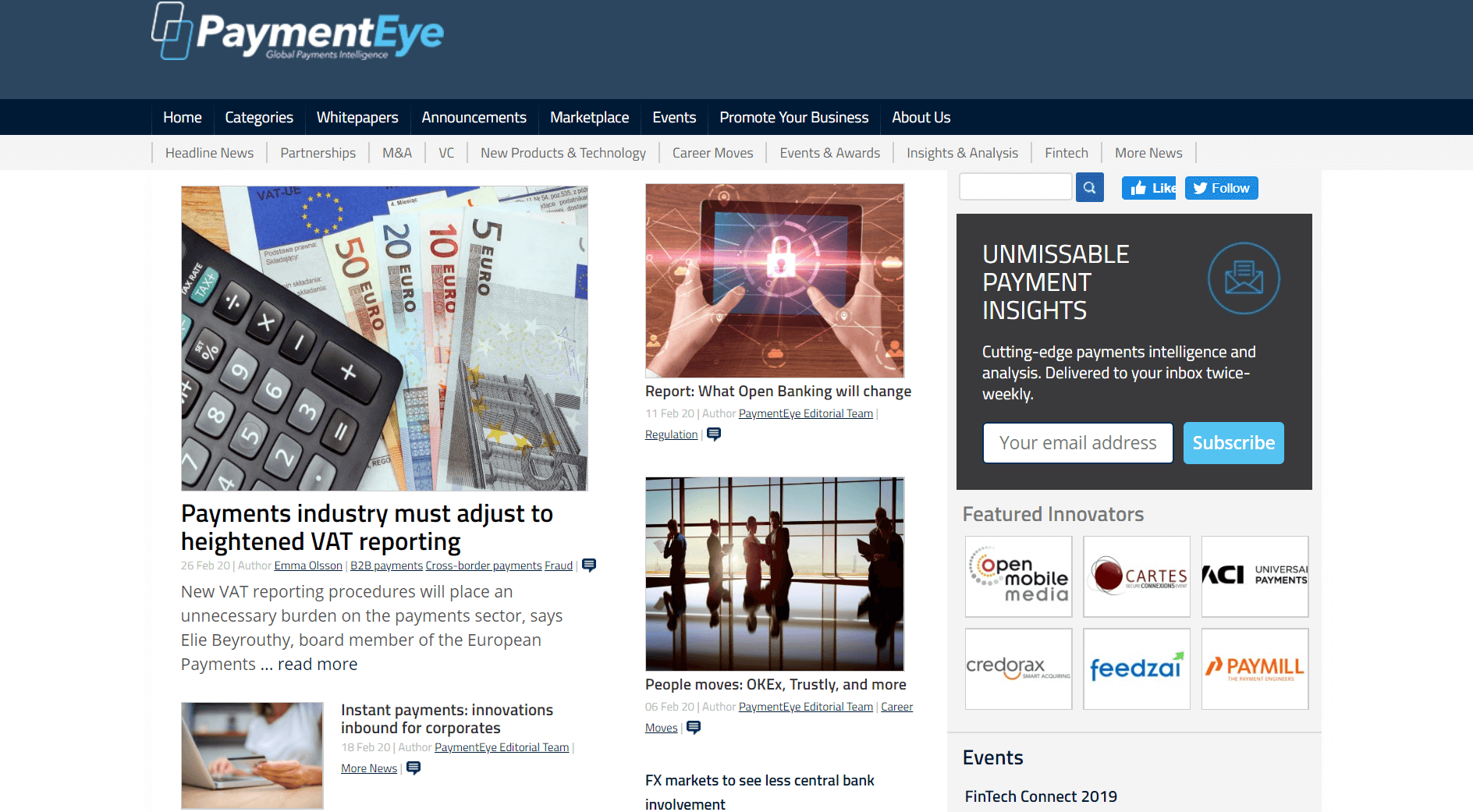 London, UK
PaymentEye features timely news and critical insights about the rapidly evolving global payments sector. The media outlet provides complete coverage of the payments ecosystem to a growing reader base of sector professionals, merchants, acquirers, issuers, gateways, and PSPs. 
Subscribe or follow on: Facebook: 1K, Twitter: 16.2K, and LinkedIn: <1K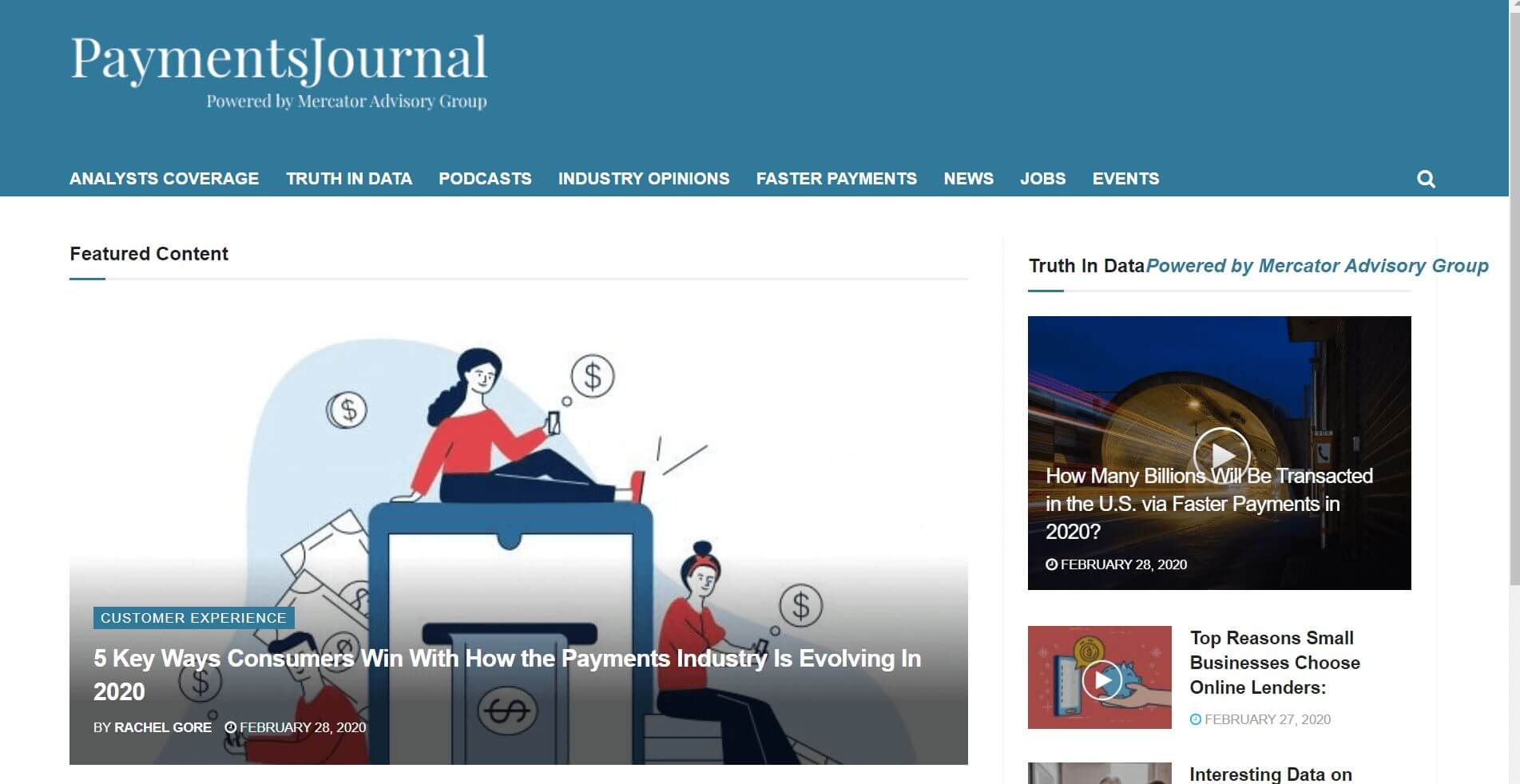 Marlborough, USA
PaymentsJournal aims to keep payments and banking industry professionals informed about the latest FinTech advances through news, interviews with executives, research, case studies, and analyst insights. The publication's free and open approach encourages industry-leading specialists to participate and engage by publishing opinion pieces and industry perspectives. 
Follow on: Facebook: <1K, Twitter: 5.4K, and LinkedIn: 4.3K  


Cologne, Germany
FinTech Weekly is an excellent resource to stay on top of the latest trends, strategies, and developments in the finance business. The media outlet covers cutting-edge FinTech innovations, upcoming conferences and hackathons, and modern business solutions as well as job and company listings. 
Follow on: Facebook: 3K, Twitter: 4.1K, and LinkedIn: 1.8K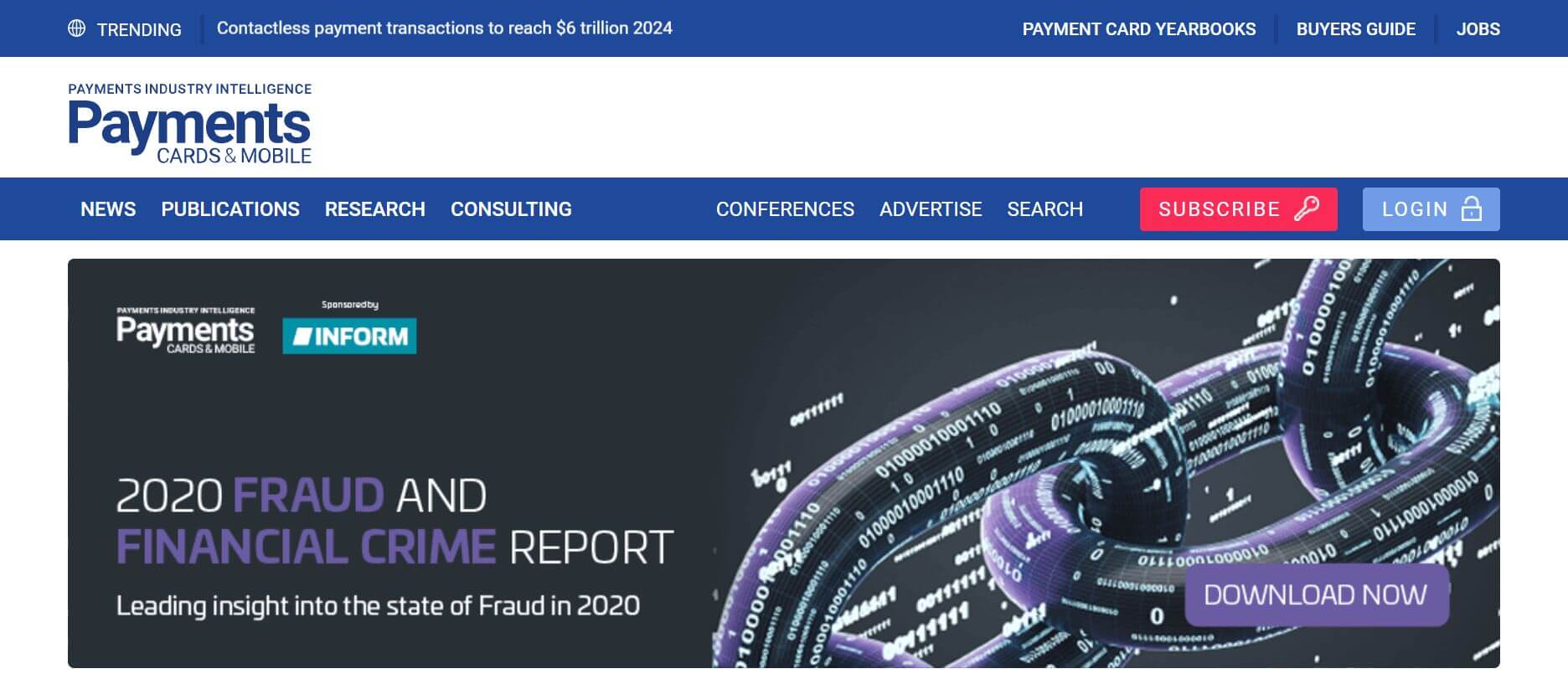 London, UK
Payments Cards and Mobile is a unique publishing, research, and consulting hub for professionals in the payments industry. Publications covering everything from cards to mobile payments, research reports on regulation developments, and consulting services make the media outlet a great source of unique insights. 
Subscribe or follow on: Facebook: 2.2K, Twitter: 3.2K, and LinkedIn: 2.8K  


New York, USA
Payment Week is a prominent news platform for payment industry professionals that provides timely coverage of the latest market trends. Daily articles, weekly publications, frequent webinars, and an information hub on regulation connect industry and thought leaders with innovators. 
Subscribe or follow on: Facebook: <1K and Twitter: 3.8K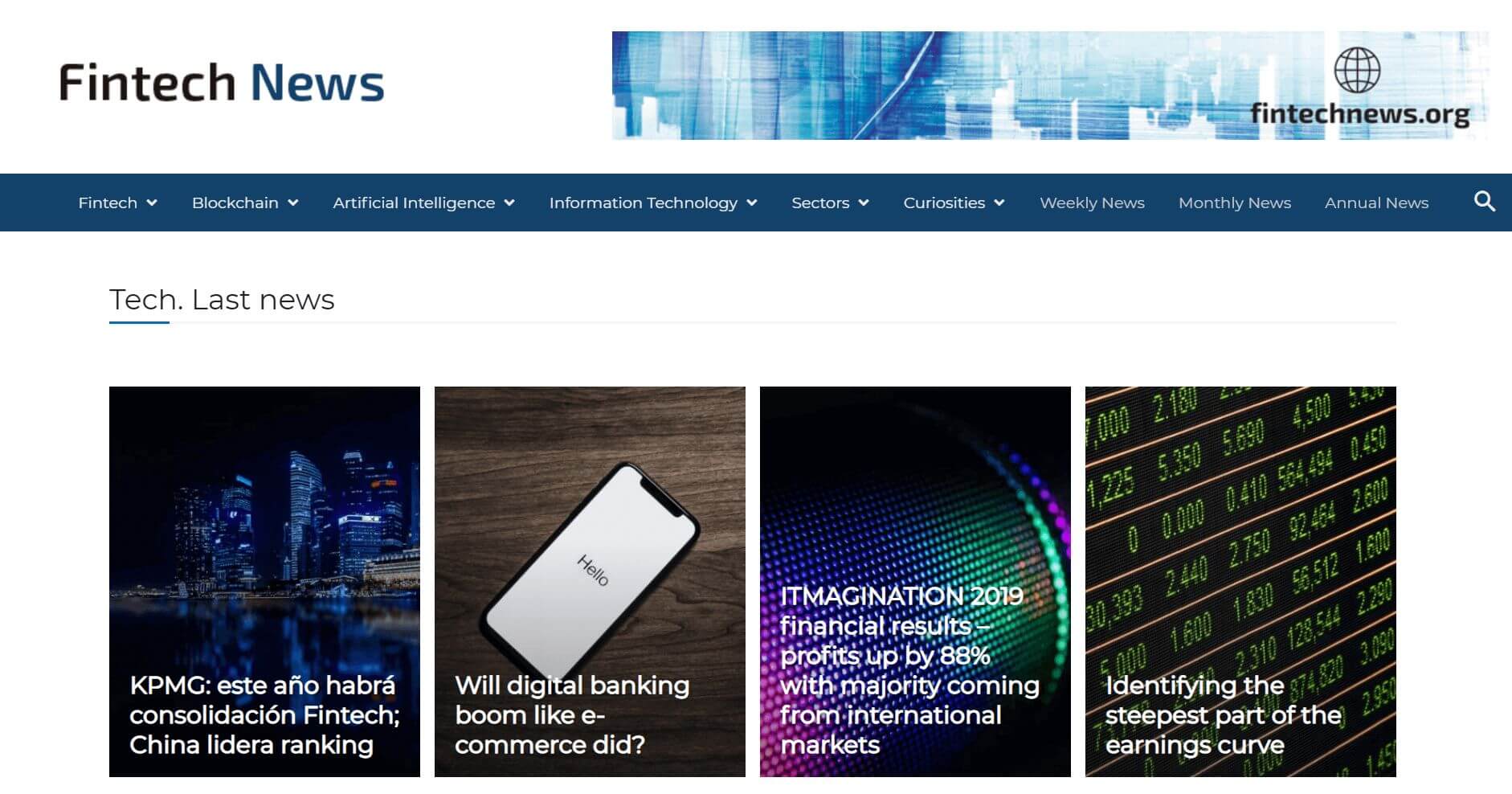 Valencia, Spain
FinTech News provides timely coverage of the industry's latest news in English and Spanish. A wide variety of experts covering FinTech developments, Blockchain, and AI make this media outlet a great source of uncommon insights.
Follow on: Facebook: <1K, Twitter: <1K, and LinkedIn: <1K  


Rancho Mirage, USA
PaymentsNEXT aims covers only the most disruptive news, research, insights, and global trends about new FinTech product launches, market leaders, and technology highlights. The online publication does a great job of distilling the most important stories into quick briefs.
Follow on: Facebook: <1K, and Twitter: <1K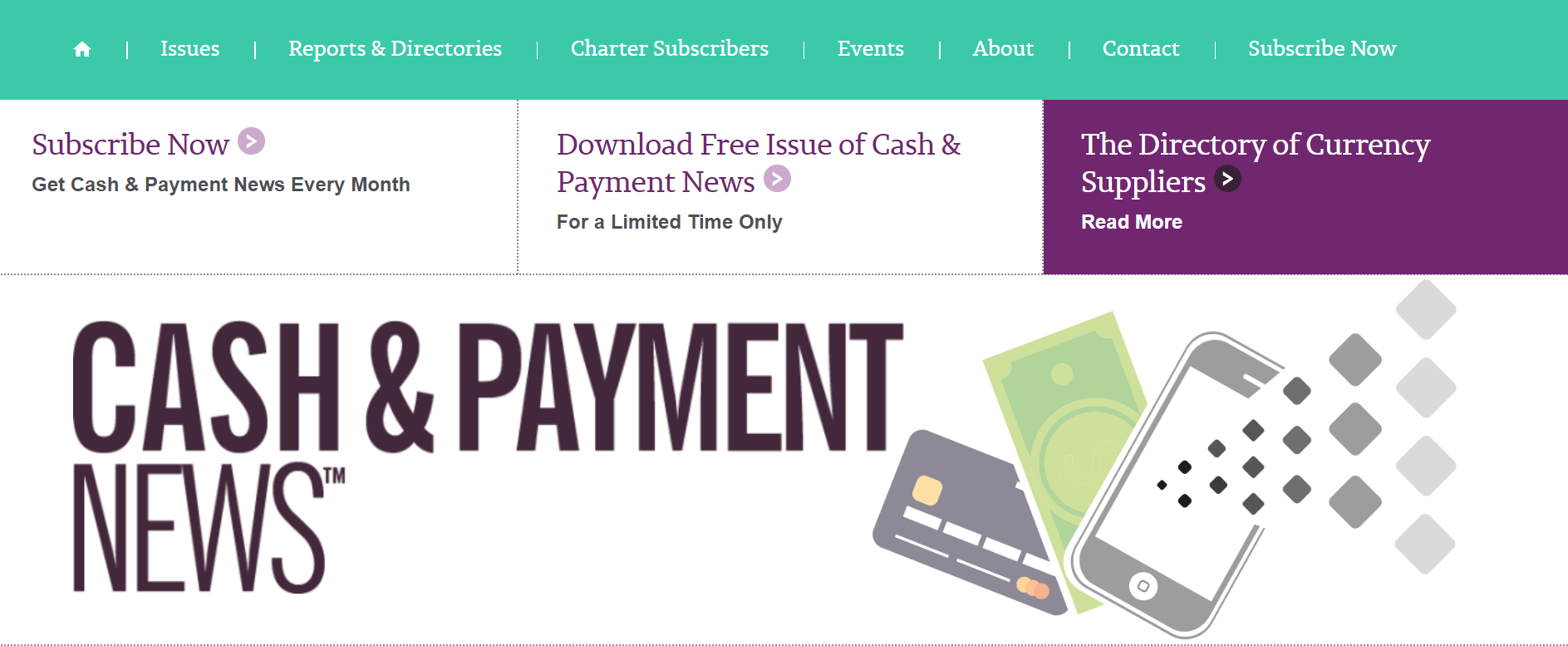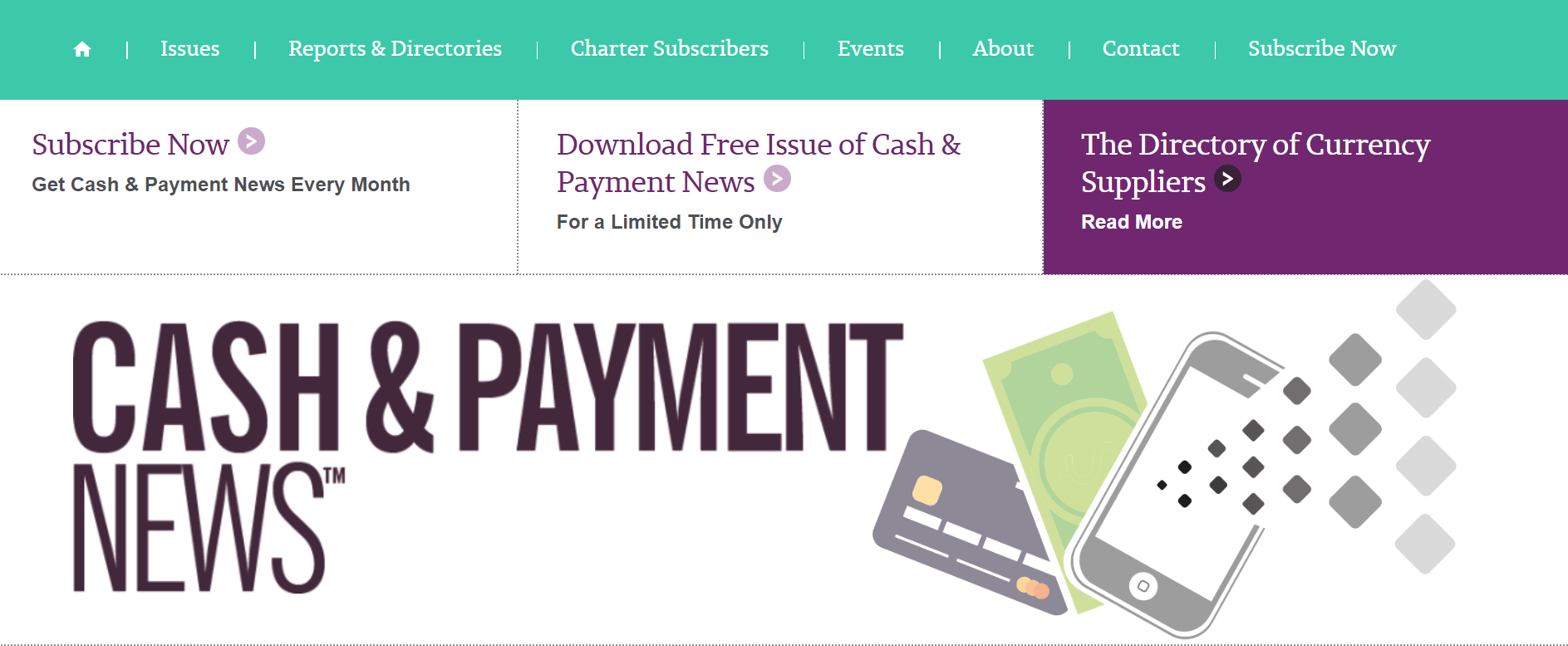 Sunbury-on-Thames, UK
Cash & Payment News is a monthly publication that provides a unique outlook on cash and payments regulation, policy, and legislation as well as cashless initiatives and technologies. The media outlet is a valuable source of information for treasuries, banks, and FinTech developers. 
Did we miss your favorite? Let us know on Twitter. We'd love to hear your recommendations! 
About us 
SDK.finance has a proven track record of providing financial services companies with the core banking functionality that they need, using its secure, robust, and configurable API platform as a one-stop-shop solution. 
Explore our highly scalable banking software Digital Retail Bank.
Contact us to learn more about our banking solutions. We are open to talk about how SDK.finance can be useful for your business.