Revolut, Fidor, Simple, N26, and Monzo are just some of the well-known digital banks that allow customers to open an account on their phone in minutes, whenever and wherever they want. But digital banking is not limited only to online banks. Over the past decade, banks that have created internal digital bank spin-offs optimized revenues and reduced operating costs by up to 70%.
But before we go any further, let us clarify the basics.
What is a digital bank?
In layman's terms, a digital bank is a bank that operates online and provides its customers the services that were previously available only at a bank branch.
What is meant by online banking?
Digital banking involves the digitization of all traditional banking products, processes, and activities to serve customers through online channels.
What are digital banking services exactly?
Most frequently, they include the following operations and activities (all the traditional banking services that are available 24/7 on mobile phones, computers, and compatible smart devices, without the need for a customer's presence in the bank branch):
Obtaining bank statements
Cash withdrawals
Transfer money
Checking/savings account management
Opening a digital bank account
Loan management
Bill payments
Cheques management
Transaction records monitoring
Obviously, digital banking software makes all traditional services easier to access, understand and manage.
This approach allows us to test digital banking risk concepts before moving parts of the old legacy business to the new system. Notable examples include Goldman Sachs' Marcus, RBS' Bó, and State Bank of India's YONO, which gained more than 26 million customers and reached profitability within 18 months. 
Digital banking statistics
According to Statista, the digital banking sector will grow continuously over the next five years. This trend reflects the ongoing development and expansion of digital banking services in the foreseeable future.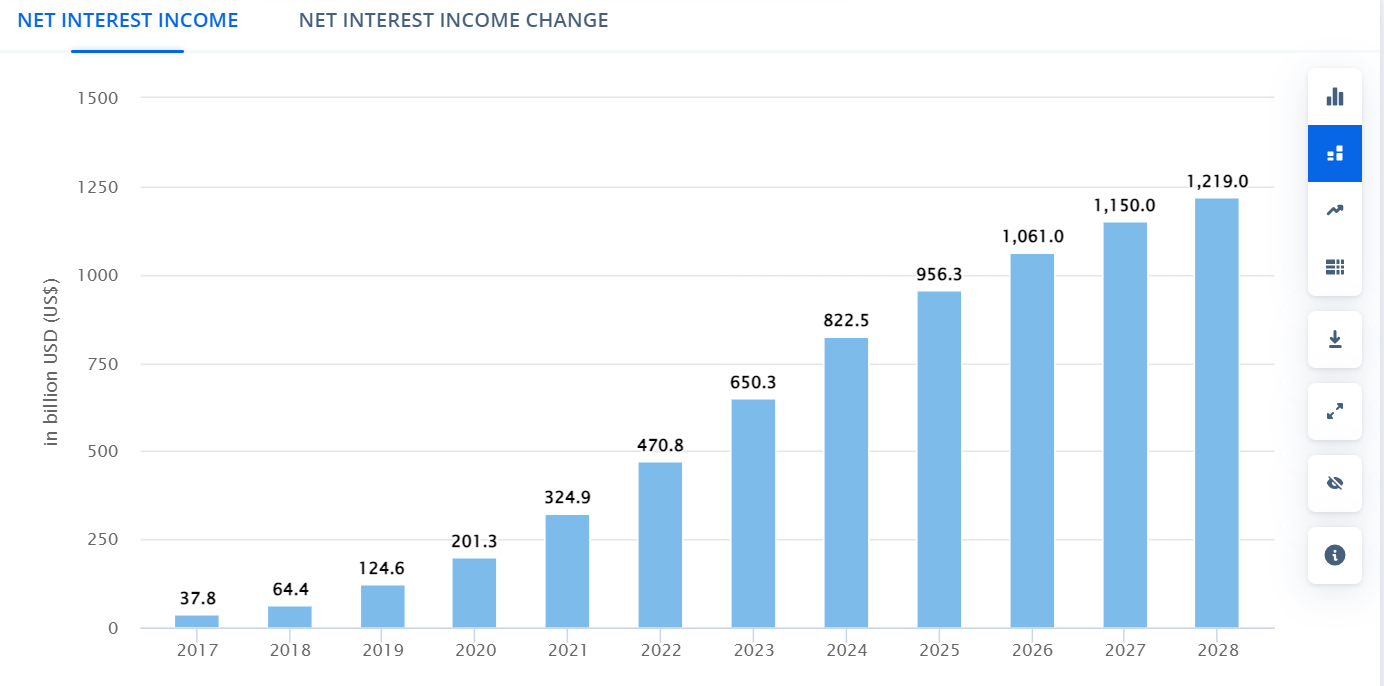 Source: Statista
The growth of digital banking is primarily driven by the increasing adoption of digital technologies and changing customer preferences, who are increasingly inclined to use digital channels for their financial transactions. Modern digital banks are capitalizing on this trend, offering fast convenient mobile and online banking services according to consumers needs.
Digital banking vs. online banking: are they the same?
Although the two terms may seem interchangeable, there are actually fundamental differences between digital and online banking.
Online banking includes only some transactional functions of the underlying core banking system. Online banking is typically accessed via the Internet and provides basic banking functions such as account management and statement access. The capabilities of an online banking system are limited and cannot be quickly expanded to provide additional banking services to consumers. 
Digital banking systems are much more flexible and allow banks to add and expand features much faster than traditional systems. Digital banking relies on high-level process automation, web-based services and APIs to provide banks and their customers with high levels of cost efficiency, security and flexibility. Modern banking solutions enable a fully digital customer journey, generating real-time data streams and accelerating key analytics.
Read our latest article to explore what is a difference between tradional and platform banking.
There's one more term frequently confused with online and digital banking – mobile banking. It can be defined as a service provided by an existing bank to its customers enabling them to perform transactions via their mobile devices, without the need to visit a bank branch. 
So, out of the three notions, digital banking is a much broader one. It is safe to say that it is made up of a combination of online and mobile banking.
Ready-To-Go Digital Banking Platform
A shortcut to building your Neobank solution
Learn more
The benefits of digital banking for consumers
As more and more digital banks enter the market, it is important to understand how modern digital banking solutions enable them to offer better and cheaper services than traditional competitors. Here we highlight the most essential advantages of digital banking:
Cost savings
Traditional banks invest a lot of time and resources in checking and accounting. By eliminating redundant back-office processes, digital banking software significantly reduces operating costs. Digital banking systems remove a lot of work from banks by automating the processes associated with daily financial transactions. Digitization reduces the number of steps and people involved in transactions, reducing the risk of costly financial errors.
Improved usability
Integrated KYC and AML protocols enable digital banks and customers to open accounts within minutes from any internet-enabled device. ID Verification systems and risk assessments enable banks to serve customers quickly and easily, allowing people who are not bank customers to access financial services. A major advantage of personal banking is that it is available 24/7. This means that customers can carry out any transaction from anywhere and access a wide range of services. 
Greater personalization
Digital banking software enables sophisticated personalization strategies powered by artificial intelligence (AI) and machine learning (ML). Banks can offer customers relevant financial options, interactive tools, and educational resources at the right time. Automated budgeting, spending analytics, savings reminders, and many other tools help inform and engage customers.
Wow-features
Digital banks already have many features that established banks simply cannot offer, such as buying cryptocurrencies and gold or investing in stock markets directly in the banking app. Mobile and online banking customers can instantly change their security settings, and transaction limits, and even specify whether or not they want to enable NFC or magnetic stripe payments.
Check this article to get more information about the advantages of digital banking.
Become a Payment Service Provider
Build your payment processing system with SDK.finance software
Learn more
The types of digital banks
While the terms "neobank" and "challenger bank" are familiar to nearly anyone today, telling one from the other may be difficult, so let's dot all the i's and explore the main types of digital banks.
Neobank
Neobank is a digital bank operating online, without any physical presence, which provides its customers remote access to its services via a mobile app.  Many neobanks don't hold a bank license and partner with an existing bank for bank-licensed operations (which means, their customers need to create an account at the partner bank). Often, the range of services offered by a neobank is narrower compared to the licensed banks.
Challenger bank
This term originated in the UK and refers to a recently launched bank that "challenges" traditional banking institutions. Being more user-friendly and cost-effective for an end-user, challenger banks focus on the audience segments that are underserved by the big financial institutions.
To get more info about building a digital bank read this article.
New bank
These are fully licensed neobanks that provide a full range of banking services and their only difference from the brick-and-mortar banks is the mode of operation – which is completely online. Examples of the new banks are Revolut, Monzo, N26, and Starling Bank.
Nonbank
Exactly as the name implies, these are non-banking institutions that provide financial services – for example,  streamlined loans or mortgages, but they don't simultaneously accept deposits or offer checking and savings accounts. Some of the nonbanks like Monese operate on EMI licenses.
On-Premise Retail Banking Solution
Get the freedom of customizing your bank by owning the source code
More details
Digital banking solution providers
According to McKinsey, more than 65% of banks surveyed are exploring the potential of next-generation core banking platforms. The digital banking experiences offered by challengers are forcing incumbent banks to re-examine legacy technology in their core business.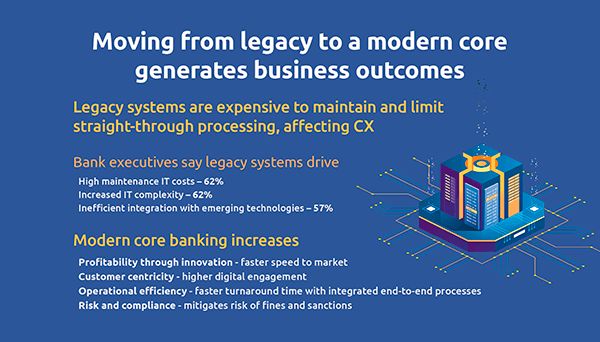 Source: Capgemini and Efma
White-label digital banking software
White-label software for digital banking helps banks radically modernize and benefit from lower costs, faster time to market, rapid scaling, and personalized offerings for consumers. Companies looking to launch a digital bank can get to market in a fraction of the time by partnering with SDK.finance, a core banking software provider, to save development time and costs and build their bank on top of the pre-built digital banking software. 
Organizations that have a dedicated IT team in place and appropriate hardware capacity can implement SDK.finance's white label digital banking solution on-site (source code with a license) and be completely independent of the technology provider. With a banking software license, the solution can be customized with new modules and integrations and the core functionality of the software can be extended. 
FAQ
What is digital banking?
Digital banking involves the digitalization of all traditional banking products, processes, and activities to service customers using online channels.
With digital banking, any bank branch services are available and accessible 24/7 on mobiles, computers, and compatible smart devices. 
It's hard to understand what digital banking is without delving into its functionality. Visit SDK.finance platform to learn more about neobanking products.
What are the examples of digital banking?
Revolut, Fidor, Simple, N26, and Monzo are some of the better-known digital banking systems out there today using which customers can open an account in minutes on their phone, whenever and wherever they want.
However, digital banking is not limited only to online banks. In the past decade, brick-and-mortar banks that launched internal digital bank spin-offs, optimized their revenue and reduced operating costs by up to 70%.
What is the difference between digital banking vs online banking?
Essentially, online banking tackles the "core" banking operations, performed by most of the bank customers.
Digital banking, is a deeper term that encompasses all kinds of transactions performed via technology.
Therefore, online banking can be percieved as a form of digital banking, while digital banking means way more than just online banking.
What is the meaning of digital banking?
Digital banking is the shift of all banking transactions and services to the Internet. Digital banking provides services such as setting up a bank account, transferring funds, and making withdrawals. Moving to the online space allows you to save money on opening bank branches. Most tasks are automated. You no longer need to store all customer data in the office. The system must work around the clock to meet the needs of customers and provide uninterrupted access to functions.
Customers access their bank accounts from mobile devices and computers. Customers no longer have to waste time going to the bank. Digital banking eliminates the need for customers to work with papers. Users just need to upload a photo of their documents to get full access to the features.
The functionality of the app depends only on the choice of appropriate business solutions. Since the product is flexible, you can adapt to the changing needs of customers. Thus, you can improve the application, add new features and change the design of the app.
How to open a digital bank?
A digital bank needs to be different. The main task for companies is to figure out what makes their digital bank different from others.
For example, they may develop a product aimed at older customers. You need to develop an app with a clear user interface, large letters, and few features. This will make your product more unique. You can introduce discounts and bonuses for the relatives of these customers to attract new customers to your app.
Test the app for its viability. You can use the MVP method. A Minimal Viable Product (MVP) is a test version of a platform, app, or service with a minimum set of features that provide value to the end user.
Get regulatory approval. Your digital bank should adhere to the specific regulations of each country.
Choose a development company. Creating software is an expensive and time-consuming decision. The development company offers you a ready solution to this problem.
Prepare your platform. You should integrate new features into the app, transfer the system to the servers and prepare the product for launch.
Launch the product. When you have fully prepared the platform, you can launch it.
What is digital banking platform?
A digital banking platform is a complex software solution that enables your customers to access banking services. Simply put, it is the interaction tools that allow customers to transfer money, make loans and manage their accounts. The same platform provides you with tools to analyze customer audience, banking operations and overall system performance.
A digital banking platform is a solution for both your neobank customers and your teams. It includes most of the features of a traditional bank. Neobanks, like traditional banks, have predominantly long lifecycles. Therefore, the software architecture of the digital banking platform you use to open your bank should last for 5-8 years and have some potential for developments and updates.
The modern digital banking product is modular. This approach helps the development team to scale and expand the product. They can update, replace, or duplicate the system's functional modules without reworking the entire architecture. The functional modules cover specific tasks within the ecosystem: money transfer, transaction processing, account creation and management, support center, and back office.
See what a digital banking platform is in our neobank software demo.
How to improve digital banking?
Improving the customer experience is the main focus of digital banking. Digital banking customers expect smooth, cross-platform service and 24/7 availability of banking transactions.
You can improve the digital banking experience from the moment you acquire a customer and onboard them. The onboarding experience for a customer starts with account registration. This is a critical point where you need to customize the application form and KYC area to minimize churn.
Sometimes digital banking requires that you do not add new features, but eliminate the services that your audience does not like. It will be difficult for users to choose from a large number of identical services with small differences. Users perceive advertising in applications better than advertising in bank branches. Customers are more willing to use new in-app services because they do not perceive them as intrusive.
Customers care a lot about the security of their data. Your development team can add touch- ID and face- ID to your app. Adding a push notification feature gives customers additional control over their funds. In case of any suspicious activity, the customer will receive a notification.
Improve your understanding of customers and their interactions with the product. You can get more information about the services customers prefer by adding analytics to your digital banking platform. SDK.finance also offers a built-in survey feature. This allows you to categorize customers into specific cohorts.
What features can improve digital banking for your customers? Learn more about our banking core.
Do you need an outstanding banking core for you neobank? Apply the form
Contact Us
Do you need an outstanding banking core for you neobank? Apply the form