Mobile wallet Platform to fast-track your wallet app launch
With SDK.finance mobile wallet software you get a ready backend with a robust API layer – for faster launch and effective scaling of different types of mobile wallet apps. With a powerful transactional engine inside, the platform helps you cut down on the team resources and costs of developing of a digital payment or ewallet application. 
Contact us
One mobile wallet platform, multiple use cases
Catch the tide of the soaring popularity of mobile wallet apps, open up new revenue streams, and power up your business.
Mobile banking wallet
Engage and retain your bank customers plus obtain additional revenue by delivering a mobile wallet application experience to your customers wherever they are.
Stored value wallet
Let your customers operate their assets and make transactions within your ecosystem by using a closed-loop wallet. Help them spend more with you and watch your revenue grow.
Telco wallet
Increase financial inclusion for the unbanked and level up the experience for your banked audience by providing mobile financial services with white-label virtual wallet software.
SDK.finance mobile wallet app
software functionality
Currencies management
Currency and issuer creation and status management
Currency exchange rates input – manual or automated (from external feed)
Transaction fees and limits management
Setting commission types: flat fee, %-based, combined (flat fee & %-based)
+-% (for currency exchange)
Transfer commission payer: sender / recipient / shared
Commission ranges: different commissions for operations amounts within a specific range
Limits types:

by turnover during a specific period,
by the number of operations during a specific period
by transaction amount
Contracts (pricing plans) management
grouping fees and limits in a "contract";
creation of a set of tariffs for customers to choose from
Roles and permissions management
user creation, role and status management
default roles
back-office user log history viewing
CRM & customer support
Customer profile information and status management
Default KYC-management
Customer accounts status management
Default log of customer activity in the system
Transaction history
View all customer's transactions in all statuses
Choose your Development mode
From the conception of the idea to its implementation in code and interface, we're here to help
Dedicated development team
Boost your mobile wallet development with SDK.finance experts
Use our PayTech software and let the SDK.finance team to bring your digital wallet solution to life
Speed up Product deployment
Ready-made backend Platform
Expert team without hiring headaches
Saved in-house team's resources
Contact us
Self-service development
Provide your team with the pre-developed Platform for streamlined development
Empower your tech team with a ready foundation for faster and more efficient mobile wallet development on top of the SDK.finance Platform.
Ready Fintech backend software to build on
No starting from scratch
Efficient development for in-house tech team
SaaS and Source Code software mode available
More details
Ready to speed up your path to a robust mobile wallet product?
Contact us
Delight your customers with a feature-rich mobile wallet app
SDK.finance mwallet app software empowers you to build an advanced application to cater to your customers' financial needs, thanks to its unparalleled flexibility and cutting-edge technology stack.
Deal with any currency/assets
Your ewallet mobile app customers will benefit from an unlimited number of accounts storing any currency or other assets. No limits for the currencies you can create - from fiat currencies to diamonds or grain or any other assets - and more convenience for end-users.
Convenient bank payments
Through integration with a banking network, offer bank digital payments like IBAN and SWIFT to meet your users' financial and payment needs. Accommodate various customer segments and boost your turnover.
Fast money transfers
From internal P2P transfers to crossborder remittance - offer your wallet customers a hassle-free way to send and receive money instantly. Integrate with payment- and service providers to extend your transfer services range.
Easy bill payments
Let your users save time by paying their bills within their mobile wallet app- from utility bills to mobile top-up and broadband payments. Add support for any vendor you find necessary through API integration.
Expense tracking
Improve your customers' finances by helping them control their spendings. Visualized via charts and graphs or presented on the map, they offer better finance management opportunities for users.
Currency exchange
Allow customers to seamlessly exchange one currency for another within their digital wallets in seconds while performing transactions, as well as purchase and sell currency.
Future-proof your mobile ewallet app building it on the next-gen platform
Faster release
Use SDK.finance mobile wallet platform as a backbone for your wallet app to enjoy seamless operation and go to market faster, reducing the development time and costs.
Innovative transactional core inside
Our mobile wallet software is built on a sophisticated ledger layer and cutting-edge tech stack, making your app ultimately future-ready.
Powerful and resilient
Our mobile wallet platform can process thousands of transactions per second and withstand high loads without a hiccup - for frictionless user experience and greater turnover.
Highly scalable
Start off ready for mindblowing growth - serve more users, extend your business to new locations, offer new services - and never have to worry about your transaction processing engine that's got you covered.
Easy integrations
Integrate your mobile wallet app software with the existing system or connect with third-party services through 400+ APIs.
Cloud-based deployment
Hosted and deployed in the cloud, SDK.finance platform provides a hassle-free way of running a cloud-based backend wallet application at an affordable cost and without the maintenance headache.
SDK.finance mobile wallet software: customer spotlight
Paywell: Telecom wallet and loyalty system
Through integrating telecom wallets into the existing POS network, Paywell built a loyalty system for retailers and developed a mobile application for improved user experience.
Explore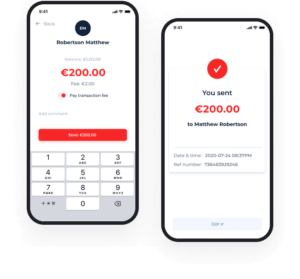 MPAY: An intuitive mobile wallet app
Discover how MPAY transformed their cash-in payment kiosk network into a complete mobile wallet application using the SDK.finance mobile wallet platform.
Explore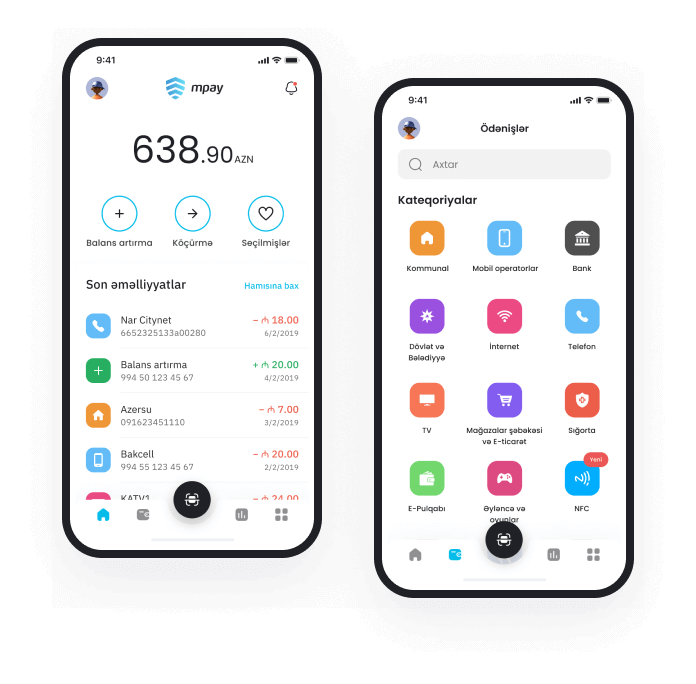 SDK.finance white label mobile wallet platform FAQs
Is there a demo of the SDK.finance mobile wallet platform available?
Yes, the demo of the SDK.finance mobile wallet solution is available on our product Demo page. You do not need to send a demo request and wait.
If you need more details about our mobile wallet payment solution or have any questions, do reach out to us and we'll be in touch with you shortly.
Are there any location-related restrictions for using your mobile wallet SDK?
There are no location-related restrictions for using the mobile wallet platform from SDK.finance. The primary databases are under your team's control, while SDK.finance hosts and maintains the backend application on AWS or another cloud service provider. Consequently, you can comply with regulatory requirements related to sensitive data management and storage.
Is SDK.finance mobile wallet platform cloud-based or on-premise?
There are two versions of the mobile wallet platform available:
The SaaS version is offered with a subscription-based pricing structure on the major cloud providers' marketplaces like AWS or Azure. The main database is hosted on your own server, and you get the app deployed and maintained on the cloud by us.
An on-premise version comes with the source code license, available for a one-time flat fee.
Can I buy your mobile wallet system source code?
To buy the mobile wallet platform source code you can contact us, and share your product requirements.
The purchasing process takes 3 steps:
Technical audit of the product by your team
Knowledge transfer period from our team to yours
Signing the contract and code handoff.
Learn more about the details of the source code purchase and knowledge transfer.