Chances are you have heard of the likes of Revolut, N26, Monzo, and NuBank. Digital-first, highly functional, and incredibly user friendly – the branchless neobanks have finally entered the mainstream.
It may come as a surprise, however, to learn that branchless banks have existed for nearly 25 years. The first pure internet bank, Security First Network Bank (SFNB), was even one of the hottest internet IPOs in 1996. 
At a glance, branchless banking cuts down on the costs of running brick and mortar branches. It offers added convenience to customers as all operations can be carried out whenever and wherever.
But, if that was all there was to it, there would be no branches left around today. When in fact the number of branches has been growing steadily for the last 15 years. 
So let's take an in-depth look at the branch vs. branchless debate, its history, and its future prepared by a core banking software provider SDK.finance. 
Commercial bank branches per 100 thousand adults. Source: World Bank
Branch banking
Just like a billboard, newspaper, and TV ads, bank branches are used to promote their products and services. Whether it's the Barclays in the middle of Piccadilly Circus in London or JPMorgan Chase in Times Square in New York, both branches are permanent and functional adverts for their banks. 
Barclays branch in Piccadilly Circus, London, United Kingdom. Source: wikipedia
In remote areas and distant towns, a physical bank branch would be seen by residents thousands of times as they go on with their lives. When one of them would want to open a new bank account, where are they more likely to go? To their local branch they have seen many times before or some unknown bank advertised on a billboard?
Once a customer opens an account, the branch becomes a tool for cultivating loyalty for the bank. Tellers can answer questions and help customers choose the right financial solutions for their needs. Advice and assistance generate trust and confidence, while each interaction is an opportunity for the bank to deepen its relationship with customers and sell additional services. 
In-person interactions at the branch not only generate additional financial and business opportunities for customers and banks but also help to minimize security risks. An often-overlooked process of confirming a customer's identity is a tried and tested safeguard against fraud. For criminals, identity theft and impersonation are much riskier in-person than it is online.
For JPMorgan Chase, the benefits from new account opening, customer loyalty, and cross-selling opportunities generally amount to additional revenues of $1 million per year per branch. In the last few years, its bankers had even more time to focus on advice and customer loyalty. Since automating most everyday branch transactions with self-service terminals, additional revenue decreased the payback period for new branches by seven months. 
On top of their merits as standalone units, branches have additional benefits when they are grouped into a network. Distributing back-office tasks from high to low traffic branches maximizes workforce utilization. It also reduces costs because a New York branch would have much higher staffing costs compared to one in rural Iowa. 
Now, with the unprecedented stress test caused by the coronavirus pandemic, the banking community is once again gripped in a debate over the future of the industry. With a third of the global population on lockdown and scores of bank branches closed, many are convinced that branch banking is dead, and the future is branchless. But this sentiment is not new either.
1990s
Back in 1995, the senior vice president of First Union National Bank (now Wells Fargo) claimed that "the banking industry will suffer the same fate as the dinosaur within the next five years unless the brick and mortar branch banking system is cast off in favor of more nimble alternatives." He thought that firms like IBM, Microsoft, and AT&T would enter the banking industry with their branchless alternatives and outperform the competition. 
To better understand why this was a significant concern for a top executive, we need to consider the economy of the time. The late 1990s were remembered as a time of strong economic growth, low inflation, rising productivity, and a surging stock market. 
The confidence in the economy resulted in some banks over branching – opening many branches to raise revenues from providing extra customer convenience and disregarding the cost. A 1996 paper in the Journal of Monetary Economics estimated that the inefficiency was over 20% of operating costs.
With so many technology companies growing at unprecedented rates, the executive was worried that banks would be ill-equipped to handle the high-tech competition. Branchless banking was seen as a solution to inefficient branch networks and a way to cut costs significantly.
However, the first branchless bank, SFNB, had a different story. After a successful IPO in 1996, the firm had raised significant capital and had $55 million in deposits by the end of 1997. SFNB focused heavily on developing its widely acclaimed banking software, which was used by 16 of the 100 largest US banks, but did not leave anything to build their bank. The costs added up to losses of $50 million over 1996-1997, and the bank's assets were sold at just above book value. 
2000s
Although SFNB did not succeed, it demonstrated that the branchless concept could work, and other companies launched their versions. There were nine standalone virtual banks and 20 spinoffs of existing banks at the beginning of 2000. But, similarly to SFNB, the financial advantage of substantially lower physical overhead expenses did not immediately translate into high profits. 
One article from 2001 published by the Federal Reserve Bank of Chicago, narrowed down the problem to technology being "still relatively young, so learning effects have not yet been exhausted." But then the dotcom bubble burst, demand and capital dried up, and branchless banks became a risky investment. 
The economy recovered, and the first decade of the new millennium saw the meteoric rise of mobile phone use. By 2010, more than 80% of the world's population had mobile phone coverage, and branchless banking had found a new medium. 
At Finovate's first event about financial services technology in 2007, many demos presented software that enabled online banking on mobile devices. Firethorn and Monitise had applications that allowed users to interact with their bank account, transfer funds, and make payments. 
A cover story in the Economist forecast that "cash, after millennia as one of mankind's most versatile and enduring technologies, looks set over the next 15 years or so finally to melt away into an electronic stream of ones and zeros." The article speaks of a new world order where mobile banking will drive out metal and paper.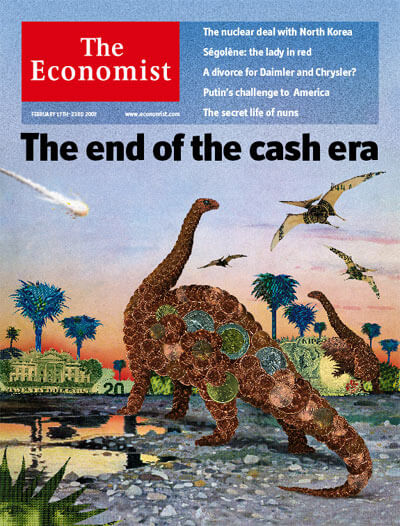 The Economist, February 2007. Source: The Economist 
More importantly, the article ended on the issue of data anonymity. When it comes to trading convenience against privacy, most people tend to go with convenience. For all their advantages, electronic payments and remote banking have security flaws that could lead to criminal abuse.
In 2009, the World Bank identified four potential vulnerabilities of the branchless concept: 
Anonymity: the risk of not knowing a customer's actual identity

Elusiveness: the ability to disguise mobile transaction totals, origins, and destinations

Rapidity: the speed with which illicit transactions can occur

Poor regulatory and supervisory oversight: the risk that the lack of clarity about

the role and responsibilities of telecommunications and financial regulators diminishes the quality of oversight
Stay tuned for the next article in our four-part series about the evolution of branchless titled "The End of the Cash Era and the Rise of Branchless", where we will explore how the banking industry changed in the 2010s. Find out how the improvements in mobile phones and the quality of internet connection dramatically expanded the number of banking use cases, lowered costs, and gave rise to the neobanks of today. 
We will get closer to answering the main question: is the future of banking branchless or not? 
Follow us on Twitter for the latest updates – SDK.finance.