Product
Build your best-in-class digital banking solution with SDK.finance retail banking software
SDK.finance offers core banking software to create digital banking solutions and deliver top-notch reliable products and services from financial institutions in all popular formats: web, iOS & Android applications.
Why SDK.finance core banking solution?
Provide a safe and secure experience to your customers with a broad range of verification methods, including two-factor authentication, biometric checks, security notifications, and Strong Customer Authorization for payments which are available in our retail banking software.

Integrate our core banking platform with other banks and let your customers add and manage all of their accounts in one place. 

Handle traffic effortlessly. Expand and grow your business without worrying about architecture constraints.

Create personalized web interfaces, mobile, and back-office applications using our highly adaptable banking API set. Control all aspects of your banking platform with separate dashboards for different user roles.

Our 15+ years experience in FinTech development makes us a proven partner for building the digital retail bank of the future. We will guide you through all the stages of digital transformation starting from the market research to launching and scaling your product. 

Gather valuable insights and create data-driven offerings to drive customer retention and engagement with our retail banking software.
SDK.finance platform is available in this format:
Features & Functionality
Category
Features

Admin panel

Currency management

Currency Issuers management

Fee configurations

Limit configurations

User management

User contract management

i18n management

Customer support

User profile
Client registration

Create an account

Documents uploading

Profile customization

Push notifications

Merchant profile
Merchant registration

Merchant profile management

Merchant document uploading

Compliance
Manual user approvals
Top-up account
Manual Top-up account from bank account

Top-up account from bank account

Top-up account via cashdesk

Top-up account via card

Batch top-up

Transfers
Account-to-account

Contact book

Vouchers
Pre-paid vouchers
Payments
QR code payments

Regular payments

Merchant payment

Pay by bonuses (Loyalty)

Invoices

Prepaid cards
Prepaid cards issuing
Currency exchange
Exchange rates configurations

Currency exchange

Withdrawal
Withdrawal to card

Manual withdrawal to bank account

Withdrawal to mobile phone

Payout
Automated payout to the bank account

Cashdesk payouts

Manual payout to the bank account

Card management
Card management
Reporting
Customizable reports

Account statements
Use cases
Any payments related products can be built on the SDK.finance platform:
Neobank

Build neobanking products and launch them with ready-made software at a much lower cost.

E-wallet

A ready-to-go solution for EMIs and PIs (including AISPs and PISPs). Create a product like Paypal®, Alipay®, or PayTM®.

Accept online payments

A complete stack for all your online payments acceptance business. Requires an integration with payment gateways.

Accept in-store payments

Accept payments in an offline store. Run a POS (point of sale) business or offer QR payments for your merchants.

Money remittance

Help migrants transfer money abroad like Transferwise® does. Currency exchange is a part of the product.

Currency exchange

Build your online currency exchange business. Set up custom commission rates.
Roles
Various system roles are created for convenient management and system usage.
Service roles:
Administrator manages the whole system parameters and monitors all system events and transactions

Compliance manager checks customer details, verifies documents submitted for verification by users, and approves/rejects customer profiles

Accountant approves/rejects financial operations initiated by users if it's required by business flow
Business roles:
Individual manages their profile, upload profile documents, manages their accounts and performs operations which are allowed according to the business requirements

Merchant manages their profile, upload profile documents, manages their accounts and performs operations which are allowed according to the business requirements
Integrations
Integrate third-party tools and deliver a better customer experience to more customers using SDK.finance retail banking software. Our open digital banking API set makes it easy to connect the right tools to your business. Whether it's new features or better security measures, you can easily access them with integrations. SDK.finance business architecture allows integrating 3rd party tools at any stage of the customer onboarding or transaction flow.
KYC/AML
Implement additional KYC checks to the customer registration flow through integrations with KYC 3rd party provider.
Implement additional AML checks to the financial operations flow through integrations with AML 3rd party provider.
Fraud  prevention and fraud detection
Provide a secure experience to your customers by integrating fraud prevention and fraud detection tools provided by the 3rd party into the transaction flow. Further transaction flow steps can be configurable depends on the received response.
Top-up-and-withdraw
Integrate 3rd party payment provider and provide your customers with a fully automated top-up account and withdrawal flow.
Payment-cards
Integrate 3rd party card issuing provider and link payment cards to the in-system accounts.
Accept-payment
Integrate 3rd party payment provider and allow your merchants to accept payments not only from in-system accounts but also from payment cards, mobile phones and any other payment instruments allowed by the 3rd party.
API
SDK.finance set of APIs allows simple integration even with the most complex architecture.
RESTful application program interface (API) allows an application to connect to other internal and external systems securely. Using our RESTful APIs, businesses can build multiple innovative digital banking products on top of their existing internal architecture.
We use Swagger, an industry-leading framework, to design, build, and document our flexible APIs. The framework allows us to automatically create and update our interactive API documentation to keep our users up to date.
Database & servers
Highly robust server architecture
With our cloud-based core banking system infrastructure, you can start setting up your digital banking straight away. This hassle-free approach saves time and money without sacrificing any functionality. Perfect for small teams who want the best for their business.
We ensure the productivity, stability, and security of our retail banking software by choosing only the most stable infrastructure providers who are ready to support production systems.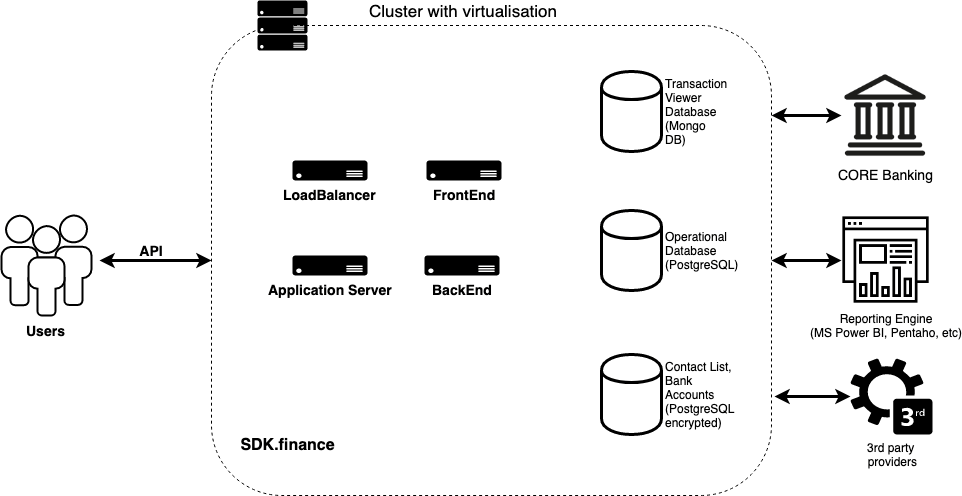 Application server
We use WildFly, a powerful, modular, & lightweight application server. The application server meets all requirements for application monitoring, configuration, and scaling.
Database:
Separate databases for main operations and viewing transactions provides better, faster access to data.
Security
Keep your data safe with our strong security measures
We follow the latest safety practices and methods during the development process to implement high-security layers at all stages of our software. From the beginning of the source code development to supporting infrastructure in ongoing projects, you can rest easy and focus on your business with SDK.finance core banking software.
Technology
Take the center stage, while we ensure smooth operation behind the scene.
Scale easily with our highly adaptable technology stack
We handpicked our technological stack to help businesses achieve three things: growth, flexibility, and security. An appropriate work environment is necessary to meet high project standards, software needs, and to ensure a stable project lifecycle. 
Using our extensive experience building high performing products in the Fintech sector, we developed all of our products using only the best tools for the job.  
Programming language
We chose Java Enterprise Edition 7 and Java Standard Edition 8 for their highly stable performance and powerful functionality for our software. Java has a proven track record of fulfilling all software requirements for enterprise-level software as a programming language and a technology stack. Java requires developers to formalize the processes and data with which the system operates. As a result, this strongly typed language ensures stability and minimizes the chance of errors.                        
Services
There are numerous external services with which both external and internal systems interact. Usage of cutting-edge technology of encryption and data validation mechanisms in the interaction provides the security of the transmitted data at all levels of communication. New external service providers can be easily added to our retail banking software by creating from the predefined component template for a relevant business process without taking much time.
Code repository
A lot of specialists from different departments work with project source code. Our source code's storage and management functionality is built on GIT technology, using the GitLab platform, which provides effective management and monitoring of all changes made by each developer.
Testing and Quality Assurance
Source code for any product must meet the highest quality, stability, and security standards. We automatically check operability and test functions when a project is ready to be deployed. Each new addition to source code goes through autotests and is manually reviewed by a lead developer.
Source Code Quality
Our developers use cutting-edge source code development tools supported by best-in-class solutions to create robust, efficient, and secure code. Automated code analysis and manual code review are implemented into SDK.finance software development life cycle. For passive code analysis, we use Findbug and CheckStyle. For active code analysis, we use SonarQube, which is highly recommended by the OWASP community.
DevOps
The traditional approach to IT project management evolves along with interaction methodologies between system administrators and developers. We have implemented the best DevOps methodologies to provide continuous integration and continuous delivery for SDK.finance. We build and deploy projects with GitLab CI/CD, a highly functional and customizable service. Gathered system components are versioned and delivered to one or multiple Application Servers.
Applications server
We use WildFly, a powerful, modular, & lightweight application server. The application server meets all requirements for application monitoring, configuration, and scaling.
Application Monitoring
Complex systems are distributed on different infrastructure components to ensure continuous and stable operation. Monitoring hardware condition is the first step to understanding how healthy the system is. We rely on NewRelic and Zabbix to monitor our systems.
How do we supply it?
SDK.finance platform is available in the following format:
Contact Us
Build your Digital Retail Bank with SDK.finance
Contact Us
Build your Digital Retail Bank with SDK.finance