Build your neobank on our core banking software solution
SDK.finance develops on-premise white-label banking software. Buy it to save time on product development and user acquisition.
Request a Demo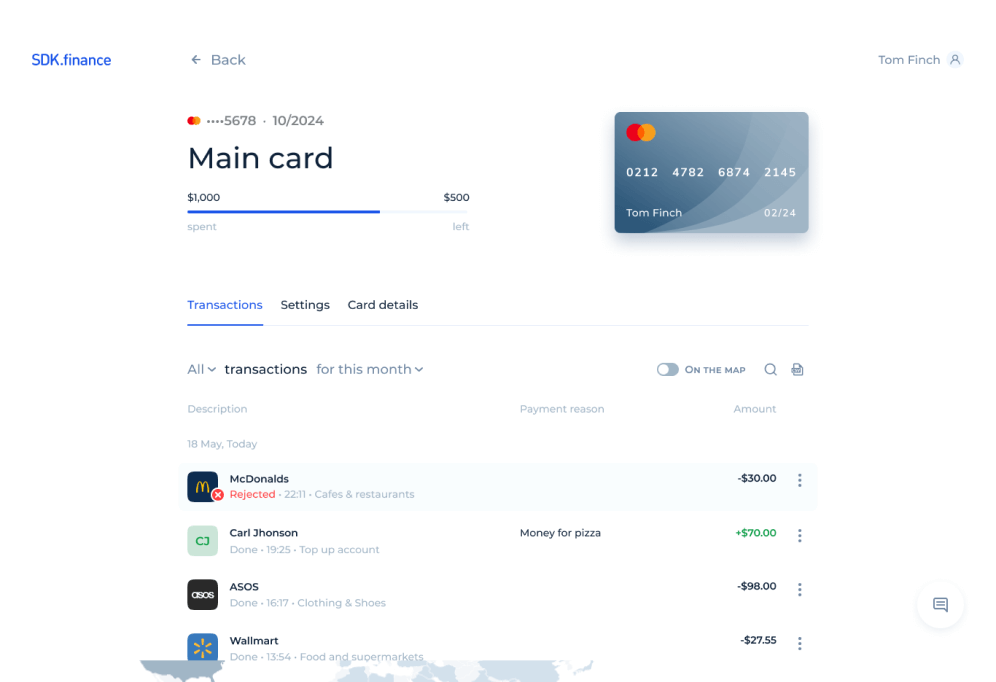 Core banking software your neobank needs to provide the service
SDK.finance develops the open source core banking platform you can buy on-premise. We offer a white-label platform that suits your business idea and makes your neobank most efficient, easy to monetize, scalable and agile. Once you set up your banking core on your servers, it allows you to provide these services from day one:
Payments acceptance
Multi Currencies accounts
Visualization
Popular payments
P2P money transfers
Your neobank will profit from these features of our digital core banking platform
When you choose your core banking system, you predefine the future ecosystem you create for your customers and departments. For example, choosing a BAAS/SAAS solution you pay more in the long run, but do not pay the whole price at once. Still, you will not own, manage and update the core, as it does not belong to you. So, your whole business model and functionalities of the core banking software will depend on the vendor and his will. We suggest you do not depend on us that way. Choose our retail bank solution and build your company around this functionality:
Client development
Business analytics
Neobank monetization
Data warehouse
Fill in the contact form
We will get back to you. We can discuss what banking software your business needs.
Open contact form
This solution works perfectly as a banking core platform for individuals and corporate
Either you create a neobank for corporate or individual clients, we may be the best solution for your business. Both cores are designed to be analytics heavy, with many setting options for price plans, fees and limits. We take interaction with customers to another level of quality and precision. Read more about the functionality of the core banking software that will help you outmatch the competitors.
How we supply the core banking platform
SDK.finance sells the product for the companies ready to adopt, set it up and incorporate it into their neobank business process. You will need the team to maintain the core banking solution, add integrations with service providers and clients' UI. When you send the application form and go through the whole process up to buying the core, we also guarantee our help in knowledge transfer and follow-up support. All in all, there are 5 key steps till you have a functioning core banking solution for your neobank. Anyhow, your first step will be to apply the form.
Building a team
Knowledge transfer from SDK.finance to your team and Product Quality Acceptance
Making the Source Code Purchase decision
Source code transfer
Follow-up support
Ready to discuss how SDK.finance can help you build a stellar retail banking product?
SDK.finance Neobanking Software FAQs
What is a core banking platform?
Core banking platform is a common term for the digital banking software that processes main financial operations of the neobank, challenger, or traditional bank. On a basic level, it is a digital ledger of all transactions committed via your platform. But a modern solution offers integrations with Visa/Mastercard, built-in neobank analytics, contact centers, and CRM. The core banking platform allows you to integrate vendors for popular payments, manage different currencies and exchange them. Core banking functionalities allow the digital bank to be web or mobile-designed.
What are the main features of modern core banking software?
Modern core banking software features depend on the type of the neobank you are about to create. There are banks for retail (individual) and corporate clients. While the first group needs the P2P payments option and welcomes flexible fees and limits for local vendors (bill, internet, taxi, gaming partners), business is more interested in mass payments. However, modern core banking software demands to be API-ready, on Java 11, AI/ML processing ready. Find out how our product suits the features you might want in your neobanking software core.
How much does a core banking system cost?
The core banking system's cost depends on many factors. When you buy a white-label core banking solution, you get one price for the product from the moment you buy to a final set-up. Some companies offer deep customization of the prebuilt core banking solution, so the price may increase. Some companies offer a subscription model for their core banking products. It looks like a cheaper solution, but when you choose this option, you depend on the software provider and pay him annually. We offer a more balanced pricing approach for our core banking solution, check it out.
How to choose a core banking solution?
Core banking solution may strongly design the future performance of your neobank. You have to pick the best solution that will be agile, simple, and build on the modern stack of technology. Agility means that you can integrate it with contact centers, chat/voice bots, KYC tools, forgery tools. It also means that the core banking solution you are banking on is API-oriented and its separate blocks are designed to work together, but you can develop, update them separately, with no global changes. A simple software solution means you need to spend little time setting it up. In the best-case scenario, you do not need to core it from scratch.