Since the COVID-19 forced the world to shut down in 2020, industries and humans have been slowly returning to normal operations. 
But our way of life has changed in general. Travellers need to present a negative COVID-19 PCR test result to travel. Even more recently, some companies demand that employees present a bill of 'clean' health or a negative COVID-19 test.
Consequently, people are looking for ways to evade the rigours of taking these tests. And online criminals — from South America to Africa and Europe — have figured out ways to provide counterfeit test results.
As these forgeries become more sophisticated, the available verification techniques can no longer detect them. Essentially, companies and private citizens need COVID-19 PCR verification software to spot fake tests.
This article explores how to check COVID-19 test results with ML-based tools. We also discuss modern AI-powered COVID-19 PCR verification solutions.
Fake COVID-19 PCR test statistics
PCR verification is a relatively new technology since it became a widespread practice during the pandemic. So, collecting and analyzing extensive data samples on counterfeit COVID-19 results is a challenge.
Nevertheless, we've gathered enough statistical information to analyze the impact of fake PCR tests.
Here are some interesting insights that we gathered from across the globe, starting from the United States and Great Britain:
An IATA survey estimated the financial losses due to fake COVID-19 tests to range from 77 – 100 USD in Australia. You can get a fake COVID-19 PCR test for 90 USD in Japan, while a counterfeit COVID-19 test could set you back 100-150 USD in the United States.

The FBI has encouraged companies to enforce and implement PCR verification techniques to filter and check COVID-19 certificates for authenticity. 

Companies failing to implement these PCR verification procedures stand the risk of bankruptcy or significant financial losses.

The Department of Justice also carried out the most extensive COVID-related fraud operation, leading to major arrests and indictments. The suspects in this Detroit-based counterfeit ring acquired around 11 million USD by providing fake RT-PCR negative verification services.

According to the Cabinet Office in the United Kingdom, COVID-related fraud will cost the economy around 7.9 billion GBP (2.3 billion USD). 

The HM Revenue and Customs projected that 10% of its benefactors had used fake coronavirus records.

The British government has also

reported

that citizens use fake test results to defraud the NHS into health compensations.

Source: BBC
The Metropolitan Police has boosted COVID test verification services to limit the potential financial losses. This new enforcement guideline took effect to counteract the increasing cases of forgery.
The situation is even worse in other European countries, South America, and Africa:
Over a single weekend in Croatia,

45 passengers

were arrested at the border for failing the mandatory RT-PCR report verification — and these were only the reported and detected cases.

In developing countries of South America and Africa, the state of PCR validation test internal quality control is deplorable, if not non-existent. Since the healthcare systems in the countries are underdeveloped, tourists can travel with fake corona tests hassle-free.

Nations in South Asia, especially India, are experiencing a rapid collapse of health services due to the lack of real-time PCR validation tests. 
Fake PCR test and issues that they cause
Now that we have discussed the fake COVID-19 test numbers by location, let's explore how fake coronavirus tests impact society negatively:
Every fake COVID-19 test that evades PCR verification endangers the public by exposing millions of people to the virus. And if you travel with a fake COVID-19 test, you become a 'superspreader', threatening the lives of even vaccinated people.
Endangers essential workers
Society has sung the praises of essential workers and healthcare professionals because they risked their health to provide us with necessities for living. 
With that in mind, using COVID-19 verification exposes these essential workers to the lethal coronavirus and renders their sacrifice meaningless.
Encourages fraudulent activities
Corona test verification is a hot commodity in the larger society, which presents an opportunity for scammers to promote platforms where people can obtain fake COVID-19 tests. Also, PCR verification agents dread the imminent increase in cases of falsified health reports and insurance scams over the coming years. Essentially, cybersecurity specialists expect COVID-related scams and frauds to spike in the coming months.
Fake coronavirus tests have severe financial implications for countries, which could lead to a loss of billions of dollars in revenue. Some companies and startups have also gone bankrupt as a result of fake COVID-19 tests. According to the FBI, one US-based company lost over 170 000 USD due to falsified COVID claims alone.
How to identify fake COVID-19 test results
COVID-19 test result forgery verification is a process that requires extensive expertise in spotting counterfeit documents. 
Sometimes, these forgeries are visible without advanced tools, and other times, only advanced technological tools can help you authenticate COVID-19 test results.
Let's explore how to detect fake COVID-19 test results using advanced AI-based and ML-powered solutions.
Image forgery detection solution to check fake COVID-19 test
At SDK.finance, we actively use AI-based solutions to validate the authenticity of COVID-19 test results. This technology is a deployable software program that provides instant results. 
How does the AI-powered solution detect fake COVID-19 test results?
1.The registered user uploads the document they want to verify online (any acceptable file format).
2.The AI and ML technologies scan and authenticate the uploaded document based on the following criteria:
Pixel authentication.

The solution tests the pixels for authenticity by outlining any changes or inconsistencies in the pixelation of the PDF or JPG file. The primary purpose of this verification criteria is to determine if the file was photoshopped or manipulated in any way.

Metadata verification.

Every digital file contains unique metadata that shows file size, data, geolocation, and modification history. Some documents even record hardware data for the tools used to create them. AI and ML technologies can access the metadata to determine the source file and compare the current version for possible alterations.
3.Get a verdict on the verification attempt as the file is labelled "genuine" or "fake".
Below are two samples of COVID-19 test verification results. 
In the first image, you can see that most of the original metadata is absent. The only available metadata information is at the top of the document, which shows that this particular COVID-19 test result was manipulated in Adobe Photoshop. You can also see the date the file was modified.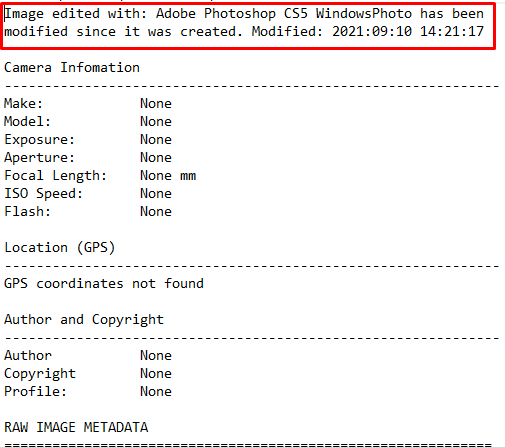 Metadata checking result
In the second image, the AI has pointed out the areas that display inconsistencies with other pixels in the document. Essentially, the final verdict is that this COVID-19 test result was photoshopped.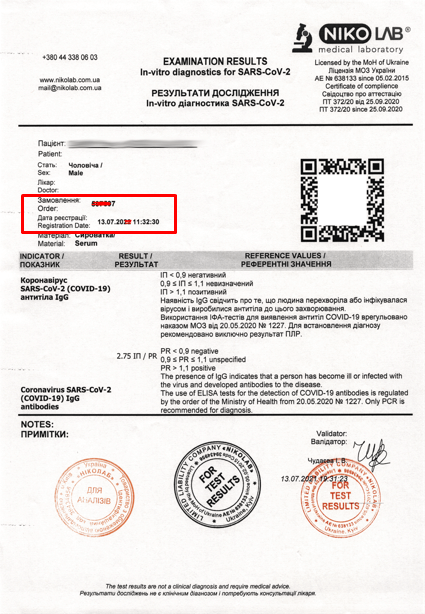 Fake PCR test result.  Areas where changes in pixels were detected
Final words
The validation of COVID-19 test results is a public health concern currently. One fake coronavirus test result could trigger another super spreading event. Government agencies, law enforcement, and businesses are trying to avoid financial losses from fake COVID tests.
With AI-powered verification tools, we can stem the tide of falsified documents and protect others from the marauding virus. 
If you want to invest in tools for the validation of COVID-19 test results, SDK.finance has the solution for you. Our team of experts uses data science, machine learning, and AI-powered tools to verify documents instantly. 
Contact us now and join us in the fight to eliminate fake documents.
References:
45 People With Fake PCR Tests Detained At Croatian Border In One Weekend 

Travelers Are Buying Fake COVID-19 Test Results on the Black Market

Total COVID-19 tests 

FBI warns companies of employees faking coronavirus test results 

3 Metro Detroiters, 19 others charged in $11 million COVID payment protection fraud scheme 

Fake Covid tests: Criminals try to profit from travel restrictions 

Coronavirus: Up to £3.5bn furlough claims fraudulent or paid in error – HMRC  

Coronavirus: Taxpayers to lose billions to virus fraud – report  

Identity and travel document fraud 

As India's crematoriums overflow with Covid victims, pyres burn through the night. 
FAQ
How can I detect fake COVID-19 tests online?
Nowadays, several legitimate verification platforms exist online. You can check fake COVID-19 tests online using portals from government agencies and international law enforcement bodies like Interpol. Alternatively, you can check COVID-19 results using the SDK.finance document verification service.
Why is COVID-19 Test Validation Necessary?
COVID-19 test scams cost companies money and put people at risk. PCR verification protects you (and your business) from potential coronavirus scams. Individuals can also use online PCR verification to check COVID-19 results for validity.