Voice banking is poised to have a significant impact on the future of banking. Incumbent banks, challengers, the tech giants, fintechs, and startups are already competing to attract and retain customers within their voice-powered ecosystems.
What is voice banking?
Voice banking is a process that provides a person with voice management for all everyday banking operations.
The winners in this latest financial services frontier will be those that leverage modern technology to realize the potential of voice payments technology.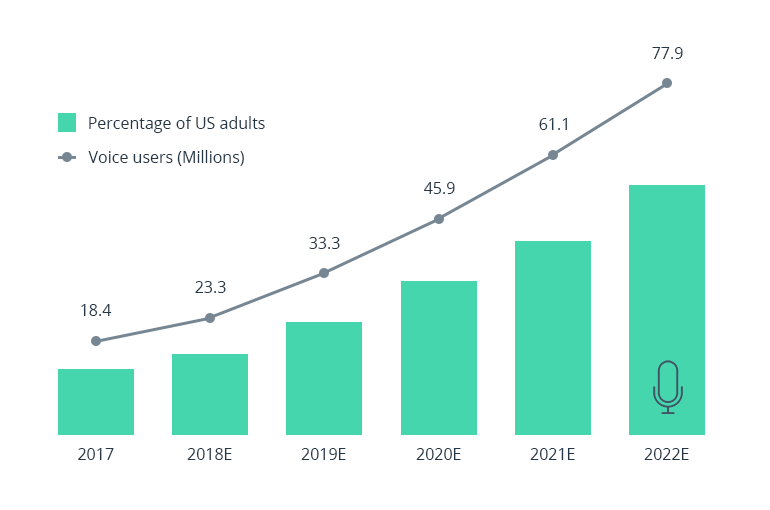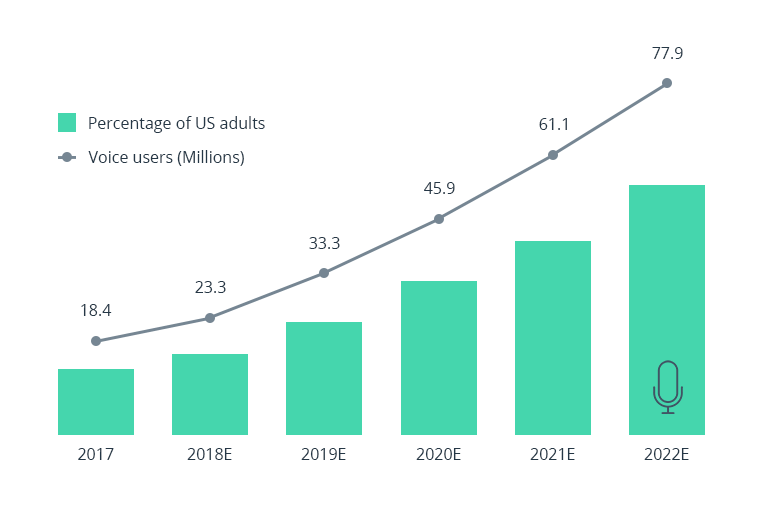 Voice payments adoption in the USA. Source: Business Insider – The Voice Payments Report 2017
Voice assistants are booming.  Read our previous article 'Voice Payments: The New Revolution in FinTech' to learn more about the evolution of the voice assistant market.
Voice banking is evolving
ING was among the first banks to introduce a voice control function to its app back in 2014, which used Nuance's voice-recognition software to launch Inge, the assistant. Customers could also find the nearest branch and pay their contacts. Other banks quickly followed suit. Some chose to launch their proprietary digital assistants and chatbots, while others integrated their services with Siri, Google, and Alexa.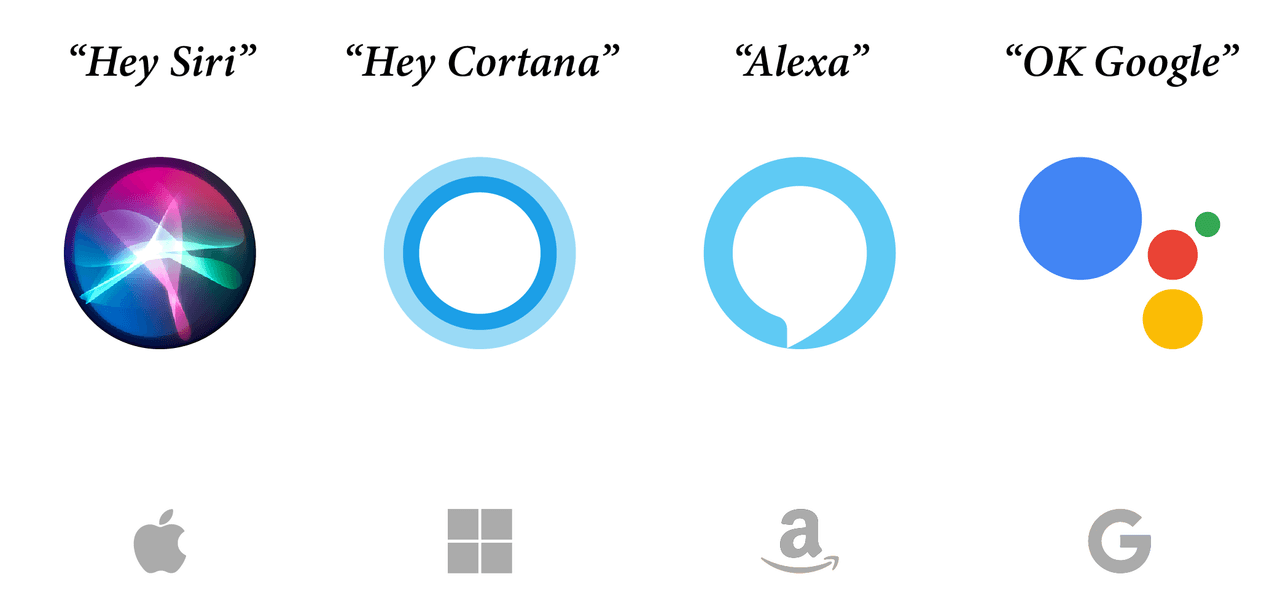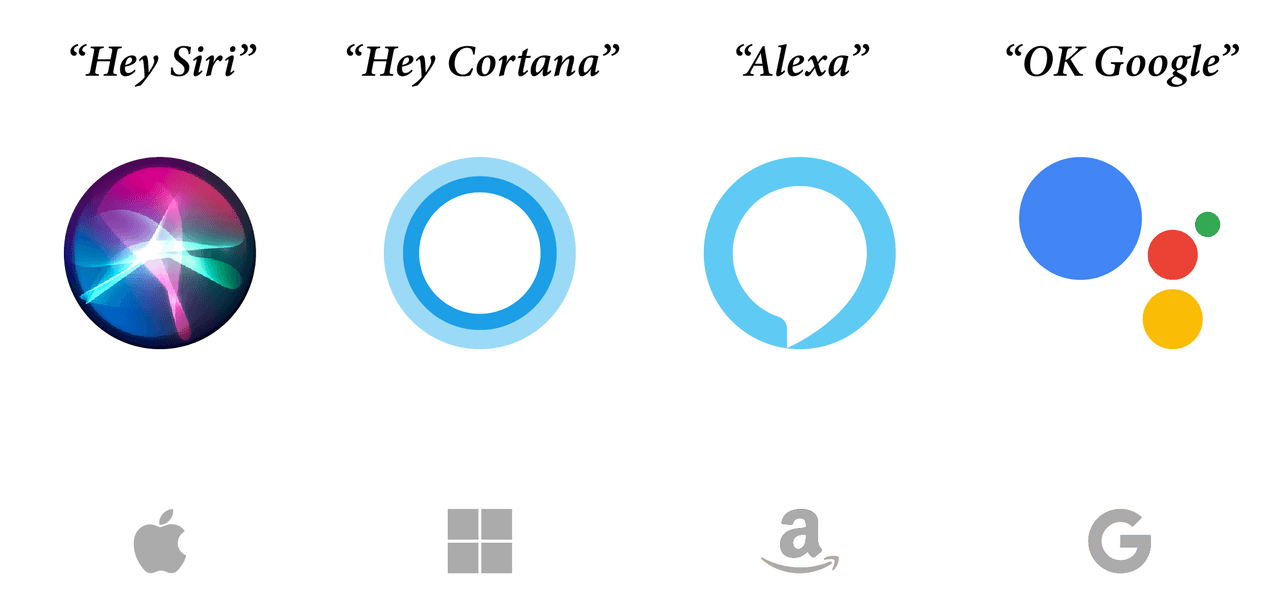 Bank of America released their AI-empowered digital assistant called Erica in 2016 to facilitate voice payments. Eighteen months after launch, the platform attracted 10 million customers and handled 100 million requests from them. Erica can handle voice, text, and gesture commands to make transfers, list transactions, and provide guidance by analyzing consumer habits. 
Erica has successfully helped Bank of America gain insights into what their customers want from a voice banking assistant. Simultaneously, they used the data gathered from voice requests to personalize their digital services and provide a better banking experience. 
Capital One created a voice interaction service that uses Alexa to help consumers make credit card payments, check account balances, and get a snapshot of their spending habits. Barclays chose to integrate with Siri instead. The bank's customers can pay existing payees or mobile contacts without opening the banking app or inputting passwords, immensely speeding pay simple transactions.
Venmo, Square Cash, and PayPal have also joined the ranks of financial companies that support voice payments. 
Research by Strategy& shows that voice banking technology can be applied across both the front and back office to free up line branch staff, reduce call center call volume, and minimize operations. By addressing these key points, banks could gain 15% to 35% in efficiency across the value chain. 
Voice banking can unlock large efficiencies
The convenience, security, and reach of the maturing technology are taking customer experience to a completely new level. 
Greater convenience
Linking bank, debit, or credit card details with a personal voice assistant unlocks a whole new level of convenience. A driver behind the wheel, an athlete on the run, or a mother with her hands full can easily pay, subscribe, buy, reserve, and complete almost any transaction anywhere. Whether it's a reservation that requires a deposit or a bill that's coming up, a voice banking assistant can handle it. Fast, frictionless, and always available. 
Safer authentication
For that to work, security and authentication need to be effortless. Fortunately, over 100 physical and behavioral characteristics make voice as unique to an individual as fingerprints, enabling biometric authentication in real-time. Multi-factor authentication powered by voice biometrics provides an opportunity to eliminate outdated security measures such as PINs, passwords, and CVC codes. 
Lower systemic risk
Accounts are hacked and exploited every day. 81% of hacks leveraged stolen and weak passwords. Voice authentication is an opportunity to systematically improve customer security and, therefore, lower the chance of fraud and money laundering across the industry. 
Broader reach
People with visual impairments make up another potential key segment. Blindness and vision impairment affect at least 2.2 billion people worldwide (28% of the world's population). Voice banking would not only allow these people to manage their finances independently but eliminate the need to visit branches altogether. 
Smarter communication
Voice banking can remove language barriers with live translations, dramatically increasing the number of people a bank or financial institution can service. In the U.S. alone, there are 67 million people who speak a language other than English. With voice banking, financial companies can expand their services across borders and gain millions of new customers. 
In most cases, the main barrier to implementing new powerful voice features lies in outdated core banking platforms that cannot facilitate new features. Smart assistants are increasingly becoming the differentiating feature that is helping challengers get a foothold in the market. Voice payments are transforming the FinTech industry, and only those that are in sync with modern technology will come out on top. 
Do you need an outstanding banking core for you neobank? Apply the form
Contact Us
Do you need an outstanding banking core for you neobank? Apply the form