The buy-or-build software debate has been going on long enough, and it is time we settled it. To better understand, let us take you down history lane. During the industrial revolution, the economy of Europe was flourishing. Due to this, companies started hiring third parties to take some workload off their shoulders.
Hence began the era of outsourcing, which has changed face over time to a point where companies can buy ready-made solutions. Buying reduces the cost of production and complexities of tasks that can not be performed in-house due to a lack of resources, expertise, and infrastructure. It ensures that the organization can concentrate on its core activities and mitigate risk.
On the other end of the spectrum, critics say buying software damages a company's reputation, restricts its potential, and brings about huge job losses. So, their best option is to build the software in-house.
That is why in this article, we will consider what is better for the businesses: in-house software development vs source code purchase. Hopefully, it will be of great help when making the buy vs build software decision for your fintech company. 
What is in-house software development?
In-house, or insourcing, development is the process of building software using specialists from your company with no external help.
Advantages of in-house
fintech software development
Here are the benefits of using in-house experts to develop your banking software.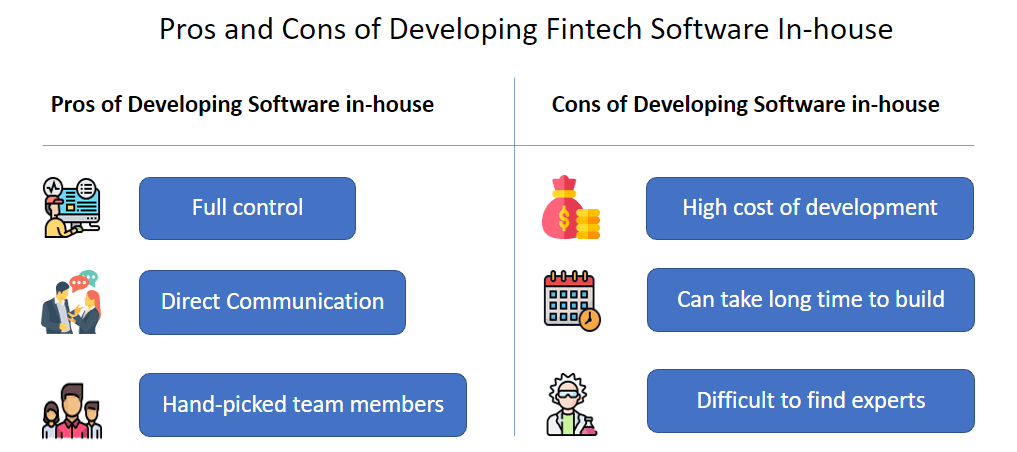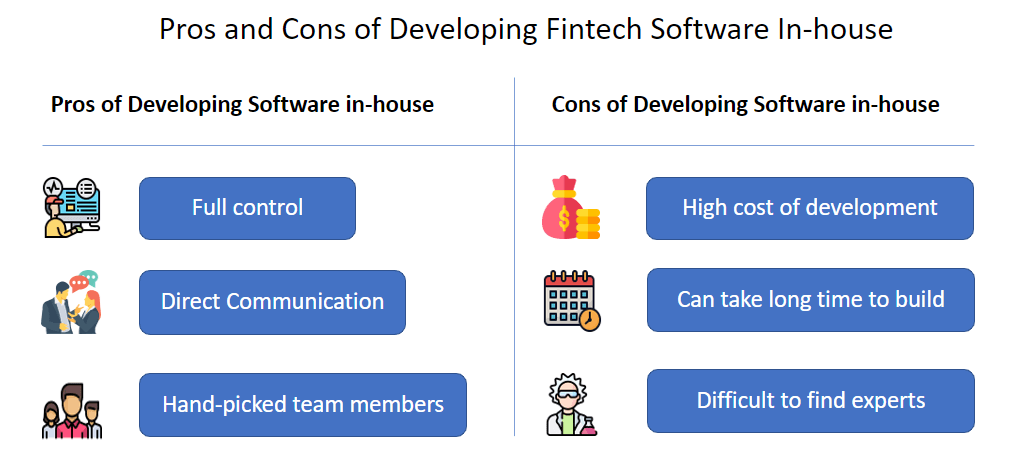 Full control
All of the team members involved in building the software are employed by you and trained from scratch. They understand your company's goals, culture, and workflow well to develop software that perfectly matches its intended purpose. Also, you retain ownership of the software code and can use it the way you see fit. 
Direct communication
Seamless communication among team members is a crucial factor when developing software. Communication is boosted when the employees do it face to face. It becomes faster to implement changes to the project and avoid mistakes caused by misinformation.
Affordable cloud SaaS solution
Create your FinTech product based on our ready-made Platform
More info
Carefully selected team members
 You will often entrust your banking or payment software development to people you can trust who fully understand your business process. That is why the recruitment process takes more time and needs to be thorough. So, you end up with employees who you deem fit enough for the role. 

Disadvantages of in-house
fintech software development
Even with the benefits of in-house development, it's not devoid of the cons that can make a strong point for people to consider other options. 
Difficulty assembling an expert team
If your development team is not skilled enough, you need to hire new experts. However, with the high demand for software and development skills, you will find it difficult to attract highly qualified experts. You will need to dig deep into the company's budget to bring in the best. 
Development time 
It takes, on average, about 40 days to recruit an in-house developer. This information is based on a study performed by DevSkiller. This period also does not consider the time taken for the employee to transition from their old job completely. Also, you will need time for onboarding and educating new employees on the company culture and workflow. All of these processes can extend the development time to a few years. This amount of time is not ideal for the fintech industry, which is rapidly changing. When your solution goes live, it may already be outdated and will need heavy changes to meet new industry demands. 
Development costs
According to Glassdoor, the average developer salary in the US is about $90K. Furthermore, additional costs increase this figure by 1.4 times, according to Joe Hadzima, MIT. This much expenditure to acquire a team of experts can strain the company's resources, especially if it is a startup. Read this article to explore how to reduce FinTech app development cost. 
Market-ready digital bank platform
Build your neobank based on SDK.finance banking Platform
Learn more
Buying a market-ready fintech platform
You don't always need to hire in-house developers to build your fintech software. Using a ready-made software from a fintech software development company  like SDK.finance can help you avoid all the challenges of building the software in-house. We have already put together stable core software for building a payment product on top which helps seriously cut down on the product development time and costs. It will also reduce the time-to-market for the product. With the SDK.finance software, your team will be able to focus on customizing the core software and working on the new features, rather than building a payment app from scratch.
So, let us explore this alternative to in house fintech development: buying ready-made fintech software from a vendor. 
Pros of source code purchase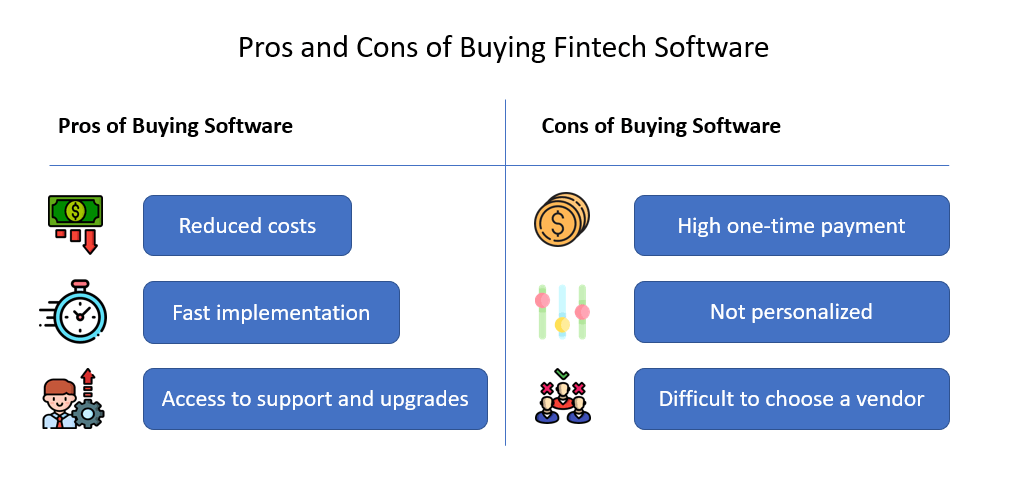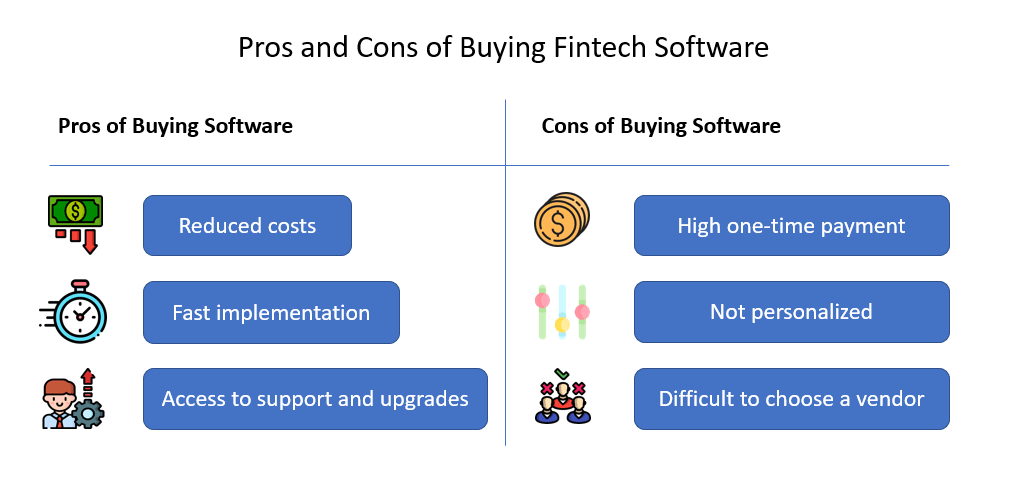 They say, "necessity is a mother of invention." If building the software in-house is the solution, then the vast market of ready-made software would not have emerged. Check this article to get more information about fintech software development outsourcing. 
Below are some of the benefits of buying ready-made fintech software.
Reduced development costs
It is considerably cheaper to purchase ready-made software than build one from scratch since you do not require a large in-house IT team for implementation. This leaves your company with more resources to invest in other projects. It is often more affordable because an IT company that develops the solution, commercializes it. You and all the other businesses that purchase the software will cover the cost. So, it is a win-win for all. However, when deciding to build  software from the ground up, you should be ready to carry the costs burden on your own.
Fast implementation and proven technology
Once you purchase the software, it is ready for implementation in your system and complies with the regulatory standards. Also, you do not have to worry about quality since the software has a proven track record with other users. The vendor takes care of all the pre-launch testing procedures and fixes most bugs so that you don't waste time doing it. 
Access to support and upgrades
Usually, a finech software development vendor that offers ready-made fintech software will help you with implementation, provide troubleshooting services and upgrades. Therefore, you will not necessarily need a dedicated in-house team for all these processes. 
Read this article to explore the experiences of top companies using software outsourcing.
Cons of source code purchase from a vendor
Even though buying software is generally cheaper and easier to implement, compared to from-scratch fevelpment, it has its disadvantages. 
Significant one-time fee
If you decide to use a ready-to-go fintech solution, then you should be ready to pay a huge amount of money upfront. This is not really conducive for small companies, especially startups since they have limited funds. 
Mobile wallet solution
Build your ewallet service on top of SDK.finance Platform faster and cheaper
More details
Difficult to choose the right fintech software vendor
Choosing a software vendor for your fintech solution is often a difficult decision to make. This is because your entire business workflow will depend on the platform. With the many vendors that are already on the market, you will need to find one with expertise and knowledge. 
Lack of tailored approach
Ready-made software is often designed to target industries and not any specific company. They do not take into account your unique business model. Therefore, it will lack some features that may be critical for the smooth functioning of your organization. Most often, you will need to personalize the source code based on your needs. 
An alternative to
buying proprietary fintech software
:
transactional core platform with the source code

For what reason should your best people, or hiring new talent – when this solution already exists in the market, and has been proven to cut costs – work for free when X can be provided for the same cost?
With 15+ years of experience in fintech software development, SDK.finance knows firsthand what it takes to develop actual payments products. Your business can speed up software development with our ready-to-go fintech software solutions for payment systems, neobanks, money remittance, e-wallets, and other payment-related services.
Advantages of choosing SDK.finance software development services:
Get a competent FinTech expert development team;

Save time with pre-developed software and avoid years of development from scratch;

Unleash the full power of cutting-edge technology in the hands of experienced experts;

Shorten your time to market and win the race.
Our solution serves as a powerful foundation for building – quickly and much more easily.
With SDK.finance, you can choose the development mode that best fits your product strategy. There are two options:
Let SDK.finance team of FinTech experts with 10+ years of experience bring your product to life with our payment Platform.
Why choose SDK.finance payment software with source code?
Independence from the vendor
With the ready-made SDK.finance banking software, you can manage everything in-house. It gives you the possibility to be totally independent from the vendor. 
Freedom to modify
Unlike most other ready-made fintech solutions on the market, the SDK.finance On-premise software provides you with the license to modify the source code. So, you can optimize and tailor the software to the specific needs of your company. 
Full control
The source code solution gives you complete control of the entire product, data, and infrastructure. You can store highly sensitive data on the servers protected behind your own corporate firewall.
Updates on your terms
You can also choose how and when the software is updated so that it does not interrupt your workflow. 
Digital wallet platform
Add functionality to your existing product or build a new one with SDK.finance
Learn more
Final thoughts
As shown above, both buying ready fintech software and building it from scratch approaches have advantages and disadvantages. When the project is highly complex, time is limited, technology is not sufficient, the cost is too high, and expertise is lacking, buying a ready-made solution will help meet the expectations. On the other hand, if your company does not face any of the above problems, you can engage in building your own fintech solution from the ground up.
Let us remind you about , SDK.finance provides you with an alternative payment platform available as a hybrid-cloud SaaS and  as a ready-to-go source code solution with the ability to modify the code and a dedicated IT development team for those who want to build from scratch. These are the build vs buy decision criteria you need to consider before making your choice.
FAQ
Should you build or buy fintech software?
Fintech software development involves lots of attention to detail within a specific timeframe and highly qualified developers. Although you can hire an in-house team for your fintech project, outsourcing or getting a ready-to-go solution is often the better option.
What are the advantages of source code purchase?
Source code purchase can be a more cost-effective option for businesses that don't have the resources or expertise to develop custom software in-house. Additionally, source code purchase can be a faster solution, as the pre-existing code can be deployed quickly with minimal customization.
What are the risks of buying versus building software internally?
The risks include lack of the necessary customizations and third-party integrations, insufficient vendor-side support, sky-high fee etc.
Which option is better for my business: in-house software development or source code purchase?
The answer to this question depends on several factors, such as your business needs, budget, timeline, and resources. Both options have their advantages and disadvantages, so it's important to weigh the pros and cons carefully before making a decision.
What are the advantages of in-house software development?
In-house software development allows you to create a custom solution that meets the specific needs of your business. You have full control over the development process and can ensure that the final product aligns with your business goals and objectives. Additionally, in-house software development can be more cost-effective over the long-term, as you won't have to pay ongoing licensing fees for pre-existing software.