The Middle East (MENA) is a blossoming region in fintech, especially when it comes to banking technologies. And as far as untapped potential goes, the MENA region is perfectly poised to become the next bubbling hub of digital banking innovation.
As it stands, the fintech sector in the Middle East amassed a 30% compounded annual growth rate (CAGR) in the past year, and the predicted capital funding will reach 2 billion USD by the end of 2022.
Want to explore the current state and future prospects of digital banking in the Middle East? Continue reading to find out more about the potential of neobanks in different MENA countries. 
Ultimate software platform for neobanks
Build a top notch digital-only bank in half the time
Learn more
A deep overview of digital banking in the Middle East
The digital banking Middle East scene has lagged behind Europe and North America due to the slower adoption rate of modern banking standards. Apart from that, ideological incompatibility in terms of religion can also stifle innovation by discouraging investors from venturing into the Middle Eastern market.
However, with foreigner-friendly initiatives like financial free zones appearing in the region, fintech companies can now operate freely with international standards, fostering faster innovation.
But the situation differs in individual countries in the Middle East. So, let's explore the digital banking scenario in specific Middle Eastern nations. We've narrowed down this overview to four Gulf Cooperation Council (GCC) countries.
Saudi Arabia
The first digital bank in Saudi Arabia is Saudi Telecom Bank (STC Bank) — the rebranded version of the old bank with a capital of 660 million USD. Following in STC Bank's footsteps is real estate company Abdulrahman Saad Al Rashid & Sons (ARTAR), which earned a license to launch a digital business development bank with a 400 million USD capital fund.
According to KPMG, the fintech market in the Kingdom of Saudi Arabia grew 147% from 2018 to 2020, and is expected to grow by a further 55% before 2033, which highlights the promise of digital banking in Saudi Arabia.
Currently, the Saudi Arabian Monetary Authority (SAMA) relies on a regulatory sandbox to support fintech initiatives within the Kingdom. In line with the Saudi Vision 2030, this sandbox has since accepted over 20 fintech solutions after stringent regulatory evaluations to determine their eligibility.
Other prominent digital banks in Saudi Arabia include D360 Bank (440 million USD capital). Liv (UAE) has also extended its operations into the Kingdom of Saudi Arabia.

Core banking solution for digital banks
Launch your payment ptoduct faster with SDK.finance Platform
More details
United Arab Emirates
The UAE has become one of the fastest-growing economic and technological hubs, owing to the National Innovation Strategy. Other initiatives like the Artificial Intelligence Strategy 2031 and Emirates Blockchain Strategy 2021 have also accelerated investments in technological advancements, especially in the banking and finance sector. 
And most importantly, the establishment of over 40 financial free zones across the seven Emirates has also encouraged innovation in digital banking in UAE. According to the provisions of these new financial zones, foreigners can own neobanks in UAE under English common law without needing the services of a Local Service Agent.

In essence, you can build and launch a new digital bank in UAE while maintaining international banking regulatory standards. The two principal regulators in the Emirates are the Dubai International Financial Centre (DIFC) and Abu Dhabi Global Market (ADGM).
Zand is the first digital bank in UAE to provide retail and corporate services as part of its customer-centric remodeling. Legacy banks like Emirates NBD, Mashreq, and the Commercial Bank of Dubai have also led the way in adopting digital banking solutions. Some of the best digital banks in the UAE include Liv, NOW, Rise, and Neo.
Qatar
According to IPSOS, over 94% of bank customers in Qatar have used at least one form of digital banking channel.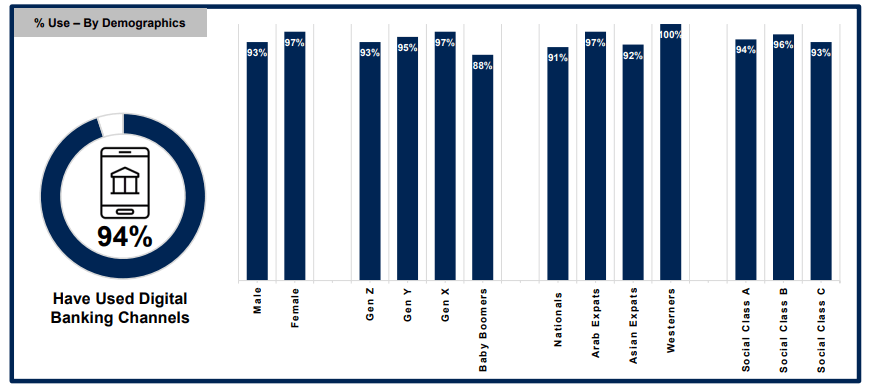 Source: IPSOS
The Qatar Central Bank (QCB) has increased investments in the financial sector in order to compete with its neighbors. And since Qatar has over 75% smartphone penetration, most banks are switching to mobile banking services to address customer needs.
Besides, Qatar Islamic Bank (QIB) recently launched a video banking service available on the QIB Mobile App, making it the first digital bank to use this feature in Qatar.
Other banks that provide mobile banking services in Qatar include: 
Doha Bank

Commercial Bank of Qatar (CBQ)

Dukhan Bank

Ahli Bank

HSBC Qatar
White label digital wallet software
Suitable both for standalone and build-in ewallet
More details
Bahrain
As part of the nationwide initiative to move from its oil dependence, Bahrain has been working on the Economic Vision 2030 to focus on competitiveness and sustainability. 
In line with this vision, the Kingdom of Bahrain has launched meem, the first Shariah-compliant digital bank under the digital arm of the Gulf Internation Bank (GIB). Another noteworthy Bahrain-based digital bank is Bank ABC — a banking platform that enables customers to use multiple channels 24/7.
The National Bank of Bahrain has also launched a Digital Banking Challenge to encourage young innovators to build core banking solutions that rely on emerging tech trends. The Bahrain Fintech Bay will also participate in this program, providing mentorship and support at different stages.
Types of digital banks in the Middle East
Here are the digital bank categories you can find in Middle Eastern countries:
Challenger banks
Traditional banks create digital banking applications as subsidiaries. For instance, ila Bank is a digital mobile banking platform that belongs to Bank ABC. This challenger bank stands out for its use of Fatema — a digital assistant for improving the customer experience with the bank.
Digital-only banks
Some banks have only digital platforms without any physical locations. They offer in-app services and standard account handling operations for customers. Liv, meem, and Mashreq Bank's Neo are some banks that provide only digital services. To find out more about digital banking read this article.
Standalone financial platforms 
Hala started as a mobile wallet for conducting digital transactions before shifting operations to POS and card services. Hala is not a full-scale digital bank yet, but the company is considering adopting a suite of banking services soon. Other platforms like Xpence provide bookkeeping, expense management, and virtual card services online. 
Read this article to get more information about digital banking.
The future of digital banking in the Middle East
Digital banking holds a lot of promise in the Middle East. According to the Milken Institute, over 465 fintech companies are currently available in the region, (as of April 2022) compared to just 30 in 2017. This rapid increase aligns with less-strict regulations and more investment in banking innovation.
Also, the speed of innovation hinges on the 70% average internet penetration rate in the Middle East region, which ranks fourth worldwide. As a result, more people are creating digital banking accounts. 
Building a bank for business customers?
Speed up software development with SDK.finance Platform
More details
Besides, the adoption of crypto will also change the rate at which fintech companies build and implement digital wallet software and DeFi exchanges. With platforms like Moyasar and CBPay leading the way, other digital wallet platforms will surface in the MENA market over the coming years.
COVID-19 is another factor that will reshape the future of banking. For instance, the Fintech Times reports that the popularity of digital services available at the Abu Dhabi Islamic Bank (ADIB) has reached 94% since the start of the pandemic. Safe to say that this trend will continue even after the pandemic, as more people switch to contactless banking.
And most importantly, the sheer importance of becoming viable competitors on the global stage will drive GCC countries in the Middle East to invest more in fintech solutions and digital banks. 
At SDK.finance, we create white-label digital banking software for commercial use, implemented on-premise, with the source code license, letting you gain complete control over your banking product and seriously reduce costs and time-to-market.
References 
Fintech in the Middle East and Africa: Regional Review | Velmie 
Why Launch a Digital Bank in the Middle East? | Velmie 
Mobile Banking in MENA Offers Huge Growth Potential | Velmie 
The Growth of Digital Banks in the Middle East 
FinTech in the Middle East – The Rise & Prospects in Digital Banking 
Digital Banking in the Middle East and Asia – Codebase Technologies 
Middle East Banking: The Only Future Is Digital Only | Global Finance Magazine 
Digital Banking Maturity Study EMEA | Deloitte Saudi Arabia 
The slow rise of neobanking in the Middle East – Wamda