The increase in the digitalization of banking services is likely to result in a key tech disruption of Germany's competitive and overbanked market. Even though conservative client preferences and an aging population are holding back the transformation by protecting incumbent banks' market share, a recent study shows that 40% of German adults are expected to have an online-only bank account by 2025. 
Digital-only banks operating in Germany rely on banking software to offer state-of-the-art services. Check out our previous article to find what it takes to build a digital-only bank like N26, bunq, or Revolut here. Financial software in Germany lets challenger banks attract and retain clients with highly user-friendly applications and added levels of convenience. 
With modern banking software, Deutsche customers can open an online account in less than 5 minutes whenever and wherever. Almost everything can be done online without the need to go to any branch, leading some to believe that branch banking is dying. As more people stay at home due to the coronavirus, the pandemic could even act as a catalyst for digital banking adoption.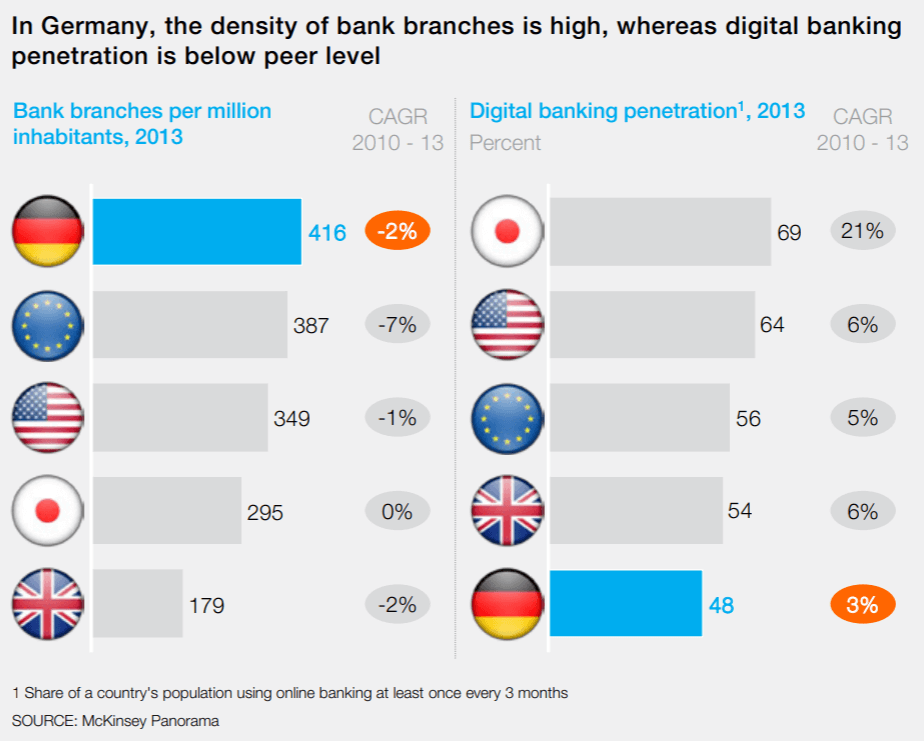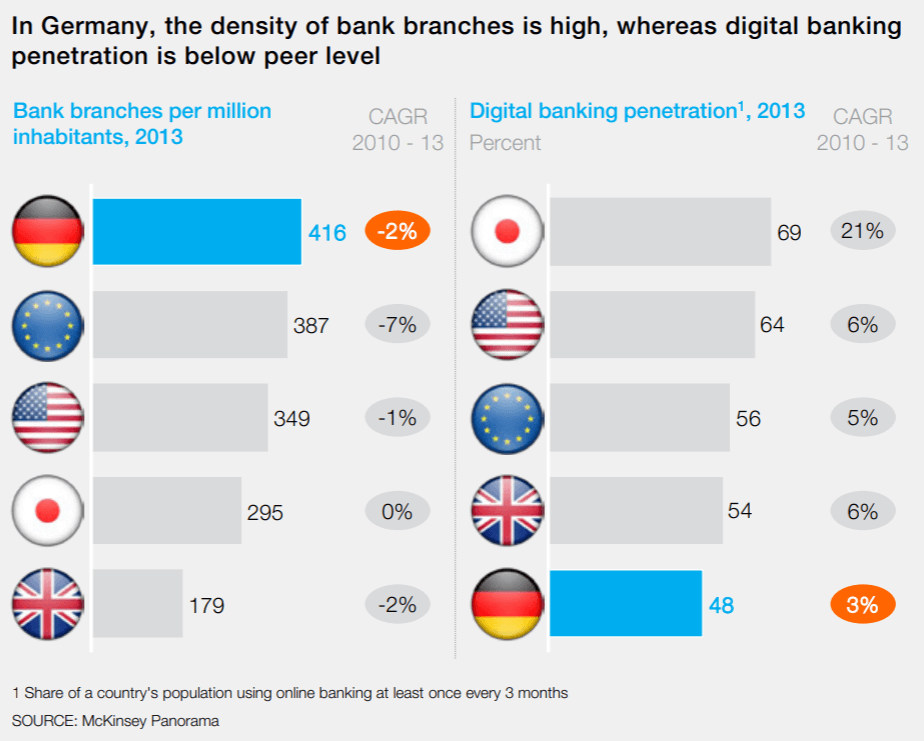 While regulators have been slow to level the playing field for banks and FinTechs, new players are using the weaknesses of the German banking system and software they rely on to enter the market. Financial software used by Deutsche FinTechsand pure online banks is significantly ahead of their legacy competitors.  
German bank software market is attractive for its great size and high wealth level not only to FinTechs but also to incumbent banks. Deutsche Bank has started its own digital bank to compete with the challengers in the corporate market. It's called Fyrst and targets companies with fewer than ten employees. Over time, other german banks will need to adapt their outdated technology to compete with the growing number of fintech challengers or risk losing their market share. 
Global core banking software providers like SDK.finance can help banks in Germany reach a broader market with modern solutions faster, cheaper, and more efficiently. The digital retail banking software is available in all popular formats: web, iOS, and Android applications that help to reach the new generation of mobile customers quicker. 
SDK.finance provides technology and supports banks of all kinds at every stage of the digital transformation from market research to product launch and scaling. Banking customers can benefit from a modern and secure experience guaranteed by two-factor authentication, biometric checks, security notifications, and Strong Customer Authorization for payments.
The Platform consists of 5 main components: a back-end wrapped in 400+ API endpoints, 3 front-end frameworks, and a web for system management with capabilities in iOS and Android for our clients.
Advantages of software that is built on API-first architecture:
The speed of releasing new features and functionality is much faster

The cost of ownership is more economical

Fewer bugs and more stable products exist

Better flexibility, scalability, and features are just some of the advantages of the SDK.finance core banking software ready for German banking.
Click here to find out more about the German banking software solution and how it can help your business unlock new opportunities.