Bankers Automated Clearing Services (Bacs) is the most popular method for sending and receiving business payments in the UK, typically used to pay salaries, pensions, and bills. Over its impressive 50 year history, Bacs processed over 78 billion payments. The term Bacs actually refers to the payment network consisting of 27 UK banks and building societies that make up the membership organization. 
There are two forms of Bacs payments: Direct Credit, used to send payments directly into bank accounts, and Direct Debit, which collects payments directly from bank accounts. In 2019, there were 2 billion Direct Credits and 4.5 billion Direct Debits. 
What is Bacs Direct Credit? 
Bacs Direct Credit is a tried and trusted option for companies of all sizes to quickly and efficiently send or receive payments. Direct Credits predominantly handle State benefits, such as pensions, tax credits, and various allowances, and include general B2B payments, payrolls, and dividends. 
What is Bacs Direct Debit? 
Bacs Direct Debit is when a customer instructs their bank to authorize a third party to collect payments from their account for as long as the customer allows. Once the bank receives the authorisation, the authorized organisation can automatically take payments on a regular basis. Direct Debit is usually used for regular and recurring payments such as utilities and household bills, loan repayments, insurance premiums, and subscriptions. 90% of people in the UK have at least one regular Direct Debit payment. 
How long does it take to process a Bacs payment? 
A Bacs payment takes three business days to clear. If a payment file is submitted to the Bacs system on the first day prior to a cut-off time, a bank can process the file on the second day, and credit the payment to the recipient's account on the third day. 
Bacs Direct Credit payments usually arrive by 7am on the third business day. Even though it is an electronic payment system, Bacs transfers only send Monday to Friday. 
How safe are Bacs payments?
Bacs has a long-standing reputation for being an incredibly safe and trusted way to collect and make payments. It has a 95%-100% success rate and is renowned for its secure and reliable electronic payments delivery. Bacs uses an SSL encrypted Bacstel-IP system and requires a secure and encrypted password. There's also a Direct Debit Guarantee that protects customers from any fraudulent payments. 
How is Bacs different from Faster Payments?
Faster Payments is a UK banking initiative that enables mobile, internet, and telephone payments to move between customer accounts, usually within a few seconds. Almost all internet and telephone banking payments in the UK are processed through the Faster Payments Service (FPS). Usually, Faster Payments arrive instantly but can take up to two hours, depending on the service provider, while Bacs Payments take three days.
Unlike Bacs payments that only work during business days, Faster Payments can be made and received 24/7, including bank holidays. Delays may occur if the other bank or building society is not a participant of the Faster Payments Service or if there is confusion over the sender's identity and additional security checks are needed. 
It is possible to send up to £250 thousand using a Faster Payments transfer, but individual banks and building societies may have their own thresholds and limitations in place for personal and corporate customers. Bacs allows transfers over the £250 thousand thresholds. 
How to become a part of Bacs?
Bacs direct participation is open to banks, building societies, electronic money institutions (EMIs), and payment institutions (PIs) that meet the following eligibility criteria: 
Have a settlement account at the Bank of England

Carry out business and operate an office in the EEA

Meet agreed technical and operational requirements, including having an agreement in place with VocaLink (or another provider of approved clearing services), and having an approved trust service

Be a bank, building society, authorised payment institution or electronic money institution

Sign a legal document in respect of participation, and of the settlement arrangements

Pay a share of Bacs costs.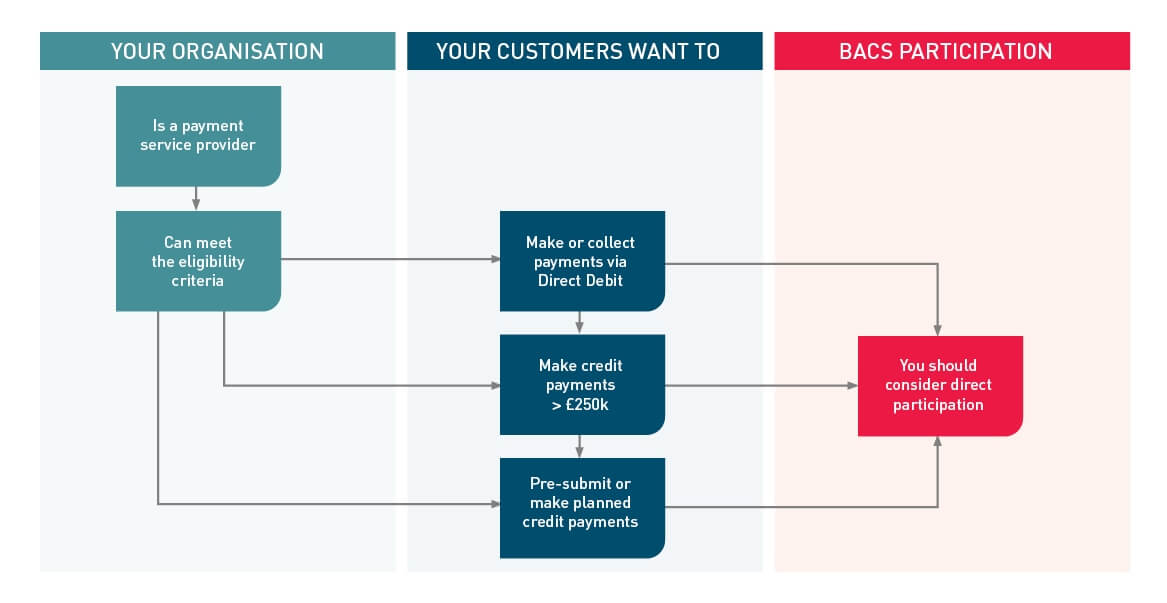 Eligibility criteria. Source: Bacs.co.uk
Bacs participants have to abide by clear and transparent governance structure, rules, and procedures. 
SDK.finance, a white-label digital payment platform, has everything businesses need to launch their payment product in the shortest time possible. The list of SDK.finance solutions includes white label digital retail bank platform, ewallet software and core banking solution. 
Contact us directly to learn more about what type of payments software will be perfect for your business needs.
FAQ
Is Bacs the same as bank transfer?
Bacs Direct Credit (also known as "bank transfer") is a secure service enabling organisations to make payments directly into another bank or building society account.
How much does it cost to send a BACS payment?
Bacs transfers allow you to make regular payments on a date of your choice, making it both flexible and cost effective with the price typically averaging at around 23p per transaction.
How safe is BACS payment?
Unlike cash or cheques, Bacs Direct Credit payments cannot be lost, stolen or delayed in the post. Your money arrives automatically into your account on the day it is expected.