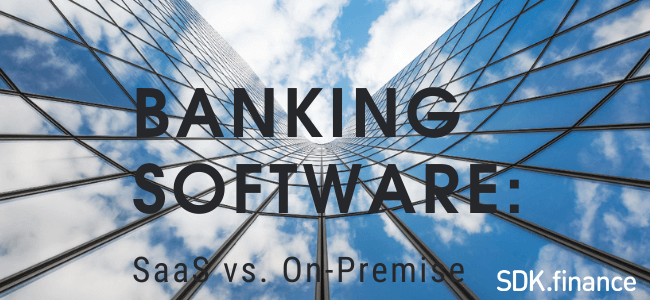 New services, powerful integrations, and lower costs that come with modern software have transformed the banking industry. Vast technological improvements have turned rigid behemoth like core banking platforms into agile systems that can add and subtract functionality in days. 
Integrating core banking platforms also used to be a very complicated process. Lengthy set-up, demanding hardware infrastructure, and high operating costs have kept financial companies from entering the banking sector and banks from updating their existing software for decades.
Source: Next-gen Technology transformation in Financial Services, McKinsey
The recent alternative that allows financial organizations, both new and old, to roll out banking services in a fraction of the time is called SaaS banking software (software as a service). 
What is SaaS banking software?
SaaS banking software (Cloud banking software) does not require hardware infrastructure as that of a traditional banking software suite.
Google Workplace (formerly G Suite) and Microsoft Office 365 are two good examples of the SaaS model. The user receives the functionality they want by choosing a package with a corresponding fee – the same applies to SaaS banking.
SaaS banking platforms like SDK.finance help companies to roll out new banking products and services while reducing the physical infrastructure footprint. No unnecessary and unwanted features mean businesses can focus on seizing market opportunities instead of spending months configuring their infrastructure. 
Cloud banking platforms leverage automated processes, reporting, and compliance to enhance efficiency and reduce costs, vital aspects of any business. As a business tool, SaaS banking software enables companies to swiftly adapt to changing business environments and scale up or down depending on customer demand.
Predictable cost structure improves forecasting and prevents unexpected expenses in volatile business cycles. Data analysis tools provide deep insights for better operation control and security monitoring. SaaS banking platforms come with many integrations with leading third-party service providers that unlock new revenue streams, secured by the latest standards.
Cloud banking solutions offer the most efficient way to build a banking product at the beginning stage because it is difficult to manage systems and hardware in-house, all at once. SaaS banking platforms save time and money when it comes to setting up. If a company needs more functions than a service provider can offer and develop, it is worth considering on-premise banking. 
What is the difference between SaaS (Cloud banking) and on-premise banking?
Businesses can purchase a financial software license and implement a banking platform on-premise if they have a dedicated on-site IT team and hardware capabilities. On-premise solutions take longer to get to market in comparison to SaaS because companies spend time and resources to personalize their product and add new features. 
The capabilities and functionality of an on-premise banking solution are only limited by the talent working on it. Although some providers restrict the extent to which their products can be customized, it is usually possible to develop new modules and customize front and back-end as well as add new integrations. SaaS banking platforms come mostly ready out of the box, but service providers can add more features at the client's request. 
It is worth noting that following multiple changes to an on-premise core banking system, the service provider won't be able to update it to a new version. Although SaaS solutions are not as customizable, they are frequently updated by vendors to include the latest advancements and integrations. With time, a customized platform may become outdated when compared to the latest version of SaaS banking software.
Cloud banking solutions are hosted on cloud servers operated by the service provider. Established vendors invest significant resources to develop and maintain a secure and modern infrastructure because multiple clients rely on their services every day. 
As a result, cloud banking providers can provide a higher level of security than on-premise alternatives because they have to dedicate their time elsewhere. The level of security of an in-house solution depends solely on the company operating it and that includes all storage, maintenance, and other costs related to security. 
Both options have their pros and cons that need to be considered when planning a financial services business. Either option is already ahead of core banking systems used by most banks worldwide in terms of functionality, reliability, and cost-effectiveness. 
SDK.finance SaaS banking software or source code with a license. Choose the one you need
Core banking software provider SDK.finance provides different options to purchase the banking platform. You are able to choose the most suitable option for you. If you have a dedicated on-site IT team and hardware capabilities, you are able to implement the SDK.finance banking platform on-premise (source code with a license).  To get the quickest start and high flexibility SDK.finance cloud banking platform (SaaS banking solution) is the best way for you.