Financial technology has become a catalyst for intensifying competition in the banking industry. Neobanks are winning market share by serving customers at around one-third of the cost of incumbents. In itself, added cost-efficiency is excellent but not ground-breaking, as IT expenses make up only 6-8 percent of an average bank's revenue. 
It is the capabilities of modern core banking systems that enable newcomers to disrupt stagnating markets and create value by rapid onboarding and retaining customers. Instant transfers, currency exchange at live markets rates, unlimited accounts, card-to-card payments, and many other wow-features foster loyalty in a competitive market.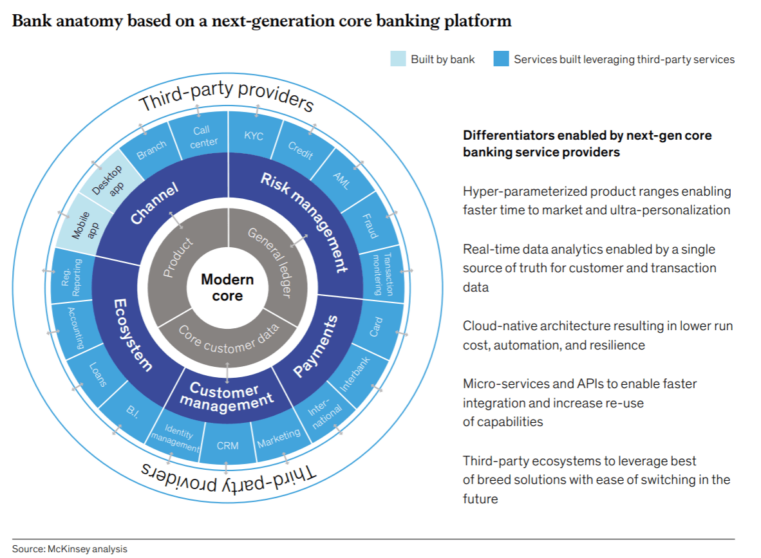 Source: Next-gen Technology transformation in Financial Services, McKinsey
According to a McKinsey survey, established banks have already taken note: some 70% of banks are exploring next-generation core banking platforms. Incumbents are increasingly concerned about the limitations of their inefficient software incapable of rapid changes and innovation. 
Banks worldwide are moving towards realizing substantial benefits by partnering with FinTech like SDK.finance to upgrade their core banking software. As challengers and some incumbents move forward, banks remaining on the sidelines have three practical options to start their digital transformation: SaaS (software as a service), BaaS (banking as a service), or obtaining a banking software license.

SaaS digital retail bank solution
Affordable cloud banking software to launch quickly and comply with all regulations
Learn more
SaaS vs BaaS vs. Banking License: The Definitions
What is Banking as a Service?
Banking as a Service, or BaaS for short, is a business model which enables companies to provide financial services usually associated with banks or financial institutions. In other words, it's the act of providing financial services to non-bank businesses. Financial institutions can sell their software, license, and/or services; in fact, this is how many banking software providers make their money.
BaaS has become popular in recent years because it offers more flexibility and options for developers when it comes to creating new ways of offering banking services such as mortgages and loans. Plus, it helps reduce costs for banks by leveraging cloud-based solutions whenever possible
A number of companies have emerged as leaders in the BaaS space. They include Adyen, Braintree, Capital One 360, First Data Corporation and IBM.
How does Banking as a Service work?
Banking as a Service (BaaS) is a model in which licensed banks provide their infrastructure and functionality to third-party providers, who then offer these services to fintechs. In this way, BaaS allows for collaboration between licensed banks, providers, and brands.
A BaaS provider communicates with the bank's infrastructure via APIs in order to provide financial solutions for fintechs. By working with a BaaS provider, companies can gain access to banking functionality quickly and easily. These providers typically offer a full set of financial services, from compliance to data and security. This means that they are able to provide an end-to-end solution for their customers.

The participant banks bring maturity and regulation to the table in order to ensure high security and data quality for their customers. In addition, they also benefit from the increased efficiency and speed that comes with using a BaaS system. Fintechs integrate these services into their products and create a hassle-free customer journey for consumers–all while benefiting from reduced costs and faster time-to-marketplaces.
What is SaaS banking software?
Under the SaaS model, the core banking software is deployed on the service provider's side, and the client accesses it through a web browser. SaaS banking software does not require the hardware infrastructure of a traditional banking software suite. Clients can compose the banking experience that will be available to them on-demand via an internet connection. 
What is a banking software license?
With a banking software license, a client can deploy a service provider's solution on their infrastructure and customize the solution to their specific needs if they have a dedicated on-site IT team and hardware capabilities. Clients can develop new modules and customize front and back-end as well as add new integrations.

SaaS vs. BaaS vs. banking software license: what are the differences?
Now that know the main terms and understand that Software as a Service (SaaS) Banking as a Service (BaaS) and banking license have their own unique benefits, they also have some key differences.
All three options offered by modern FinTechs are ahead of clunky and costly legacy systems used by most banks that require manual software delivery and low straight-through-processing rates. All have their pros and cons in terms of functionality, reliability, and cost-effectiveness that need to be considered before making any decision.
With SaaS banking software, the entire application is provided by the vendor. This means that the software is vertically integrated and out-of-the-box. As a result, it's less customizable than BaaS software. Additionally, because SaaS applications are hosted by the vendor, you don't need to worry about maintaining your own infrastructure.
Banking as a Service is different in that it's modular. This means that you can pick and choose which services you want to use from the vendor. BaaS applications are also more customizable than SaaS apps, giving you more control over your bank's look and feel. However, because BaaS relies on your organization's own infrastructure, you're responsible for maintaining it yourself.
Cloud Wallet as a Service platform
Add financial services to your product fast and for affordable price
Learn more
Cost 
Under SaaS and BaaS models, clients pay a setup and usually a monthly fee for accessing banking capabilities over the web. For businesses without IT infrastructure and hardware, these models are the most cost-effective start to banking. Depending on a service provider, clients can build a package of features and integrations that they need without paying for unnecessary functionality. 
Although SaaS and BaaS do not require a large budget for the initial phase, the service cost will grow with the increased number of transactions and customers. After some time, these models can lose their cost-efficiency, and the transition to a banking software license model can be more effective.  
With substantial investment into a dedicated on-site IT team and hardware capabilities, clients can purchase a banking software license to entirely personalize their product. Hardware upkeep and maintenance, human capital, and security costs, among others, will result in significant and regular expenses. A considerable upfront cost and regular expenses can be more economical in the long term with enough scale. 
Digital banking service providers like SDK.finance offer banking SaaS or a software with source code license to launch their own payment product.
Time-to-market
The ability to roll out products and features quickly is a critical competitive differentiator in the current cluttered marketplace. SaaS and BaaS banking software is not restrained by the monolithic architecture of legacy technology, meaning that products can be launched in a very short time. BaaS banking software has an even faster time to market as it comes with more integrations than SaaS solutions, helping clients to capitalize on the latest developments in the marketplace. 
The banking software license products take considerably longer to launch as they require more customization on-premise. However, with a talented IT team, hardware standing by, and hands-on support from a core banking service provider, time to market can be shortened considerably. 
Functionality
SaaS and BaaS banking software features and integrations come ready out of the box, and clients can build the product they want before launch. These usually cover the most important features loved by customers and tools for running an efficient banking business. In some cases, service providers can develop and add more features at the client's request, but otherwise, the capabilities cannot be readily expanded. 
The banking software license solution is not restricted and can be freely and easily customized with new functionality at any time. It is worth noting that following multiple changes to an on-premise core system, the service provider won't be able to update it to a new version. Although BaaS/SaaS solutions are not as customizable, they are frequently updated by vendors to include the latest advancements and integrations. With time, a customized platform may become outdated when compared to the latest version of SaaS banking software.
Support
Day-to-day support for SaaS and BaaS solutions is usually included in the service provider's monthly fee. The provider ensures that systems run smoothly using their teams and respond to any queries clients may have.
Clients with on-premise licensed banking software have to dedicate resources to support their solutions. Service providers offer initial support so that internal teams can accumulate knowledge to speed up maintenance and problem resolution in the future. Check this article to get information about top core banking software companies. 
Security
SaaS/BaaS cloud-based banking platforms are hosted on remote servers operated by the service provider. Established vendors invest significant resources to develop and maintain a secure and modern infrastructure because multiple clients rely on their services every day. As a result, cloud banking providers often deliver a higher level of security than on-premise alternatives. 
The security of a banking software license solution depends solely on the client. Depending on the investment into technical infrastructure, the level of security can vary greatly. It is a critical part of an on-premise banking setup that needs to be evaluated before launching any product. 
Which type of banking software is more user-friendly?
BaaS systems are more customizable than a single provider, but this also makes them less user-friendly. On the other hand, SaaS systems are provided by a single provider and are therefore easier to use but less flexible.
A BaaS platform is an example of a partnership between a service provider and a regulated institution. The service provider manages the systems, and the regulated institution handles compliance, balance sheet management, custody, etc. This type of partnership is beneficial for both businesses because it allows each one to specialize in their respective areas of expertise.
Context-aware user journeys can increase throughput and reduce errors–making the software more user-friendly overall. Additionally, this type of partnership is difficult for traditional banks to adopt because they are limited by geography. However, through partnerships with service providers like Bambu GO, traditional banks can expand their reach into new markets easily.

Software to build your own Revolut
Aceelerate time-to-market with a ready-made Platform by SDK.finance
More details
Which type of banking software is more scalable?
Generally speaking, a BaaS system tends to be more scalable, as it allows new entrants to launch robo-advisory services by partnering with a service provider. This makes it possible for banks to focus on a specific area of expertise, which makes it easier for them to scale. In contrast, an integrated model is less scalable because it requires the development of custom software, which can be costly and time-consuming. As a result, incumbent banks face different cost bases than small credit unions or digital banks, which results in less success.
Which type of banking software is right for your business?
One thing you should consider is the range of services offered by the provider. Make sure they offer everything you need to run your business efficiently. Otherwise, you may end up having to look elsewhere for certain services, which could slow down your launch process.
A question that often comes up when considering banking software is scalability: will this solution grow with my business? You'll want to make sure the answer is yes, as no one wants to switch providers down the road because their company has outgrown their original choice.
Finally, compatibility and speed to market are both key considerations. You'll want a provider who can get you up and running quickly without any glitches or problems along the way.
Wrapping up
SDK.finance offers a decent alternative for BaaS banking software – a cloud banking platform that can be used either by subscription for an easy start or purchased with a source code license and deployed on-premise for full control.
Contact the SDK.finance team directly to learn more about what type of banking software will better accommodate your business needs.
FAQ
What is SaaS banking software?
Under the SaaS model, the core banking software is deployed on the service provider's side, and the client accesses it through a web browser. SaaS banking software does not require the hardware infrastructure of a traditional banking software suite. Clients can compose their banking experience that will be available to them on-demand via an internet connection.
Is banking SaaS a Fintech?
As a cloud-based technology, SaaS can benefit fintech companies and banks alike especially in meeting regulatory demands and providing security to their customers. Let's understand the SaaS model before digging deep into its impact on the fintech sector for bringing transformational change.
What is banking as a service?
Banking as a Service (or BaaS for short) describes a model in which licensed banks integrate their digital banking services directly into the products of other non-bank businesses.
How does banking as a service work?
Banking as a service (BaaS) is an end-to-end process ensuring the overall execution of a financial service provided over the web. Such a digital banking service is available on-demand and operates within a set time-frame.
Looking for an outstanding software for you neobank?
Contact Us
Looking for an outstanding software for you neobank?